The real estate industry in Texas is hot right now after a drastic fall during the pandemic when new home listings fell by over 40%. There was a 25% increase in delistings; however, the market started recovering from 2022 onwards.
Texas is seeing a renewed interest in property investments today, making this timing perfect for new real estate agents to enter the market to build a long-term career. If that's something you are interested in, too, I am sure the first question would be: How much money will I make as a realtor in Texas?
Well, 89% sellers partner with an agent to sell their home. Given the average commission in Texas, a realtor can earn somewhere from $84,495 to $100,000 every year! So does it mean that every agent with a license can reach these numbers or is there a plot twist? How much can a new real estate agent realistically earn? Is the income consistent? Let's answer all these questions in detail.
---
2. What is the average commission that Realtors make in Texas?
A Realtor's average annual salary in Texas is $84,495 as of 2023, 8% below the national average. However, the salary typically ranges between $42,305 and $182,228. Here's a look at the weekly and hourly breakdown of this range.
The monthly compensation based on the above average would work out to $881 to $1,148, while the hourly salary assuming a 35-hour week, would be $18.57 to $78.24

---
3. Does real estate commission vary based on experience or segment in Texas?
Yes, real estate commission in Texas differs based on an agent's experience in Texas (or anywhere).
An agent with one to two years' experience typically earns about $85,065, while an agent with over ten years' experience would earn about $111,611.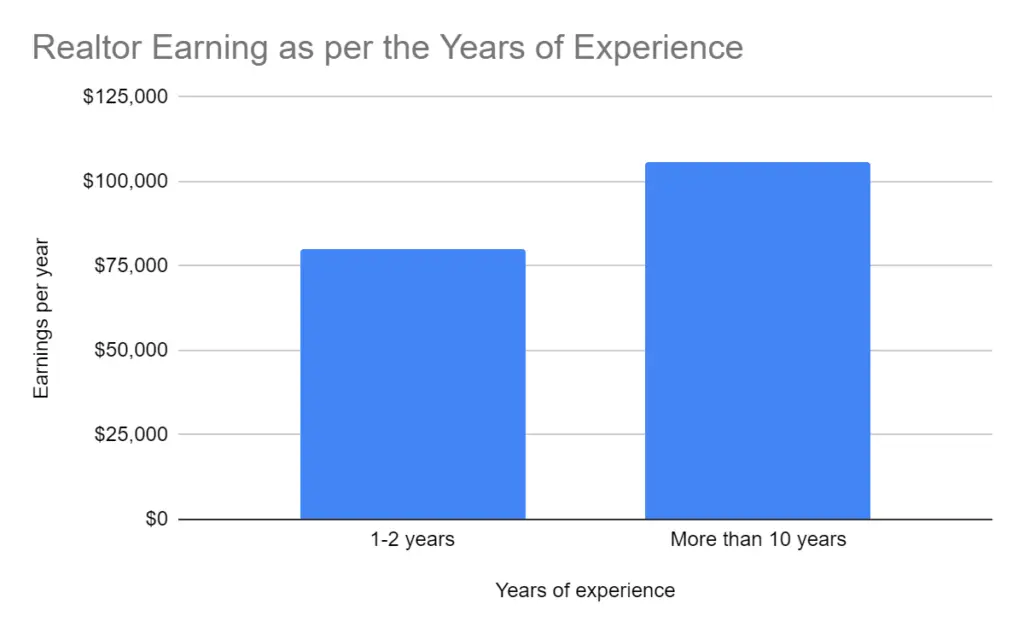 New agents would logically earn less than $85,065, so they would have to save up for the long haul while they gain experience to increase their income in a year or two.
The segment in which the Realtor works would also make a difference to their income. For example, an agent working in the luxury segment would earn more than an agent buying or selling average-priced houses.
3.1 How much do luxury realtors Make in Texas? 
The commission agents earn depends on what kind of property they buy or sell. For example, if the agent sells a premium property priced at $1,000,000, a 6% commission would work out to $60,000. Assuming the agents share the commission equally, each would get $30,000 on a single deal. 
Total Commission = Home price x Commission Percentage
= $1,000,000 x 6%
= $60,000
Each agent's commission = Total Commission ➗2
= $60,000 ➗ 2
= $30,000
In Texas, a real estate agent's average income in luxury real estate is $97,894 per year, compared to the national average of $101,464. Therefore, their yearly earnings typically range from $95,843 to $104,556.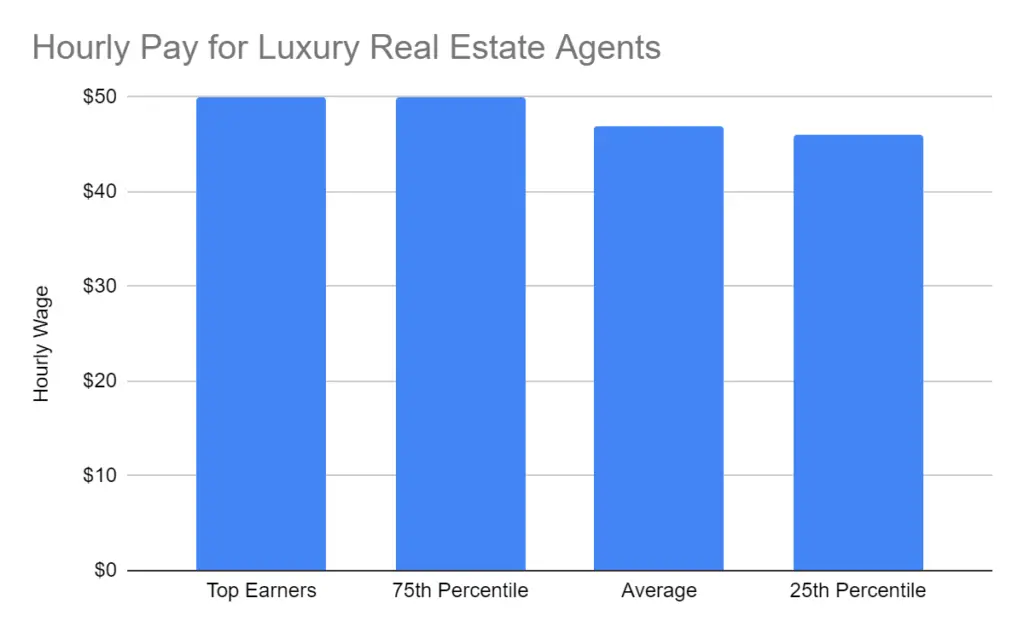 Here's a look at the annual, monthly, weekly, and hourly income of agents dealing in luxury real estate.
| | | | | |
| --- | --- | --- | --- | --- |
| | Annual Salary | Monthly pay | Weekly Pay | Hourly Wage |
| Top Earners | $104,556 | $8,713 | $2,011 | $50 |
| 75th Percentile | $104,556 | $8,713 | $2,011 | $50 |
| Average | $97,894 | $8,158 | $1,883 | $47 |
| 25th Percentile | $95,843 | $7,987 | $1,843 | $46 |
3.2 How Much Commission Does a Realtor Make in Texas working part time?
How much an agent earns also depends on the time spent on work hours. A full-time agent would work much more than a part-time agent, while an agent who puts in extra work hours would earn more than the average agent.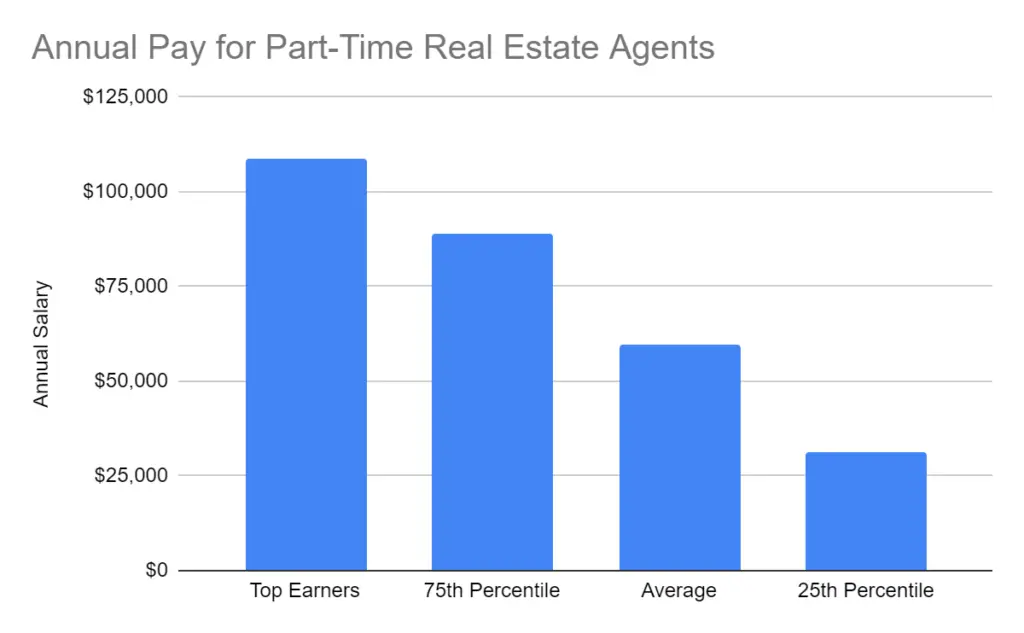 Part-time agents in Texas earn from around $17,787 to $137,354, with the average earning around $59,777 annually. However, the national average for a part-time agent is a little higher at $63,886 yearly.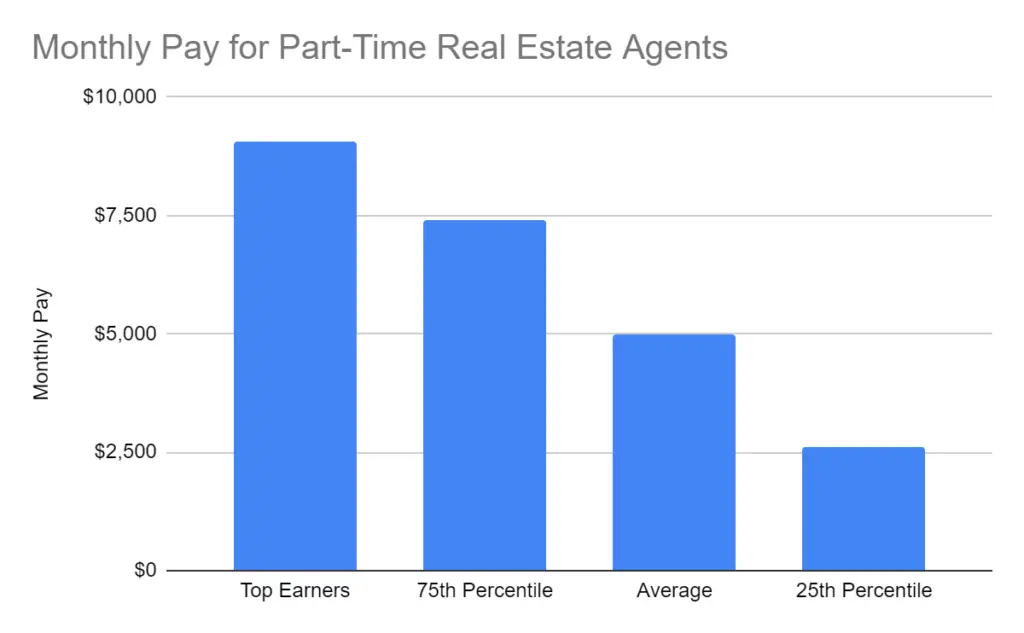 | | | | | |
| --- | --- | --- | --- | --- |
| | Annual Salary | Monthly Pay | Weekly Pay | Hourly Wage |
| Top Earners | $108,697 | $9,058 | $2,090 | $52 |
| 75th Percentile | $88,934 | $7,411 | $1,710 | $43 |
| Average | $59,777 | $4,981 | $1,149 | $29 |
| 25th Percentile | $31,126 | $2,593 | $598 | $15 |
---
4. How Much Commission Does a Realtor Make in Texas compared to other states?
| | | |
| --- | --- | --- |
| Sr No | State | Realtor salary compared to Texas |
| 1 | Oklahoma | 40% more than in Texas |
| 2 | Washington | 15% more than in Texas |
| 3 | Oregon | 5% more than in Texas |
| 4 | California | 6% more than in Texas |
| 5 | Nevada | 32% more than in Texas |
| 6 | Idaho | 10% more than in Texas |
| 7 | Utah | 1% less than in Texas |
| 8 | Arizona | 3% more than in Texas |
| 9 | Montana | 13% less than in Texas |
| 10 | Wyoming | NA |
| 11 | Colorado | 45% more than in Texas |
| 12 | New Mexico | 11% less than in Texas |
| 13 | North Dakota | 5% more than in Texas |
| 14 | South Dakota | 2% less than in Texas |
| 15 | Nebraska | 6% less than in Texas |
| 16 | Kansas | 2% less than in Texas |
| 17 | Minnesota | 8% more than in Texas |
| 18 | Iowa | 9% more than in Texas |
| 19 | Missouri | 33% more than in Texas |
| 20 | Arkansas | Equal to Texas |
| 21 | Louisiana | Equal to Texas |
| 22 | Wisconsin | 2% less than in Texas |
| 23 | Illinois | 12% less than in Texas |
| 24 | Michigan | 5% less than in Texas |
| 25 | Indiana | 6% less than in Texas |
| 26 | Kentucky | 9% less than in Texas |
| 27 | Tennessee | 7% less than in Texas |
| 28 | Mississippi | 26% more than in Texas |
| 29 | Alabama | 30% more than in Texas |
| 30 | Florida | 11% more than in Texas |
| 31 | Ohio | 2% less than in Texas |
| 32 | West Virginia | 11% less than in Texas |
| 33 | Virginia | 7% less than in Texas |
| 34 | North Carolina | 13% more than in Texas |
| 35 | South Carolina | 2% less than in Texas |
| 36 | Georgia | 3% less than in Texas |
| 37 | New York | 8% more than in Texas |
| 38 | Pennsylvania | 7% more than in Texas |
| 39 | Maryland | 10% less than in Texas |
| 40 | New Jersey | 12% more than in Texas |
| 41 | Delaware | Equal to Texas |
| 42 | Connecticut | 1% less than in Texas |
| 43 | Massachusetts | 13% more than in Texas |
| 44 | Vermont | NA |
| 45 | New Hampshire | 4% more than in Texas |
| 46 | Maine | NA |
| 47 | Rhode Island | 30% less than in Texas |
| 48 | Hawaii | 74% more than in Texas |
| 49 | Alaska | 2% less than in Texas |
---
5. Cities that pay the highest for real estate agents in Texas
Let's look at the cities where real estate agents earn the highest incomes in the entire state and how much agents can earn here.
5.1 Beaumont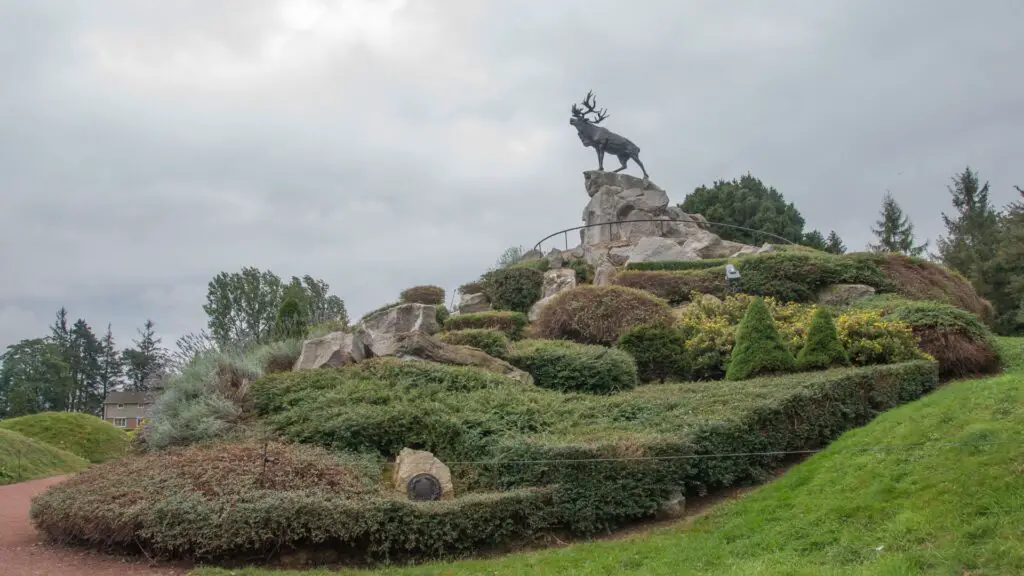 If you're looking at a career as a real estate agent in Beaumont, you could be looking at annual earnings of $106,885 per year. This is 13.35% above the national average.
Beaumont is the county seat of Jefferson County, with a population of around 115,000. It is the largest incorporated municipality by population near the Louisiana border and the 10th largest metropolitan area in Texas.
Even though the average home price in Beaumont is only $147,840, well below the national average, agents can make a good amount here. This points to a hot real estate market, making it a lucrative area for agents.
5.2 Plano
The annual income for a real estate agent in Plano is $102,450, which is 8.58% above the national average.
Located in north Texas, Plano lies in Collin and Denton Counties. It has a population of around 2,88,000 and is a principal city of the Dallas-Fort Worth metroplex. Plano and Houston have one of Texas' two significant concentrations of Chinese Americans.
A few of the country's largest and most well-known corporations are in Plano, including Capital One Finance, DXC Technology, and Bank of America Home Loans. With so much working for it, no wonder the average home price in Plano is well above the national average at $546,934. Real estate agents would not have a difficult time earning their living here.
5.3 Austin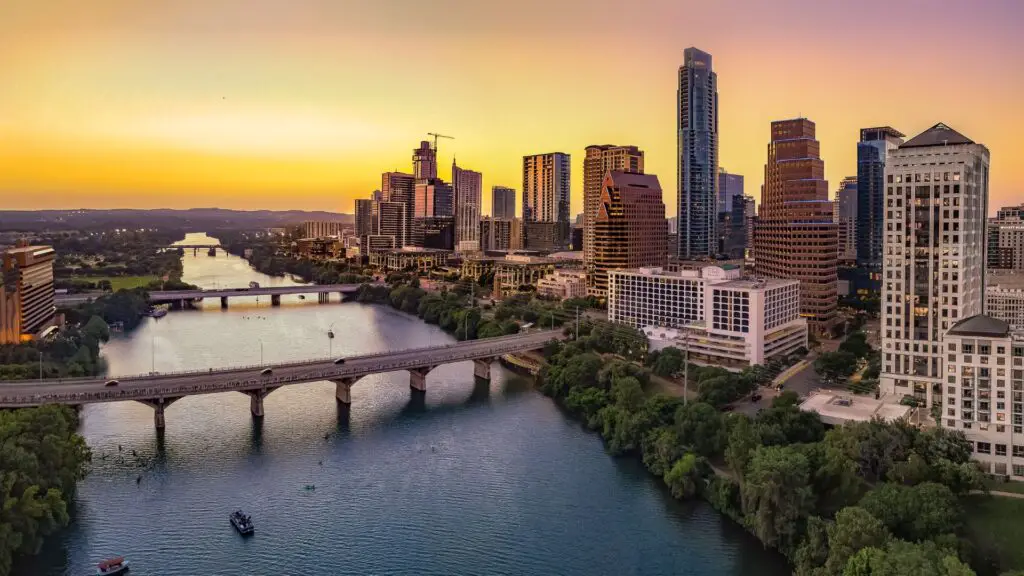 In Austin, a real estate agent can earn up to 7.7% more than the national average. The average income for an agent is $101,617 per year here. Austin is a hot market, with the booming tech industry leading to high demand in the real estate market.
With a fast-growing population, Austin could soon cross the 1,000,000 mark, with people moving in to take advantage of the industry here. Single-family homes and downtown condos are in much demand here. The average home price in Austin is above that of Plano at $661,337, making it an excellent market for real estate agents.
5.4 Houston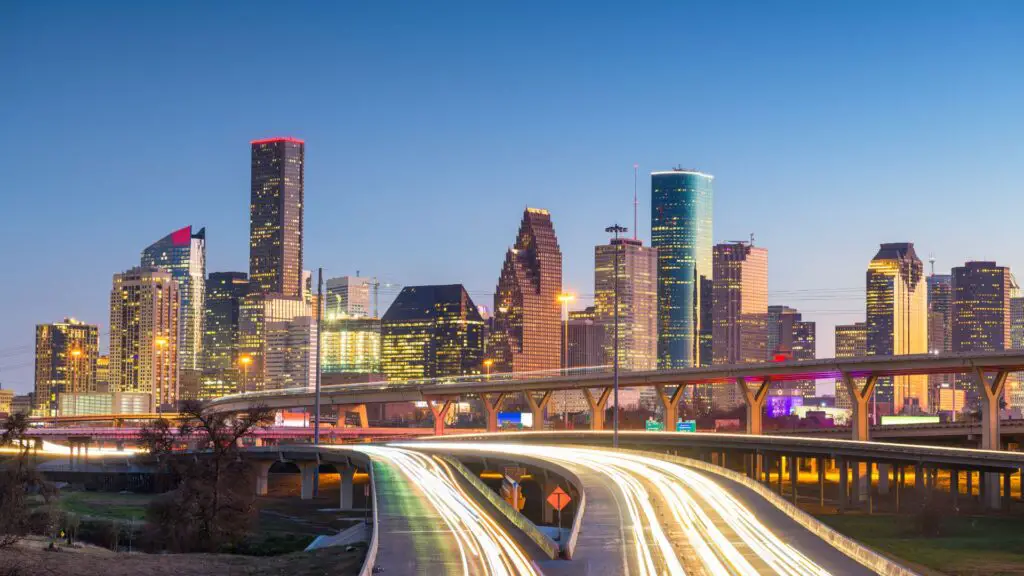 Houston, the largest city in Texas, has plenty of scope for real estate agents. The city has a population of 2.3 million and is already the fourth-largest city in the country. The city also includes many suburban areas because of its broad reach right up to the coast of Galveston.
As a result, a real estate agent could expect to make $99,160 a year here, which is 5.09% above the national average. On the other hand, the average house in Houston is priced at a modest $272,084, way below the national average.
Low prices mean high demand making it a good market for real estate agents wanting to make a career here.
5.5 Dallas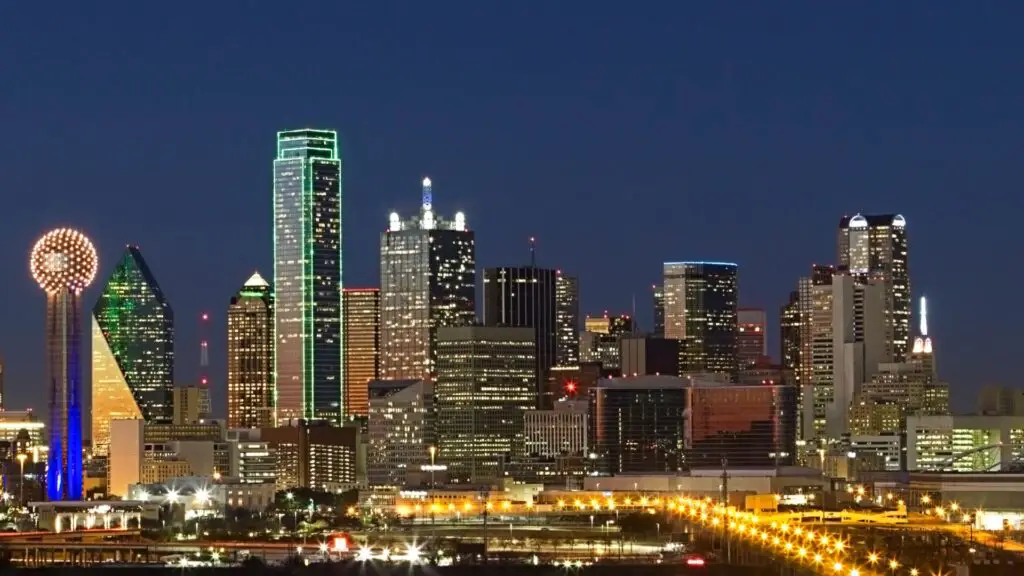 In Dallas, a real estate agent can make up to $96,530 a year. This is 2.31% above the national average.
This is the ninth largest city in the US and the third largest in Texas, with a population of 1.3 million, so there is plenty of business for aspiring agents. It is the seat of Dallas County and extends into counties such as Collin, Denton, Rockwall, and Kaufman.
The average home price in Dallas is around $336,973. The Dallas-Fort Worth metroplex has 23 Fortune 500 companies, and 11 of those are located within Dallas. This makes it highly profitable for real estate agents.
5.6 San Antonio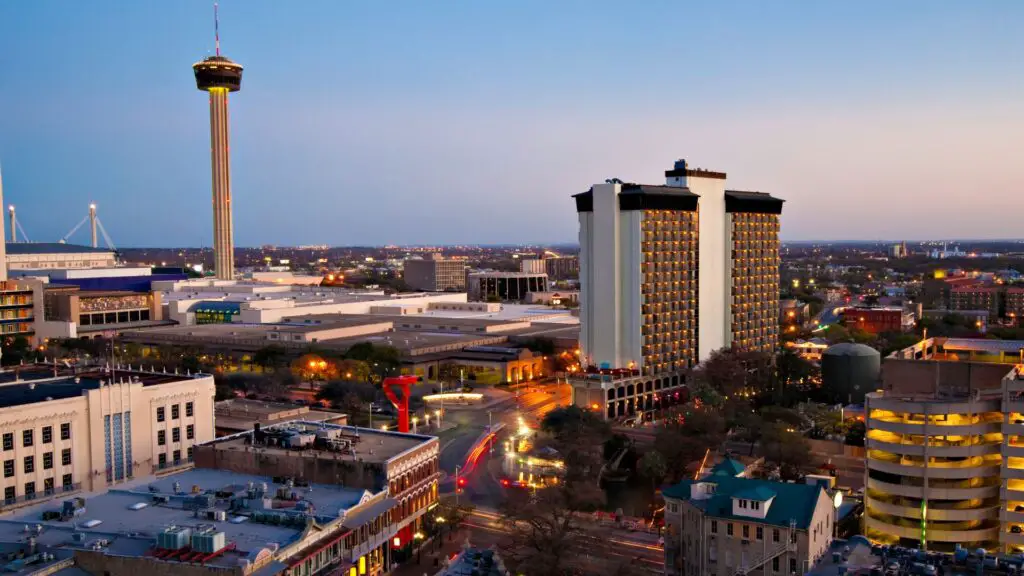 Getting a license here could be a smart move for an aspiring real estate agent because San Antonio happens to be the fastest-growing city in Texas today.
The city's population has crossed 1.5 million and is growing fast, so plenty of homes are exchanging hands here. As a real estate agent, one could make $96,371 a year here, which is about 2.1% above the national average.
The average San Antonio home price is $300,929, below the national average, and with rising demand, it is a great place to be a real estate agent.
5.7 Southlake
Southlake is in Tarrant County, with a few areas extending into Denton County. A suburb of Dallas-Fort Worth is a relatively small city on our list, with a population of 32,376.
A real estate agent could make around $89,906 per year here, which is 4.71% below the national average.
However, this is a relatively affluent neighborhood in Texas with a typical home price of $1,199,989. An agent would have to sell just a few homes yearly to make a decent living here. 
5.8 Arlington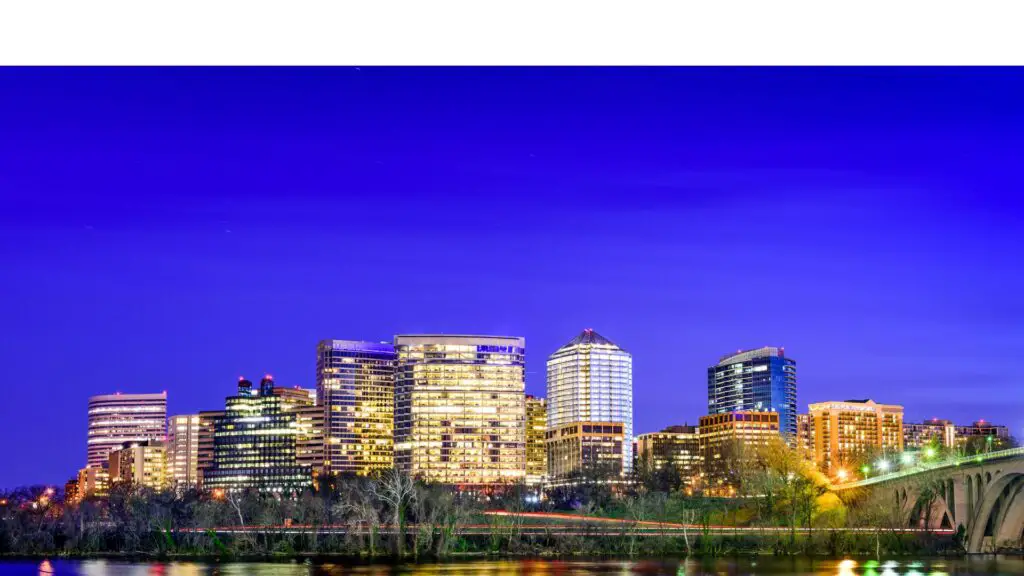 Arlington is located in Tarrant County and is part of the Mid-Cities region of the Dallas-Fort Worth-Arlington metropolitan area. It is the principal city of the metropolis, with almost 400,000 people. Moreover, it is the second largest city in the county after Fort Worth. A real estate agent could make about $89,053 a year, slightly below the national average. The typical home price in Arlington is around $339,741, slightly below the national average.
5.9 Fort Worth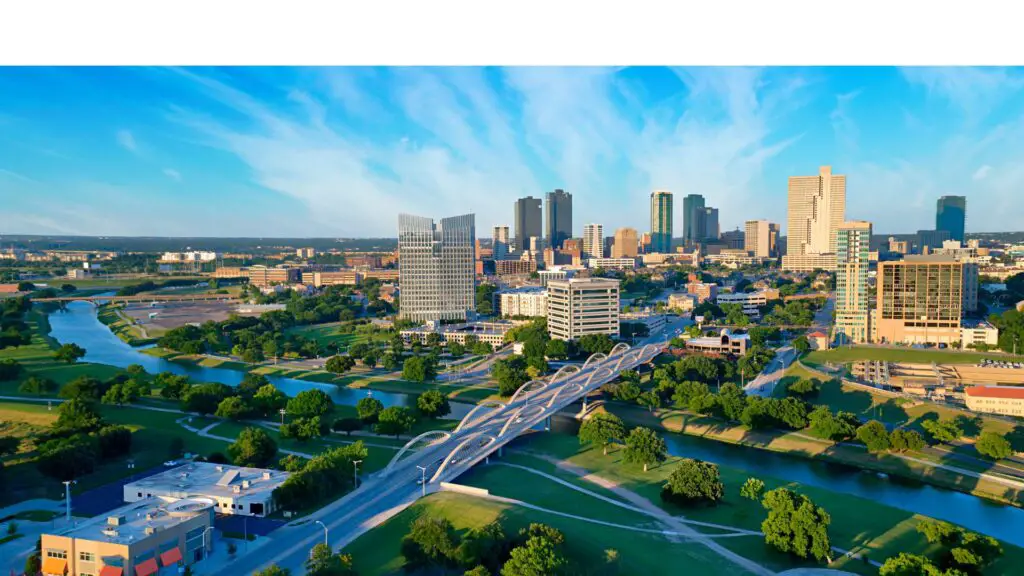 The fifth-largest city in Texas, Fort Worth is the 13th-largest in the United States. Located in Tarrant County, Fort Worth has a population of 958,692 and extends into four other counties: Denton, Parker, Johnson, and Wise.
This is the Dallas-Fort Worth-Arlington metro area's second-largest city. A real estate agent here can earn up to $85,477 per year. This is about 9.4% below the national average.
However, Fort Worth is today one of the fastest-growing cities in the country, and its population has nearly doubled since 2000. The average Fort Worth home price is $333,496.
---
6. What affects a real estate agent's salary in Texas?
Several factors affect the earnings of a real estate agent in Texas. Let's look at these factors below.
6.1 Number of hours
How much a real estate agent works is directly proportional to the amount of hard work they put in. While some agents work 5 hours a day, others take it up as a part-time business and cannot dedicate more than two hours a day, and others may be at it seven days a week.
The agent who spends the most time of time in the business should be able to sell more homes, consequently making more money. And there is research that backs this line of thought.
Agents who put in an average of 40 to 50 hours a week can make up to $68,000 a year, while agents who give their profession 51 to 59 hours a week can make around $85,000 annually.
6.2 Location
The home price and the commission earned will depend a lot on the location in Texas. A city where the cost of homes is low will bring down the overall earnings of a real estate agent.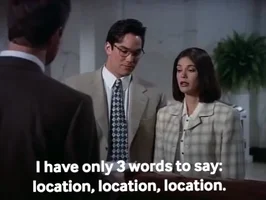 However, in a town with high home prices, such as Austin or Plano, the agent will earn more per deal, resulting in a higher annual income. For example, selling four expensive homes will give an agent much more money than selling four low-priced homes.
It takes almost the same time to sell a high-priced and low-priced home. Similarly, working in cities or suburban areas will be more lucrative than working in rural areas where home prices are low, and there are fewer transactions per year.
6.3 Government policies
To a large extent, government policies will affect the overall real estate market. For example, if interest rates are low and it is relatively easy to get a home loan, more people will prefer to buy homes.
However, if the interest rates are too high and the government makes it difficult to qualify for home loans, demand for housing will fall.
As a result, government-sponsored enterprises like Fannie Mae and Freddie Mac tend to infuse new life into the real estate market, and more people will buy homes in such a scenario.
6.4 Experience makes a difference
How experienced the real estate agent is will also affect the overall income of the agent. For example, a new agent will take time to understand the market and rules of the game and hence will take longer to close deals limiting the income. On the other hand, an experienced agent will be able to close deals faster as they know the nuances of selling quickly.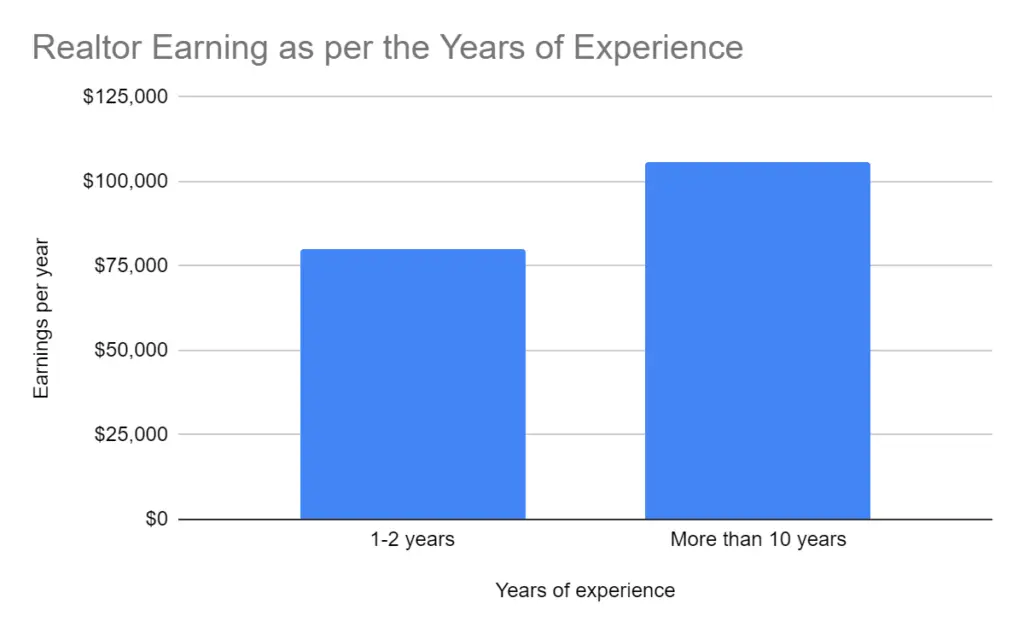 Real estate agents depend significantly on their network to generate sales, and the more experience you gain, the more your network strengthens. A more robust network will translate into higher commissions.
A study conducted in 2019-20 revealed that a Realtor's income more than tripled after the first year, and those with 4-10 years of experience earned an average income of $63,595. Agents with an experience of over ten years averaged around $100,000 a year.
6.5 Agent's qualifications
An agent can build a reputation by taking up various businesses, such as a property consultant, commercial property investment, or property management.
All this adds to the agent's resume, and they can earn a higher income because of their expertise and experience. The better the service they provide their clientele, the higher the fees they can charge.
6.6 The agency
Agents work with a broker or an agency, so their rules directly affect the agent's business. For example, in many agencies, inexperienced agents are paid less and spend more time gaining experience to take home higher salaries or commissions. On the other hand, experienced agents get a higher commission share and earn more. Some agencies also offer bonuses for outstanding performers.
6.7 Type of properties
The type of properties or deals an agent focuses on will also decide how much money they will make.
For example, commercial property deals will result in a higher income because of the high prices compared to residential property deals. Similarly, some agents only concentrate on premium properties where the same logic applies. 
6.8 State of the economy
How well the economy is doing will also directly affect the housing market. A case in point was the pandemic when economies were struggling worldwide.
As a result, property markets suffered, and it was a trying time for those involved in the real estate market. However, with economies trying to claw their way back to pre-pandemic levels, it is a good time for real estate agents to build a career in the industry. 
6.9 Education and accreditations
An agent's education and accreditations will make a big difference to the money they make. For example, an agent who is part of multiple organizations like NAR or local organizations will be able to impress clients and build a network to close sales quickly. Agents can also get advanced certifications such as Accredited Buyer's Representative (ABR®), Seller Representative Specialist (SRS), Certified Residential Specialist (CRS), or NAR's Green Designation (GREEN). All these certifications mean that they have acquired more skills and can put these to good use for the client. Home buyers and sellers will be willing to pay a higher commission for their abilities.
6.10 Overheads
How well agents manage their overheads also decides how much money they will make in the long run. For example, agents spend from their own pockets to promote and market a house. They spend on professional photography, home staging, hiring copywriters, social media and offline advertising, making flyers, etc. They only recover this money after a house is sold. Add to this expenses such as travel costs, mobile bills, office rent and supplies, gas, etc., and they could be left with virtually half the gross income. Agents also have to pay the brokers they work under for using their infrastructure. Managing all these expenses will finally affect the net income.
---
7. How do real estate agents earn money?
Real estate agents earn money only when they close a deal. The commission is paid out of the final price that the seller receives from the buyer of the home. If there is no sale, the agent is not paid.
Agents generally do rental agreements and act as buyer or seller agents. The income from rental contracts may be small, but they are more frequent and help the agent cover recurring expenses.
The commission earned as a buyer or seller agent is much higher, and their actual income comes from here. Agents can also make some money by writing Broker Price Opinions (BPOs) or referring clients to agents in other areas where they don't operate. 
In some states, the listing agent can also act as the buyer's agent if the buyer does not have an agent. This is called the dual agency and results in a double income for the agent since they get the buyer agent's commission and the listing agent's commission.
However, it is almost impossible to represent both the seller and the buyer simultaneously since their interests differ. This is why the dual agency is banned in some states, including Texas. The other states where the dual agency has been banned are Alaska, Colorado, Florida, Kansas, Maryland, Oklahoma, and Vermont.
Agents can sometimes earn a higher commission if the property they are dealing with is unusual or a land-only listing. Some sellers also provide an incentive for agents to sell their houses quickly. For example, a seller might offer a $10,000 bonus to the agent if they can get a full-price offer within 30 days.
7.1 Realtor commission explained
Realtor commissions are negotiable, and the amount an agent earns varies from deal to deal, depending on the terms of the agreement. For example, the listing agent and buyer agent generally share the commission equally. H
owever, a listing agent may sometimes demand a higher commission percentage because they spend money promoting the house. In such cases, a buyer agent will earn less than a seller agent. 
Today there is tough competition with discount brokers charging much less than the traditional 6% commission. There are ibuyers and investors looking for deals too. Listing agents may also have to reduce their commissions to compete with them.
Interestingly, those offering lower than the standard commission to buyer agents will find it challenging to sell the home because buyer agents may ignore such listings completely. However, if a higher commission is offered to buyer agents, they are more likely to show that listing to their clients, which could result in an offer higher than expected.
This works for properties that may not sell due to something working against them, such as an unusual location or some unique feature making them less desirable to buyers.
7.1.1 How does the commission split work?
Real estate agents in Texas are not allowed to accept commissions directly from the seller. Instead, they must work under a broker with a higher license to receive the commission. These brokers also advise and guide the agents and often provide them with infrastructure from where they can operate.
For this, they charge agents a percentage of the commission. The ratio in which they share the commission is called a commission split. All agents have to share a portion of the commission with their brokers – whether they are listing agents or buyer agents. 
For example, if the home is sold at $500,000 with a 6% commission, the total commission on the deal is $30,000. Let's assume that the commission is divided equally between the agents and brokers. Hence each agent and broker will get $7,500 since the commission is split four ways.
Each agent/broker share = Total commission ➗ 4
= $30,000 ➗ 4
The above example is a 50/50 split between the agent and the broker.
= $7,500
The image explains this 50/50 split.
Splits tend to be more in the agent's favor as they gain more experience. For example, splits could be 60/40, 70/30, or 80/20 in the agent's favor.
Here's a look at different commission splits and how much they would work out in the above example.
| | | | |
| --- | --- | --- | --- |
| Total commission | Split | Buyer/Seller agent's share | Buyer/Seller broker's share |
| $30,000 | 50:50 | $15,000 ($7,500 each) | $15,000 ($7,500 each) |
| $30,000 | 60:40 | $18,000 ($9,000 each) | $12,000 ($6,000 each) |
| $30,000 | 70:30 | $21,000 ($10,500 each) | $9,000 ($4,500 each) |
| $30,000 | 80:20 | $24,000 ($12,000 each) | $6,000 ($3,000 each) |
| $30,000 | 90:10 | $27,000 ($13,500 each) | $3,000 ($1,500 each) |
According to reports, in 2021, about 37% of agents opted for the fixed commission model, and only 23% received a graduated split. Another 15% had a capped split. Capped splits mean the agent will have to split part of the commission till a certain level of business.
Once they earn more than that level, they can keep the entire commission for the overspill business – they don't have to split the commission for the additional business. For example, once the broker earns $5,000 from the agent, they might let the agent keep 100% of the commission for further business.
Some brokerages may use a combination of the above splits or variations. For example, virtual brokerages such as Real offer a capped split model but make up for the lower revenue by charging the agents various fees such as sign-up fees, equipment fees, administrative fees, risk reduction fees, transaction fees, or support fees.
Others prefer to pay a fixed salary to their agents and generate as much business as possible. Agents who want a fixed income prefer this kind of model.
7.2 How do realtors earn through rentals?
Rentals work a little differently as compared to the sale of a house. Here too, there is no fixed percentage for the commission.
The amount of commission and the method of calculating it may differ from deal to deal or location to location.
For example, a rental agent in big cities like New York and Boston may be paid differently than an agent working in smaller towns or rural areas. The locality or market situation will also affect the commission.
Here are some standard methods of calculating the rental commission.
7.2.1 A month's rent
The most common method of charging commission in the US is setting it at one month's rent. However, here who pays the rent will differ in different locations.
In Texas, the landlord or property owner pays the real estate agent or broker's commission. This commission is often a percentage of the yearly lease amount, and it is usually baked into the rent. Unlike in New York City, it is not typically the responsibility of the tenant to pay this fee directly.
Plus, there is no such law in Texas that require landlords to collect a broker's fee from tenants.
Note that there are no universal rules, and practices can vary from one broker to another. It's always a good idea to ask about this directly when beginning the process of renting a property, to avoid any misunderstandings or surprises later on.
7.2.2 A percentage of the lease
Sometimes agents may charge a percentage of the annual lease. For example, suppose an agent charges 10% of the yearly lease, and the monthly rent is $1,000. In this case, the annual lease rent would be $12,000. The commission, in this case, would be $1,200.
Commission = Annual rent X 10%
= $12,000 X 10%
= $1,200
The listing agent and the tenant's agent will mostly share this commission equally, so each would get $600.
7.2.3 A percentage of monthly rent
In some areas, agents charge the tenant a percentage of the first month's rent for finding them an apartment. For example, in San Fransisco, agents charge tenants half a month's rent as commission. This will usually be paid to the agent when the lease is signed.
7.2.4 Occupancy fees
In cases where the commission is calculated as a month's rent, the agent may also get a portion of the rent. This is termed occupancy fees.
7.2.5 Monthly management fee
This is similar to charging a percentage of the lease rent. This percentage ranges from 2.5% to 15% of the annual rent, and it can go higher in some locations. However, the standard rate is 8%. For example, if the monthly rent is $1,000, the annual rent would be $12,000. So 8% of the yearly rent would be $960.
The average rent for a three-bedroom apartment in the US is $2,017. Since this is the most common size for apartments in the US, agents have a lot of scope for managing and leasing such properties.
7.2.6 Splitting commissions
Agents don't usually take home the entire commission mentioned in the agreement. There could be several parties with whom they have to split this commission. For example, a listing agent has to share the commission with the tenant's agent. Then both agents may have to split the commission with their respective brokers.
In other cases, the agent may have received a referral from another agent, so part of the commission must be shared with the referring agent. One has to keep in mind that what is true for one location may not be true for another, and the terms of each agreement may vary. Similarly, the splits will also differ from brokerage to brokerage and could also depend on the local standard.
---
8. How can a real estate agent double their income?
Beginning a career in the real estate market can be a struggle in the first year. However, the good news is that earnings triple after the first year.
A study in 2019-20 found that while average earnings for real estate agents were around $9,000, this figure went up to $38,141 for agents with an experience of one to three years.
The more knowledge you gain here, the higher your earnings. This is because you tend to grow your network over time, resulting in more and quicker deals. For agents with an experience of four to 10 years, the average income dramatically increases to $63,595 a year.
And for those with 11 to 25 years of experience, the figure goes up to $101,633. For agents with even higher experience, the annual earnings could go up to $108,849.
Because income is low during the initial period, a new agent needs to be careful and use some well-advised tips to survive during this lean period. Here are a few ideas to remember if you want to double your income quickly.
8.1 Save up for the struggle
Since the agent is here for the long haul, survival is the biggest challenge during the initial days. One needs to cut expenses and save up so one can stay afloat during this time.
A few unavoidable fees include the pre-licensing real estate class, which could cost you around $100 to $500, depending on your location. You must keep this amount ready before taking the real estate agent exam. The broker you are affiliated with will also charge you anywhere between $25 and $500 monthly.
Their fee may be fixed or or they may take a percentage of the commission you earn on your business. You will also have to promote yourself; for this, you will require initial capital of around $1000 annually.
This money will go towards developing leads and promoting yourself through different avenues in the local community, including social media, printing visiting cards, print ads, etc.
Besides these, you will also have to take care of your living expenses since your income will be below par during this phase. So it would help if you had enough savings to tide you over this period until your experience kicks in and you begin closing deals regularly.
Of course, the more money you save, the longer you can survive. If you find it challenging to save up, you could probably take the help of a money management apps that will help you keep track of your expenses and advise you on how you can save up. 
8.2 Work with a supportive brokerage
Choose your employer wisely. If you choose a supportive brokerage that helps you in your career, this will go a long way in setting up your business. You can learn from experienced agents who have been there and done that. They could give you a few tips on how they managed their journey in real estate.
Before joining the brokerage, ask questions such as – do they provide a supportive atmosphere for new agents? What kind of rules and regulations will you have to follow? What is the commission split for new agents? What's their record when it comes to hiring newcomers? Talk to the agents working in the organization, and you will get a good idea of whether you will have a good mentor. Finally, look at the attrition rate, which indicates an excellent place to work. For example, if the commission split is fair and gives you breathing space, this will go a long way in helping you survive.
8.3 Try to engage with a good mentor
Finding a good mentor can be quite challenging in this industry. Look for people who are kind, supportive, and good at teaching skills. Although this may be difficult at first, you need to take your time to find and build a good relationship with your mentor, as this can mean a make-or-break situation. One good way to create such a relationship is to offer to teach some skills while learning those of a real estate agent. For example, if you are familiar with computers and technology, you can offer to teach these skills to the mentor of your choice in exchange for learning about real estate. This will be a give-and-take relationship that could work in your favor.
---
FAQs
9.1 Is a Realtor and real estate agent the same?
No, a Realtor and a real estate agent are not the same. A person who gets a license to operate in the real estate industry is called a real estate agent. However, these are not Realtors. Agents who join the National Association of REALTORS® (NAR) are called Realtors. NAR trademarks the term "Realtor". So only when you join their local board of Realtors are you allowed to call yourself a Realtor. According to NAR, about half of the real estate agents in the country are registered Realtors.
The largest trade association in the US, NAR requires its members to have a clean conduct record. Moreover, it has good bargaining power with the state and federal governments, resulting in better legal protection for Realtors across the country. NAR has a strict Code of Ethics for its members, and anyone who breaks these published codes is severely punished with disciplinary action or loss of membership, besides potential ligitation. Because of these strict guidelines, Realtors are considered to be more reliable and you can trust them to work within the given guidelines. This helps them attract more clients than real estate agents.
To become a Realtor, you have to first identify and join the local chapter of NAR in your county or state. You have to pay a fee and also take and clear an online course on the Code of Ethics. Once you join up, you must adhere to NAR's standards of practice as long as you practice your trade in the real estate industry. Moreover, you will have to retake the exam every four years to maintain your certification.
9.2 How to get a real estate license in Texas
To get a Texas real estate license, firstly, you must be 18 years or older and a US citizen. To obtain the license, you must complete five steps laid out by the Texas Real Estate Commission (TREC).
9.2.1 Background check / Fitness Determination
Firstly you need to pass a background check by giving your fingerprints so that they can check your honesty, trustworthiness, and integrity.
If you want to know whether you fulfill the TREC's requirements in advance without wasting time and money, you can ask for a Fitness Determination or FD. You can do this before you take the course or pay the application fee. In addition, if you have any criminal offenses in the past, disciplinary action against you for unprofessional conduct, unpaid judgments, or have performed any unlicensed activity, all these could disqualify you from getting a TREC license. If you have already applied for license then you cannot ask for an FD.
You must fill out a Fitness Determination form for TREC to determine whether you are eligible to apply for a license. Remember that TREC will only check for the information provided by you, and this is not a full background check. Therefore, if you have not provided all the required information, TREC can still deny your application based on its final background check.
An FD does not replace a background check. You still need to submit your fingerprints to the Texas Department of Public Safety (DPS) so that they can do a background check.
9.2.2 Pre-licensing exam
After the background check, you must complete the 180-hour pre-licensing course from a TREC-approved institution. The course includes six 30-hour courses, as stated below.
-Principles of Real Estate I (30 hours credit)
-Principles of Real Estate II (30 hours credit)
-Real Estate Finance (30 hours credit)
-Law of Contracts (30 hours credit)
-Law of Agency (30 hours credit)
-Promulgated Contract Forms (30 hours credit)
9.2.3 Pre-license course final exam
Once you complete the 180-hour course, you need to give an exam to prove that you have understood the course material. Once you clear this exam, it will prepare you for the licensing exam.
9.2.4 Apply for Licensure
Using their online licensing service, you can now apply for a real estate license with the TREC.
9.2.5 State licensing exam
After TREC approves your application, you can schedule your exam and get a candidate handbook. Administered by Pearson Vue, the Texas Real Estate Exam has two sections–-a National section with 85 questions that needs to be completed in 150 minutes and a State section with 40 questions to be completed in 90 minutes. You must get at least 70% to pass this examination.
The entire process to obtain the license may take 4-6 months to complete and cost you approximately $626 to $1,276, depending on the price of the qualifying education. Even if you are an experienced and licensed real estate agent from another state, you must go through this process per TREC rules. The initial license is for two years, and to renew it, you need to take 90 hours of Qualifying (SAE) courses and two 4-hour TREC Legal Update courses within this period.
After this, you must obtain sponsorship from a licensed Texas broker and complete an online sponsorship request.
---
9.3 Do Texas real estate agents pay their own taxes?
Yes, Texas real estate agents pay their own taxes as they are considered self-employed. The self-employment tax in Texas is 15.3% of the net income. Agents can deduct all related expenses from their income before calculating this tax. Besides this tax, agents will also have to pay the regular income tax depending on the total income shown by their household.
9.4 What is an average real estate agent's salary?
On average, a real estate agent in Texas makes about $43,000 a year if they have up to five years of experience. For an agent with five to ten years of experience, the average annual income clocks around $59,000. As they gain more experience and expand their knowledge and network, their income increases accordingly. For agents with 10 to 20 years of experience, they can average about $62,000 a year; for those with more than 20 years of experience, $75,000 a year is the norm.
9.5 What are the pros and cons of becoming a real estate agent?
Taking up a career as a real estate agent can be quite challenging and rewarding at the same time. Working in this industry has several pros and cons, and you need to decide for yourself whether you are made for such a career. Let's take a look at the pros first.
9.5.1 Pros of becoming a real estate agent
9.5.1.1 Unlimited income potential
Since income here depends on how hard you work and the time you put in, it is really up to you how quickly you want to grow. Keep a sharp lookout for ways to multiply your income fast, and you should be able to tap into an unlimited source of income. For example, you could concentrate on premium properties only. This will automatically put you in a higher grade where commission and annual income are concerned.
9.5.1.2 You are your own boss with a flexible schedule
There is no restriction on work hours, and you can work on a flexible schedule. For example, during the initial years when commission earnings could be low, you can opt for a full-time job and only take up the real estate business part-time. You can switch to real estate full-time as soon as you make enough to cover all your expenses. The best part is that you will have enough time for your family if you manage your time well.
9.5.1.3 An entrepreneur
You are now an entrepreneur. You will have to look at this as a business and act accordingly. The number of hours and dedication you put in will decide how successful you are, just as a regular entrepreneur does.
9.5.1.4 You need to be socially adept
Since the real estate business depends on building a great network and negotiating with clients, you need to be a people's person to succeed here. You need to ensure that you put your clients first in whatever you do to gain their trust and thus slowly build your reputation.
9.5.1.5 Satisfaction of helping people
You can make people's dreams come true. Your clients are looking for their dream house when they approach you. This is a big responsibility and can be a tough nut to crack. But the satisfaction on your clients' faces when you succeed in helping them buy or sell a house can be pretty high.
9.5.1.6 Career mobility
A real estate agent can do a lot of things at the same time. Diversifying within your industry will help you earn more as you build your network and experience. You can transition to becoming a real estate investor, property manager, residential appraiser, office manager, leasing consultant, sales associate, or even a customer service representative. You will be gaining experience in all these fields here.
9.5.1.7 Business growth
You can set your limits in real estate. If you feel you have tremendous potential, you could hire a few assistants and expand quickly. You can quickly scale up your business by hiring more people. You can take on a broker license and hire agents under you. There's nobody to stop you from thinking big.
9.5.1.8 Referral network
Use your network – reach out to your friends and family; they could be your first clients. Ask your clients and friends to recommend you to their friends and family – you will get better results by successfully closing deals for them and probably even promising them discounts in the future for referrals. The more extensive your network, the faster you will grow.
9.5.2 Cons of becoming a real estate agent
Of course, becoming a real estate agent is not easy, and there are several disadvantages that you need to be aware of. Let's look at some of these here.
9.5.2.1 You cannot be impatient
A real estate agent needs to meet a lot of people. That means engaging with all kinds. Be extra patient to handle them and do your job simultaneously.
Build your network. Besides this, the first year is quite challenging for agents. This is when most agents quit, but that is because they don't have a plan like you. Keep your eyes on your goal at all times. Read The First Year Real Estate Agent Survival Guide, which will help you stay on course.
9.5.2.2 Do not be bogged down by rejection
A real estate agent's job is like a salesman's job – you need to be immune to rejection. That can be tough for newcomers, and it can take some time. Meeting total strangers and convincing them that they need you is not an easy job, and you are bound to get rejected more than you are successful. However, believe that you are closer to a 'yes' every time you hear a 'no'. Read this article and learn how to handle rejection.
9.5.2.3 Escrow challenges
Escrow can take more than 30 days to close, which is quite a trying and complex process. However, focus on doing what is best for your client and staying professional. As long as you do this, things should resolve, and you should be able to close the deal.
9.5.2.4 Handling the competition
The real estate business is quite competitive. According to NAR, it had 1,559,537 members in 2021. And more than three million real estate agents have active licenses in the country. In such a situation, the best thing to do is concentrate on your strengths and focus on one area. For example, focusing on high-end properties could be one strategy that can get you results quickly. Do whatever it takes.
9.5.2.5 Learn to handle people
Handling all kinds of people is challenging; not all of us can do that. So read up as much as possible about this subject in your spare time. Self-education will get you results, and you will be able to handle people better.
9.5.2.6 Longer hours and workarounds
Since this is your business, how much you put in in terms of hours will decide your income. So you will tend to work harder and for longer hours. This may mean sacrificing time with your family. For example, a client may want to meet or see a house on the weekend or holiday, and you cannot refuse to do so. So you will have to work around clients' schedules to make time for your family or personal work. Of course, you may have more time in the afternoons, which is a lean period every day, but you may end up working late, as clients usually visit only after office hours.
9.5.2.7 No fixed income
Real estate agents make money only when they assist a client to sell or buy a house or property. So yes, there is unlimited potential, but this can be erratic. And sometimes, you may have more than one client, and at other times you may not have a single client for weeks together. This will mean that you will not have any income in some phases, and you will have to prepare for such situations by saving up when you have plenty. Also, real estate is a seasonal business so make sure you don't splurge when you earn but save up for lean periods.
9.5.2.8 Handling unreasonable clients
Clients will have different mentalities, and you have to handle all types. Some will trust you implicitly, while others may interfere in the negotiations and want to be clued in on everything. The latter type may cause you issues if clients are unreasonable. You will have to learn to handle them carefully so that you don't lose their business and this can be pretty tedious sometimes. Especially if you are not a people's person. You will have to interact with other agents and brokers as well. So keep your social skills well-honed.
9.5.2.9 Stressful periods
A house transaction involves a lot of paperwork, negotiations, and procedures that can be stressful if not handled well. Even when they are handled well, unforeseen circumstances may hinder your progress. For example, the opposite party may not be very cooperative, and you will have to finish your work despite this. Real estate agents need to learn how to handle different situations with a calm mind. Taking recourse to meditation and yoga might help you do this better.
9.5.2.10 Tough period for newcomers
More than 80% of newcomers in the real estate agent business quit during the first year, and this is because they cannot handle rejection or cannot tide over lean periods. Sometimes they are not used to putting in long hours of hard work, which is required to set up a business. It would help if you toughen up for phases when business and income are low and get better and better at marketing yourself. In addition, it would help if you multitasked to handle many clients and procedures simultaneously. So get organized and read some books on the subject to help you survive.
9.5.2.11 Few repeat clients
Your clients seldom come back to you for more business because buying or selling a house is done after years. In addition, very few clients may have multiple places to buy or sell. So you will have to keep looking for new clients and new business. One way to do this is to ask for referrals from your existing clientele. They will willingly refer you to their friends and family if you work hard and get them good deals.
9.5.2.12 Real estate business is competitive
According to NAR, there are approximately 1,563,502 licensed Realtors in the country as of May 2022. However there are around three million active, licensed real estate agents. In Texas alone, there are 144,464 Realtors. So obviously, competition is high, and you will have to work hard for your business. Building a good network with trusted colleagues will go a long way in setting you up for success. Help others so that they are willing to go the extra mile for you.
---
By now, I am sure you must have understood how much money realtors make in Texas. The realty market in Texas is booming and offers excellent opportunities for new real estate agents. However, it is also a very competitive market and will require hard work, dedication, and long hours to build a great network.
The number of connections you build and your reputation as you gain more experience will ultimately decide how much money you make here. So a zest to constantly learn and improve will stand you in good stead here. Besides professional learning, you must also train your mindset to keep calm and organized. Read as much as possible on this and put it to practice, and soon you should be making enough money to live a comfortable life. So what are you waiting for? Go ahead and start this life-changing journey.