Buying a home in Texas is a dream for many. The state is one of the most profitable markets for homebuyers with low foreclosure rates and a large share of newer homes. And here's a secret: Five of the six top best places to buy a home are in Texas!
That said, buying a home in Texas is not cheap. While home prices in Texas are still on the lower side, a typical single-family home will still cost you around $315,847. But that's not the end! You have other additional costs like the Texas realtor's fees ( which is usually baked into the final purchase price), closing costs, moving cost, etc. that can drill a hole in your pocket.🫨
While you cannot avoid most of these costs, there is still a way to save thousands of dollars. How? Through Texas buyer rebate. 😋
1. Home Buyer Rebate – An Overview:
1.1. What Is A Buyer Rebate?
A buyer rebate, by its definition, means a refund given to the buyer. Usually given out by the buyer's agent, the rebate comes from the percentage commission they earn on a successful deal.
You can think of commission rebates as incentives buyer agents offer to attract well-informed buyers.
When a buyer purchases a home in Texas, a good percentage of this purchase price goes into agent commissions. Although this amount usually comes out of the seller's pocket, it is technically your money as it is baked into the final purchase price of the property.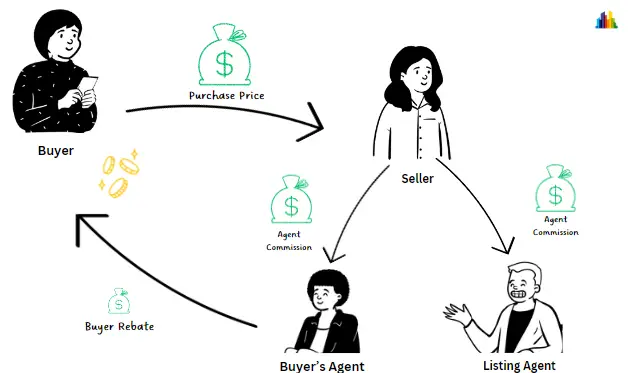 This agent commission in Texas usually ranges between 5-6% ( an average of 5.59% for Texas)  of the closing price. As shown in the diagram above, this amount is further divided equally among the listing and buyer's agent (depending on the split decided/mentioned in the listing agreement- usually 50% each).  
A little more on real estate commission to buyers in Texas:
Most brokers and agents in Texas offer rebates as closing credits- generally subject to various terms and restrictions.
In contrast, some agents also offer cash rewards that you can spend according to your liking.
Also, note that buyer rebates as closing credits might disturb your mortgage and put your transaction at risk. So to better understand refunds, how to get them, and the risks involved, you need prerequisite knowledge of how the real estate commission works in Texas.
1.2. How Does The Real Estate Commission Work In Texas?
Commission rebates let brokers or agents help buyers save money on the home purchase without having to negotiate for a lower sale price with the seller.
A real estate commission is a fee the seller pays for a real estate agent's service and expert advice. This fee is usually paid as a commission on the final purchase price (an average of 5.59% in Texas). It is given out after closing the deal, post successful payment transactions. Depending upon the involvement of brokers, a part of the commission is also paid to them. But that's something you do not have to worry about.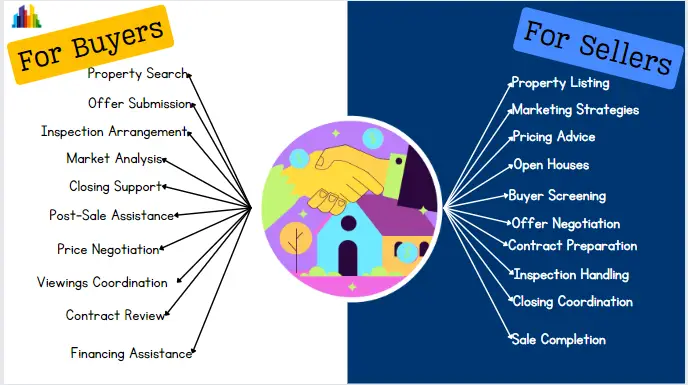 Note that the rebate will vary as your rebate will be a percentage of your agent's commission. So, there is no definite way of calculating how much rebate you will earn. Here is a detailed overview that will explain the entire real estate transaction.
Before listing the property, a set commission amount is proposed by the listing agent to the property seller. Once the amount is finalized, it is included in the listing agreement. Note: If the listing agent works for a brokerage, a percentage of their commission will go towards paying their commission.
The listing agent lists the property and offers a portion of this commission to any brokerage ( firms with agents) or individual agent that finds a potential buyer.
If a brokerage has an agent with a potential buyer, they proceed with the process. Note that the brokerage will get a percentage of the agent's earnings through the transaction.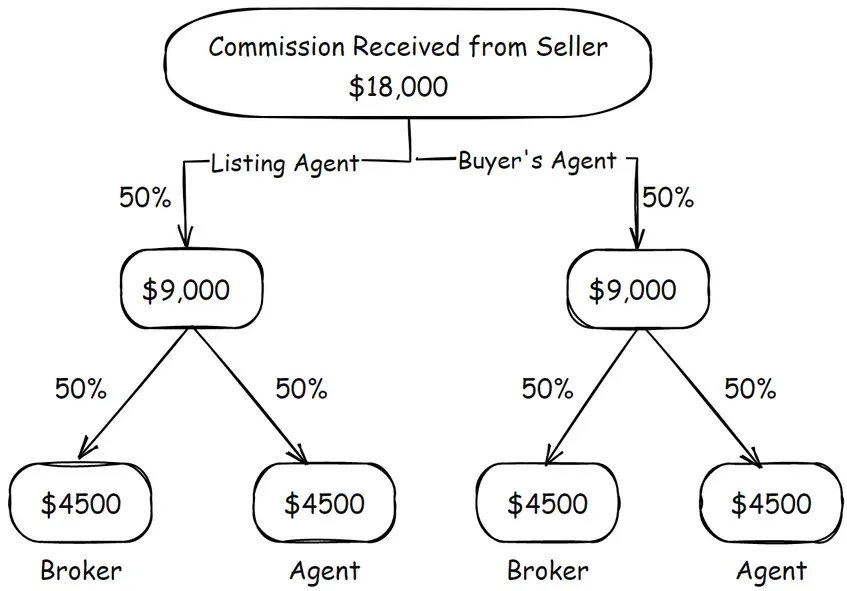 As a result, the commission often goes four ways.
Buyer's agent
Listing Agent
Buyer's Broker
Seller's Broker
Please keep in mind that all these splits are negotiable.
Suppose a home is listed for $300,000, and the listing agent and seller agree on a commission of 6%. When the home is finally sold, $18,000 will be paid by the seller in commissions. If the buyer and listing agent agree on a 50/50 split, each party will get $9,000.
Further, if the real estate agent and broker agree on paying 1% of the final purchase price as a rebate to the buyer, the buyer's savings will be $3,000. However, if the broker agrees to pay 50% of their commission as a rebate to the buyer, the buyer earns $4500 (50% of $9000) as a rebate.
The real estate commission rate is not fixed. According to List With Clever's 2022 survey, the average commission rate in Texas is 5.59%.
1.3. Why Does A Buyer Agent Give Rebates Instead Of Reducing Commissions?
Legally, the buyer-agent commissions are negotiable. Buyer agents give rebates instead of lowering their commissions because it doesn't benefit anyone.
Let us explain why.
The seller and the listing agent usually decide on the real estate commission before listing the property.
It is detailed in the listing agreement, and the commission split is usually listed for the buyer's agent in the listing. Buyers typically do not have a say in the amount that will be given to the agents.  
So even if your agent agrees on a discounted commission (say 1% instead of 3% in a 6% percent deal), the seller will still have to pay the total amount, which will go directly into the seller's agent's pocket (as a result he will earn a 5% commission instead of a 3% percentage commission), leaving you with nothing.
That is why the buyer agents prefer giving rebates as this way, they can benefit the buyer, build goodwill, and ensure the successful closure of the deal.
1.4. Where Does The Real Estate Commission Rebate Come From?
A home buyer rebate comes from the portion of the commission the buyer agent receives after closing a deal.
Some companies offer a varying percentage, while others refund a set amount irrespective of the purchase price.
Let's break down the commission to understand where the rebate comes from. Suppose you buy a home for $300,000; the real estate commission is 6% of the total sales price. If that 6% commission is split between the buyer's and seller's agent equally, then both agents get a 3% commission of $9,000. Your rebate will come out of this $9,000.
1.4.1 Why is your agent keen on giving you a buyer rebate in a competitive market?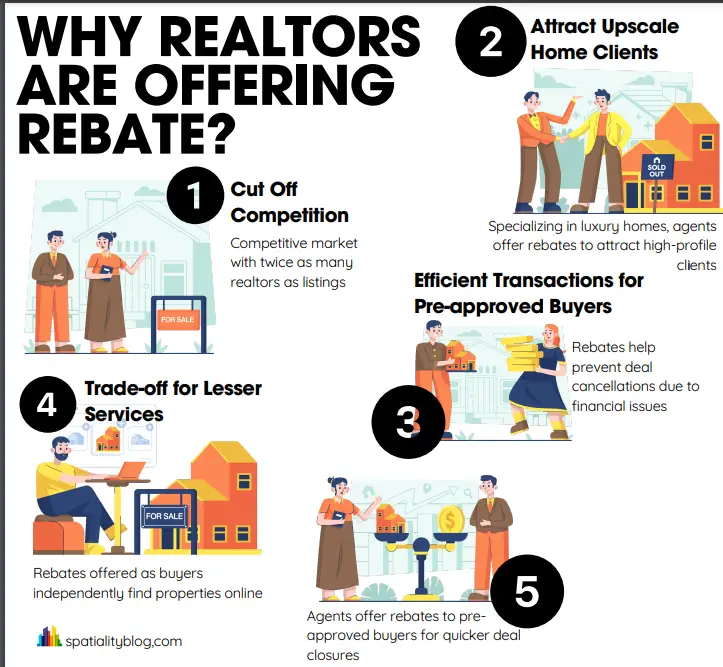 53% of buyers claim that finding the right home is one of the most challenging tasks! 
Earlier, a buyer's agent was more hands-on when searching for relevant listings. It made sense for buyer's agents to charge high commissions back then because they spent days if not weeks finding the correct listing for their clients.
Today, homebuyers have a wide range of information at their fingertips. Plus, with more buyers looking for online listings, the time and money agents spend on finding buyers their dream homes has decreased exponentially. So, the money they charge for it does not make sense now.
Here are some reasons why the agents are willing to give rebates to buyers:
1. To cut off competition – Offering a rebate help agents gain an advantage in the realtor-flooded competitive market.
There are twice as many realtors in the US as  listings, that's why offering a rebate  that can help realtors  stand out  has become more critical than ever 
2. Sell an upscale home –  Agents specializing in ultra-upscale homes face difficulty finding clients.
They would do anything to attract and retain high-profile clients through rebates, even if it means taking a cut. 
That's because even after giving a rebate, agents earn much more than they typically will in an average transaction.
So, closing an offer becomes more important than anything else for such deals.  The agents gain notoriety through rebates because they put the consumers first.
3. Make the transaction more efficient – If you are a pre-approved buyer, then the chances for you to get a rebate are very high.
That's because, in such a case, the agents do not have to wait long to close the deal. So, in such a case, agents use rebates to win over the client.
4. Close more deals – Nothing can be more dreadful for sellers and agents than a buyer canceling the deal last minute because of financial issues.
With the help of rebates, agents can help them shoulder some of the financial burdens and may cover some of the closing costs, usually 1-2% of the final purchase price. So, if they can close a deal successfully by decreasing the amount, they will certainly do that. 
5. To trade-off lesser services– Many buyers can locate the property they want to purchase online because a considerable amount of listing information is available online. They can choose from the list of properties by viewing them online, doing their drive-by, and watching virtual tours.
Some brokers offer a rebate to the buyers and do not provide an agent to go along with them to show, depending on open houses and listing the agents for access. The service showing the property should be purchased separately when no method can be found online to get into the property.
---
1.5. What Is The Average Rebate A Buyer Agent Gives In Texas?
To calculate the average buyer agent rebate in Texas, you need to consider three variables:
Average home price
Average commission
Percentage of the commission promised as a rebate.
Considering the typical home price in Texas, i.e., $282,726, and the average commission, i.e. 5.7%, and two variable percentages of commission as a rebate, here is what you can expect as the average rebate in Texas.
| | | | | |
| --- | --- | --- | --- | --- |
| Median Home Price | Agent Commission (5.59%) | Buyer Agent Commission (50% of agent commission) | Buyer rebate 50% of buyer agent commission | Buyer rebate as 65% of buyer agent commission |
| $315,847 | $17,656 | $8,828 | $4,414 | $5,738 |

1.6. Is rebate legal in Texas?
Absolutely! Rebates are 100% legal in Texas. The U.S. Department of Justice deems rebates legal and even encourages buyers to get rebates to compensate for the soaring property prices in the US.
1.7. Where can you use buyer rebates in Texas?
1. Closing costs – You can use the rebate to cover a specific extra portion of the closing cost, such as appraisal fees, taxes, surveys, discount points, title insurance, etc. You will have to take the seller's and lender's approval to use the rebate you got as closing credits.
2. Moving costs – Using rebates, one can cut down on other costs and save a lot of cash. For example, packers & movers or rental trucks can make a dent in your savings, but the rebate cashback can make up a lot.
3. New furniture – New homeowners go furniture shopping with the rebate they receive. The new homes require new furniture, and so the homeowners use this cashback to buy new furniture for their dream homes.
4. Emergency savings – The smartest thing to fill your emergency savings account with the rebate received. Most homebuyers use part of the rebate as a savings fund for future use.
1.8. Is the buyer rebate in Texas correct for you?
The Real estate commission can be structured depending on the agreement between the parties involved and the type of service provided. Commonly, the real estate commission is paid by the seller. Rebates occur when more than one agent diverts a part of the money to the homebuyers as an incentive to purchase. Rebates lower the price that the clients pay.
That said, rebates are controversial in the industry and illegal in nine states.
Now the question arises,
Are rebates a good bargain if you are receiving less service in return?
Many discount brokers and some traditional real estate agencies provide rebates to attract more customers. Some brokers even reduce their commission by a single point percentage or sometimes by 50 percent to sweeten the deal.
However, despite the perks, rebates should never be the sole criterion for choosing an agent. A real estate transaction is a complicated process that requires handholding, especially if you're new to it. New homebuyers need all the help to ensure they get a great deal on a property free from liens or other structural. In such a situation, compromising expertise for money isn't viable.
Should I not opt for a rebate?
Well, you should. If you can save extra cash on home purchases, there is nothing like it. However, give more importance to who you are hiring than how much rebate he offers. Currently, over 80% of real estate agents in Texas offer rebates; you need to move ahead with the one with a good reputation and can give you value for your money.
---
2. How Much Buyer Rebate Can I Get On My Property?
According to the U.S. Department of Justice, buyer rebates can save you "thousands of dollars on commission payments." If the purchase price of a home is $315,847, i.e., the typical home price in Texas, a 0.5% cash rebate would mean $1,579.
The actual rebate you get will differ based on various factors, such as:
The final purchase price of the home
The commission earned by your agent
The percentage of commission your agent or broker is willing to offer as a rebate
Your lender's approval
Here is the list of median home prices that you can use to calculate the average commission and rebate ( from the method given below) for some of the popular cities of Texas. The calculation is done per Texas's average real estate commission, which is 5.59%.
| | | |
| --- | --- | --- |
| City | Median Home Price | Average Rebate (50%) on 5.59% commission |
| Austin | $599,000 | $8,371 |
| Dallas | $423,640 | $5,920 |
| Houston | $381,190 | $5,327 |
| Frisco | $677,500 | $9,468 |
| San Antonio | $285,000 | $3,982 |
| Plano | $482,000 | $6,735 |
| McKinney | $485,000 | $6,777 |
| Fort Worth | $369,000 | $5,156 |
| Round Rock | $450,000 | $6,288 |
| Allen | $515,645 | $7,206 |
| Leander | $501,500 | $7,008 |
| Prosper | $802,475 | $11,214 |
| Katy | $389,796 | $5,447 |
| Cedar Park | $569,000 | $7,951 |

Firstly you need to find out what kind of rebate you are getting. Is it a commission rebate on the buyer's agent's commission or a commission rebate on the selling price?
If it is a commission rebate on the buyer's agent commission, here is what you need to do:
Let's say the final sale price is $500,000. The list commission percentage is generally 6%, of which 3% will be given to the buyer's agent.
The commission earned by the buyer's agent = sales price *buyer's agent commission = $15,000.
Further, if the buyer agent offers you a 50% rebate, you will get a commission rebate of $7,500.
However, suppose it is a commission rebate on the selling price, usually 0.5-1% of the final selling price. In that case, the commission rebate you will get equals the commission on selling * final selling price.
For example, if the home's final selling price is $500,000, you will get a rebate of 0.5% of $500,000, which is $2,500.
Here are a few examples to further simplify the calculations for you.
a. Rebate on selling price
If you receive a commission on the selling price (generally 0.5 – 1.5% of the final selling price), the rebate you will get will be equal to the commission on selling * final selling price.
| | | | |
| --- | --- | --- | --- |
| Final Purchase price | Rebate offered on buying price (say 0.5%) | Rebate provided on buying price (say 1%) | Rebate provided on buying price (say 1.5%) |
| $250,000 | $1,250 | $2,500 | $3,750 |
| $500,000 | $2,500 | $5,000 | $7,500 |
| $600,000 | $3,000 | $6,000 | $9,000 |
| $900,000 | $4,500 | $9,000 | $13,500 |

b. Commission on Agent's commission
| | | | |
| --- | --- | --- | --- |
| Final Purchase price | Average commission of both realtors (5.70%) | Average commission of your realtor (2.45%) 50/50 | The rebate you will get (suppose 65%) |
| $250,000 | $14,250 | $7,125 | $162,500 |
| $500,000 | $28,500 | $14,250 | $325,000 |
| $600,000 | $34,200 | $17,100 | $390,000 |
| $900,000 | $51,300 | $25,650 | $585,000 |

---
3. Are Rebates And Cashback Similar?
Most agents and brokers issue commission rebates as closing credits that can only be spent in limited ways, subject to the lender's approval. Common uses for commission rebates include buying points on your mortgage and covering one-time closing costs.
Some real estate companies offer buyers cash back. It is a check that the buyer receives in the mail after closing the deal that can be cashed and spent as per your preferences.
We recommend looking for a real estate company offering cashback instead of commission rebates. However, in either case, the money won't be able to to fund your down payments.
3.1 Problems With Buyer Rebates
The listing agent can influence the situation.
In some situations, listing agents will agree to a different commission rate if they bring the buyer. For example, they can agree to work on a 4% commission from an original 6% if they bring the buyer. They settle for this amount as, in such scenarios, they do not have to split the commission. So, negotiating a rebate in similar situations can be tricky and borderline impossible.
Home rebates depend on the lender.
In a mortgage situation, the lender has the ultimate power over whether you can get a real estate commission rebate.
That's because when you get a buyer rebate, it affects your home's cost basis.
The cost basis is the total amount paid for the home. It includes the sales price, any financial investments made, and your fees during the closing. Your rebate will cancel some closing costs, lowering your home's actual cost and loan amount.
The lender uses the cost basis to calculate the loan-to-value (LTV) ratio, i.e., the loan sanctioned divided by the total cost of a property.
Lenders use LTV to mitigate financial risk. They usually keep it at 80% to ensure your mortgage does not increase. So, when the cost basis decreases due to rebate, it results in an overall increase in the LTV ratio. Lenders then have to reduce your LTV to 80%, decreasing your overall loan amount.
Here is an example that can help you better understand this situation:
| | | | |
| --- | --- | --- | --- |
| Home Buyer Rebate | Loan Amount | Cost Basis | LTV Ratio |
| $0 | $200,000 | $250,000 | 80% (Just right) |
| $5,000 | $200,000 | $245,000 | 81.6% (Too high) |

---
4. The Process To Get A Rebate
Step 1: Find a platform that offers rebates
4.1.1. The Top Platforms That Offer Rebates Are:
1. D/FW New Homes – Della Fort Worth new homes are amazingly independent competitive new home realtors. They offer a rebate of up to 2.5% in cash or closing cost credits. The company doesn't charge the built-in realtor commission included in the new home price and rebates the clients at closing. The rebate amount depends on the services required and varies during the housing emergency.
2. Rebate Texas – While Rebate Texas may not be considered the best for well-prepared, intelligent buyers, their offerings put them ahead of the competition. The company offers some best deals, like buying a new construction home at a 2.5% rebate and buying a resale home at a 2% rebate. Rebate Texas pays commission rebates as a credit against buyer closing costs, hazard insurance premiums, and prepaid property taxes at closing.
3. Texas Homes 2.5% Rebate – Buy a home in Texas or anywhere in Texas, say Dallas, Houston, San Antonio, or Austin; the company will pay your closing cost or offer you cash back at closing, depending on the mode you choose. The company offers a 2.5 % rebate of the total sale price at closing on any new construction home. On pre-owned homes, the rebate is between 1 and 2%, depending on the price of the home and the level of service offered.
4. Crawford Realty – The Company caters to buyers, tenants, and property owners in the Northwest. They offer 2.5% cash rebates on new homes. However, there is a catch. This firm will depend on home value ( above and beyond $100,000), whether the builder offers the rebate commission and your lender's approval.
5. Texas Real Estate Savings – Texas Real Estate Savings is a full-service, professional, aggressive real estate company that helps buyers buy their dream homes at competitive costs.
The company offers four rebate programs. In the premier rebate program, the rebate of 20% of the net commission is given to the already existing buyers and sellers.
The new clients will receive discounted full-service listing fees and the buyer rebate at closing.
In the Advantage rebate program, a rebate of 10% of the net commission is given to the buyer at closing.
In the Plus rebate program, a rebate of 5% of the net commission is given to the buyers who requested and signed the buyer representation agreement.
The commission is given at closing. In a standard rebate program, the buyer will receive a $200 rebate at closing.
6. VIP Realty – VIP Realty negotiates the best possible terms and prices on your behalf and offers a standard 50% rebate on agent commission on closing. The company rebates the amount at closing as a percentage of its commission.
7. Rebate on Texas Homes – The Company offers the biggest cashback in Texas, 6% of the sale price, as a cash rebate. Working with them, you can get this rebate on any new property in Texas.
8. Buffalo BAYOU Realty – The company is a premier Texas brokerage with experienced, highly-rated real estate professionals. They offer a new kind of brokerage experience for Houston's buyers and take a consultative approach by offering neighborhood-specific and extensive research data for the client to depend on.
If you are already working with a realtor, here is how you can negotiate with it to give you a rebate.
4.1.2 Ways To Find Agents That Offer Buyer Rebates
4.1.2.1 One-on-one negotiation
You can easily negotiate a buyer's refund with your agent before entering a representation agreement. But once you sign the agreement, it is for sure that the agent will not be willing to re-negotiate their fee.
However…
Let's say you are interested in buying a home and have made an offer. The seller accepts the price but doesn't offer any appliances, seller concessions, or anything you requested. Later you realize that you are at a stand-off. While you can negotiate a rebate with your agent to sweeten the deal, there is a high chance that this negotiation won't work.
Expert tip: Play on the fact that if they disagree, you will walk away from the house. There is a good chance that your agent will discuss this with the listing agent and may agree to give you a rebate to finalize the deal. But remember, this is a double-edged sword, as you may risk losing the deal altogether. So, if you negotiate for a rebate during the closing, ensure you are 100% sure about it.
4.1.2.2.When Can You Negotiate With An Agent For The Rebate?
Of course, agent fees are, in theory, negotiable. But some agents are very rigid about the fees they expect. They wouldn't entertain a fee reduction unless they were handling two deals at once (helping you sell a home so that you can buy another home, for instance) or had done a lot of business with your social network.
Here are some situations that may help you negotiate a commission rebate:
Luxury homes are challenging to sell. Offering a rebate for such homes helps agents lure potential buyers. As these luxurious homes are priced high, the agent would get a sizable commission even after offering a rebate. That's why they will be more than willing to offer a rebate, as it won't affect their earnings.
Agree to buy and sell your home with the same agent
When you agree to deal with the same agent for buying your new and selling the old one, you're twice as valuable from a revenue perspective. The agent will happily offer you a create to retain in such a case.
When buyers are scarce during the off-season, negotiating with them becomes easier. As only a few opportunities are available in the market, the agents will offer something extra to secure the business.
If you are a pre-approved buyer
Nothing is more precious to agents than a pre-approved buyer ready to close. Agents would offer anything to work with such buyers as they enable them to work with more clients simultaneously.
---
Step 2: Read And Sign The Buyer Broker Agreement
A buyer's broker agreement is an agreement between the buyer and a real estate agent or licensed brokerage firm that specifies that both parties are committed to the sale. The agreement also ensures that the firm or the agent will be duly paid after closing. The standard forms of agreement vary per brokerage firm and market.
Things to be aware of:
Be aware that some brokerages will reduce the refund amount if you trip over multiple homes.
All rebates are from the gross commission, but how to get that commission will vary depending on the brokerage. Some will offer you a commission rebate on the closing costs, while others will offer you a check at closing.
Remember to read the agreement paper carefully because the stipulations are in your writer's agreement with the agent.
Some brokerages only rebate if the purchase price is above the set amount.
Step 3: Sign A Buyer Broker Agreement
You need to sign a buyer-broker agreement to confirm your refund. The agreement will outline the terms and conditions of the refund. It will also state that you agree to purchase the home with the agent offering the refund.
Step 4: Get Your Real Estate Commission Rebate!
---
5. Increase Your Chances Of A Rebate By Doing This!
To increase your chances of successfully negotiating a rebate:
Use the same agent to sell the property – The agent will be more willing to offer a discount if they know they will earn a commission for both transactions.
Do some of the preparations for your agent – If you are a pre-approved buyer who needs an agent's assistance in making an offer, negotiating a rebate would be easier.
---
6. FAQs
6.1 Is The Buyer Agent Rebate Taxable?
Homebuyer rebates are not taxable because they are not considered income. They are just an adjustment to the purchase price of the home. The rebates are from the purchase of a home rather than the sale, so they are not issued to capital gain taxes. The capital gain tax applies when there is an increase in the value of a property that has been sold. The seller, not the buyer, pays for this. However, receiving a home buyer rebate does not require completing an IRS 1099 form to declare miscellaneous income.
6.2 How Do I Find Out Whether I Am Eligible For A Buyer Rebate?
In 2019, a homebuyer rebate was deemed legal in 40 out of 50 states.
Since then, every home buyer in these 40 states has been eligible for a rebate.
All types of homes in these states qualify for rebates. This includes single-family homes, apartments, condos, multi-family homes, and townhomes.
The ten states that do not offer a buyer agent rebate include AL, AK, IA, MO, LA, KS, OR, OK, TN, and MS.
6.3 How To Make Real Estate Transactions In Texas A Little Less Costly?
Most clients contract with a broker who will supply all the services traditionally offered by agents. However, many clients also prefer to use agents with alternative business models rather than traditional ones. Here are some non-traditional business models:
1. Full-service discount brokers – The discount brokers offer sellers and buyers full service at a lower price. For example, a discount broker may offer all his services at 3 to 4% commission in an area where 6 to 7% is the current rate. These brokers offer rebates in cash payments and inducements such as coupons, gift services, discounted or free services, or coupons related to buying and selling a home to buyers and sellers.
2. Fee-For-Service Brokers – Also referred to as flat-fee or limited-service brokers, these agents charge a fixed fee against the services offered. These brokers offer home sellers the option to buy fewer services than traditional brokers for a reasonable price. Home sellers can choose from a wide array of services offered by brokers. Most of these brokers offer sellers two or more service packages, while some offer an additional itemized list of optional services.
3. Virtual office website brokers – These are internet websites where brokers can offer online services to registered customers. These virtual offices enable buyers to search the MLS information such as mail, fax, email, or hand delivery online. The listing search feature and VOW access are not for everyone. It is limited to the prospective sellers and buyers who have agreed to the agreement with the VOW operator, including a terms-of-use agreement.
4. Broker referral networks – Some national internet websites collect a part of MLS data and allow potential home buyers to search the databases. Once the buyer has searched the information online and is ready to visit the home, the website refers them to a local broker. This local broker pays a referral fee which is generally a part of the commission to the referral website that collects the MLS data. If the state law or regulations do not restrict rebates, the referral website reimburses you a part of their referral fee.
6.5 Can A Real Estate Agent Rebate A Portion Of The Agent's Commission To The Borrowers?
According to HUD, real estate agents may rebate a part of their agent's commission to the borrower in a real estate transaction. Moreover, the rebate must be listed as a credit on page 1 of the HUD-1 in lines 204-209, and the part name providing the credit must be stated. Real estate brokers or broker commission rebates to borrowers do not violate Section 8 of RESPA as long as no part of the commission rebate is tied to a business referral.
6.6 Can Realtors Give A Rebate To Sellers?
Texas Real Estate Commission rules allow the seller or the license holder to rebate a part of their commission to a party involved in the transaction if they meet some specified requirements. They must have permission from their sponsoring broker and the party they represent. Let us understand it better: if the buyer's agent wants to rebate a part of their commission to the seller, they would need the permission of both the broker and the buyer. A commission rebate can't be used to mislead the lender, broker, or government agency regarding the transaction of financial resources of the buyer. The license holder should ensure that the parties involved know the rebate before closing the deal. They must disclose that the payment is subject to the parties' consent represented by the license holder.
6.7 Should Rebate Be The Sole Choosing Factor For A Realtor?
It's worth saying that rebates aren't always an assurance of a good realtor. Some realtors struggling with the issue of a public image or who have a terrible market reputation also choose to give rebates to attract clients. However, some tech-savvy brokers or agents have built their business models around rebates.
So, make sure that the rebates don't become the end of all your selection process of choosing a realtor. Take a look at their reputation and reviews and talk with different agents before deciding who you want to work with.
6.8 What Is The Difference Between A Kickback And A Rebate?
Kickback is an offer to pay the third party to win the client's business. It is viewed as increasing the cost to the consumer without offering anything of value. In certain situations, for those covered under the Real Estate Settlement Protection Act, a kickback is considered illegal.
A rebate is an offer to return a part of the payment to the client to convince them to use the company's services. The Federal and State regulators state that such rebates ultimately reduce client costs. A rebate offer is an ethical and legal part of negotiating compensation. Any attempt to restrict, discourage, or prohibit the negotiation of commission rebates is considered illegal trade behavior under the established antitrust law.
6.9 How Can I Save More Money As A First-Time Home Buyer In Texas?
Buying a first home is always frightening. First-time homebuyers in Texas have multiple options to turn to for help. A range of first-time homebuyer programs helps you cover your down payment and closing costs. These down payment assistance programs are available all over the state. Make sure to explore all your local options.
---
Conclusion
Savings like cashback and rebates are becoming increasingly popular, so you should seek out different companies offering them. Rebates come in different forms and shapes. They are most commonly issued as closing credits or as cash refunds. Rebates aren't considered taxable income by the IRS. In finance, tax-free cash back on your home makes moving easier. Rebates help you save thousands of dollars, but there are a lot of bureaucratic rules and procedures that you need to understand before making a deal.
Some agents offer built-in rebates, but not all are created the same. It's essential to understand the terms and restrictions and do your homework before choosing the best. Don't just opt for the agents offering the most significant rebate. Make sure you look around to find the agent who best fits your required needs and goals. It's always better to look for a company that offers cashback at closing, which is more reliable and easy.