Florida is currently one of the hottest markets for real estate.
Florida is now the 3rd populous state after California and Texas, mainly because of its sunny weather, no state income tax, and appealing low cost of living. In addition, the state is also an attractive avenue for high-wage job seekers. As a result, millions of people (30% of the U.S. population) are moving to Florida.
This opens up opportunities for home sellers in the state to make quick and lucrative sales.
While the market has become promising for sellers because of increasing home prices (nearly 69%), other costs involved in selling a home have also reached a record high.
Today for a $250,000 home, a seller pays an average of $13,500 in commission. So if you are wondering how much commission you will have to pay in the sunshine state, this might help you.
1. How much do real estate agents charge in Florida?
The average real estate commission in Florida ranges between 5 and 6%. As per recent reports, this percentage is somewhere around 5.4%. According to NAR, the average price of a home in Florida is $218 307, and the real estate commission will amount to $11,788. As of July 2021, the median price for a single-family home in Florida was $355,000, and the commission will amount to $19170, which is a pretty decent amount.
According to NAR, 89% of sellers used a real estate agent to sell their homes in 2020. Florida's average real estate commission is around 5-6% of the residential home's price, including the buyer and seller agent commissions. So, if a home sells for $300,000, and the agent charges 5%, they would get $15,000 on closing the deal. The agent may collect $15,000 after the sale closes, but they don't get 100% of this commission.
In the first case, if the buyer has used a different agent, the commission is split between the listing agent and the buyer's agent. Using the same example, if the commission were to be divided in half, the seller's agent would keep $7,500, and the buyer's agent would save $7,500.
In the second case, if the agent works for the brokerage, in most cases they do, they must pay the brokerage for their help. Some brokers charge their agents a flat fee per sale or a flat monthly fee, and most charge a commission that can easily range from 30-60% of what the agent has made on a deal.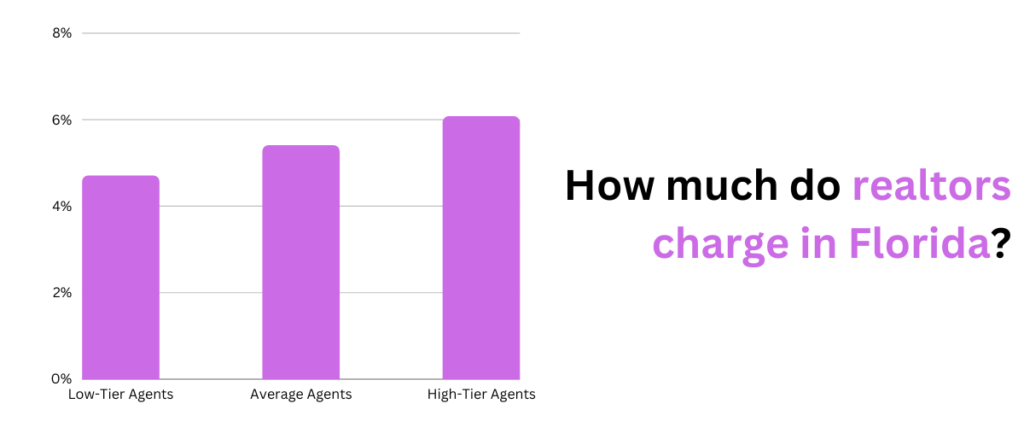 ---
2. How much do realtors charge for rentals?
Many real estate agents offer their services to tenants. These services include:
Advising renters of current market rates in their selected areas
Researching and locating relevant properties available for rent
Scheduling and attending inspections with landowners
Assisting with rental applications
Evaluating the credit score of occupants
Negotiating and establishing lease terms and agreements with landowner
The realtor's commission will depend on the time involved and quantity of the above services, pricing structure, and location. There is no standard fee that realtors charge for rentals.
---
3. Florida Real Estate Commission Example
Let's understand the real estate commission concept with an example.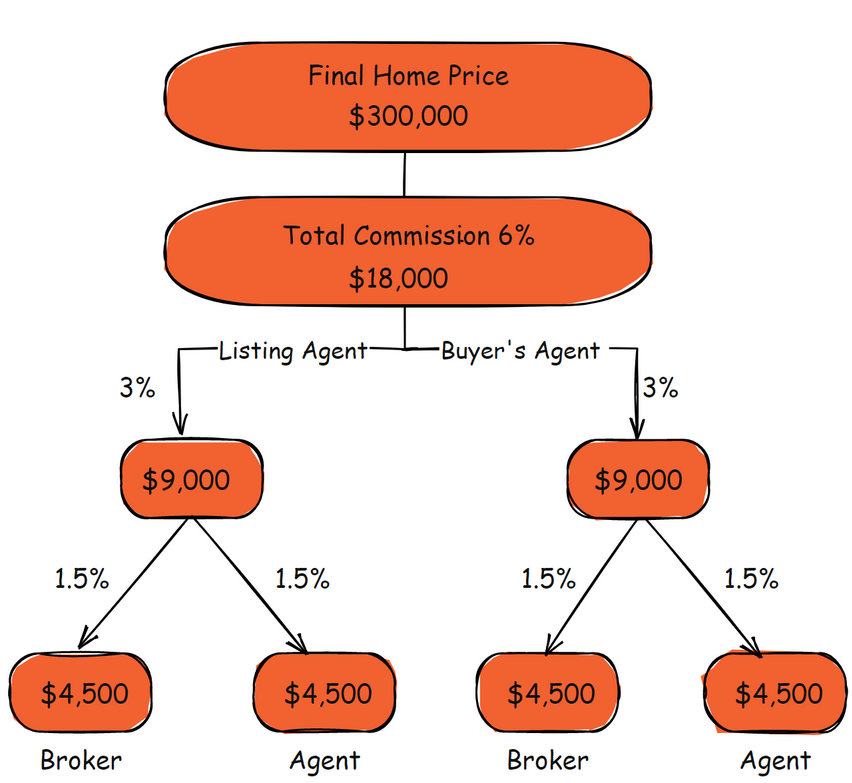 If you sell a home for $300,000, and the commission rate is 6%, $18,000 will go to real estate agents and brokers. The seller would then receive $282,000. Now, if the seller agent and buyer agent split it in half, both sides get $9,000, and the seller agent broker and agent again split the amount received 50/50. And same goes with the buyer agent and buyer agent's broker, where they split into 50/50.
The commission payoff would be as follows:
Seller agent's broker (50%): $4,500
Seller agent (50%): $4,500
Buyer agent's broker (50%): $4,500
Buyer's agent (50%): $4,500
3.1. Who pays Real Estate Agent's Commission in Florida?
Typically, the seller is responsible for covering the commission fees. Per MLS co-brokerage rules, buyers need not pay a commission or sign exclusivity agreements. However, the sellers must pay the entire broker commission, which is split equally between the seller's agent and the buyer's agent. Thus, the seller essentially pays everyone who is involved in the transaction.
But here is a fact…
The seller and listing agent agree on a commission rate before signing a listing agreement. Once the deal is closed, the seller pays the promised percentage to the agents involved.
However, it is also true that the commission value is baked into the home's final price. And if there weren't any agents involved in the transaction, it would be relatively lower. So technically, the seller does not pay the commission fee.
Additionally, even if the seller lists the house as FSBO, they still must pay the buyer's agent commission. Over 95% of buyers today have an agent to represent them, so this cost is inevitable even in FSBO situations. A buyer's agent fee can easily be around 2-5% of the home price, depending on the market conditions.
---
3.2 Who determines the real estate commission percentage in Florida?
In most cases, one agent represents the buyer, and the other represents the seller. Therefore, buyers and sellers need to document their agreement before hiring their agents. It is called a buyer-broker agreement for the buyer, and for sellers, it's a listing agreement.
Although these agreements go by different names, they serve the same purpose of outlining the agent's duties. This agreement will also cover how the agent will get paid and at which rate for the seller. The commission is entirely negotiable, and no industry standard needs to be followed. However, according to NAR, the agent commission in Florida generally falls between 5 and 6% of the property's sale price.
Source: 1
---
4. Why are commission rates so high?
There are several reasons why real estate agent commissions are so high.
Firstly, several parties split the commission, meaning no single agent gets 100% commission from the seller.
Secondly, real estate agents cover the marketing costs of selling the property. This can be expensive, mainly if the house stays on the market long.
Lastly, there are several other expenses that real estate agents will accumulate when working to sell your property. These include hiring a professional photographer, home staging, etc.
---
5. Can I negotiate a real estate commission in Florida?
Yes, you can. There are no such laws that set commission rates, so you can negotiate lower commission rates with your agent. However, if you offer lower commission rates to an agent, they may refuse and even back out of your listing. And even if they agree, they might not prioritize your property.
There are many reasons why real estate agents may accept a lower commission:
First, it is a buyer's market with a shortage of interested buyers.
The property in question is high-end, and the agent can get a good commission.
If your agent is providing fewer services
If the realtor is representing both buyer and seller
If you are selling a move-in ready house, where the agent doesn't have to do much
If you are using the same agent for multiple properties
If you seem to be a frequent buyer/seller, bring them repeat business.
Because of the high demand for houses in the Florida market, it is easier for agents to close the deals; hence, negotiating commission rates is favorable. Florida is one of the hottest real estate markets nationwide, with home values rising by 25.4% in 2021 and expected to rise in 2022.
---
6. How to calculate real estate commission?
6.1 Full-Service Agent
If you hire a full-service agent, in that case, the realtor will charge you somewhere between 5 and 6% in commission.
Note: The average commission in fluoride is around 5.4%, so we will consider it for calculations.
6.2 Fee-for-Service Agent
In this scenario, you pay the agent basis for your needed service. The fee for service agents is excellent for seasoned sellers who do not require much handholding during the selling process.
6.3 FSBO
In this option, the seller pays a 2%-5% commission to the buyer's agent and removes the seller's agent from the picture. Suppose that the seller paid a 3% commission to the agent for a home worth $300,000, amounting to $9000. This way, sellers can pay a flat fee to list their homes on MLS and manage marketing and paperwork on their own to save 3%.
6.4 Leasing home
If a tenant signs a lease for three years on a space of 5,000 square feet at $20 per square foot, the total lease value would be $300,000.00. The total lease value is then used to calculate the commission for both representatives, usually 6% total. This amount is split between the landlord's leasing agent and the tenant's representative.
The table below can be used to calculate your country's average real estate commission.
| | | |
| --- | --- | --- |
| County | Median Price | Real Estate Commission |
| Alachua County | $2,48,668 | $13,428 |
| Baker County | $1,61,059 | $8,697 |
| Bay County | $2,35,053 | $12,693 |
| Bradford County | $1,27,770 | $6,900 |
| Brevard County | $2,71,021 | $14,635 |
| Broward County | $3,45,795 | $18,673 |
| Calhoun County | $98,018 | $5,293 |
| Charlotte County | $2,68,206 | $14,483 |
| Citrus County | $1,80,354 | $9,739 |
| Clay County | $2,48,719 | $13,431 |
| Collier County | $4,35,313 | $23,507 |
| Columbia County | $1,86,465 | $10,069 |
| DeSoto County | $1,01,132 | $5,461 |
| Dixie County | $90,523 | $4,888 |
| Duval County | $2,40,718 | $12,999 |
| Escambia County | $2,03,913 | $11,011 |
| Franklin County | $1,91,424 | $10,337 |
| Gadsden County | $1,09,735 | $5,926 |
| Gilchrist County | $1,18,780 | $6,414 |
| Glades County | $88,447 | $4,776 |
| Gulf County | $1,85,312 | $10,007 |
| Hamilton County | $92,368 | $4,988 |
| Hardee County | $96,173 | $5,193 |
| Hendry County | $1,08,973 | $5,885 |
| Hernando County | $2,06,270 | $11,139 |
| Highlands County | $1,67,092 | $9,023 |
| Hillsborough County | $2,92,565 | $15,799 |
| Holmes County | $1,06,898 | $5,772 |
| Indian River County | $2,77,041 | $14,960 |
| Jackson County | $1,14,163 | $6,165 |
| Jefferson County | $1,51,340 | $8,172 |
| Lafayette County | $1,20,736 | $6,520 |
| Lake County | $2,57,082 | $13,882 |
| Lee County | $2,92,688 | $15,805 |
| Leon County | $2,56,087 | $13,829 |
| Levy County | $1,21,889 | $6,582 |
| Liberty County | $86,602 | $4,677 |
| Madison County | $1,02,746 | $5,548 |
| Manatee County | $3,22,115 | $17,394 |
| Marion County | $1,86,893 | $10,092 |
| Martin County | $3,64,762 | $19,697 |
| Miami-Dade County | $3,80,443 | $20,544 |
| Monroe County | $6,51,995 | $35,208 |
| Nassau County | $2,83,853 | $15,328 |
| Okaloosa County | $2,85,502 | $15,417 |
| Okeechobee County | $1,22,235 | $6,601 |
| Orange County | $3,06,362 | $16,544 |
| Osceola County | $2,65,927 | $14,360 |
| Palm Beach County | $3,58,342 | $19,350 |
| Pasco County | $2,30,360 | $12,439 |
| Pinellas County | $2,77,343 | $14,977 |
| Polk County | $2,06,428 | $11,147 |
| Putnam County | $1,15,777 | $6,252 |
| St. Johns County | $3,92,732 | $21,208 |
| St. Lucie County | $2,67,824 | $14,462 |
| Santa Rosa County | $2,60,458 | $14,065 |
| Sarasota County | $3,25,911 | $17,599 |
| Seminole County | $3,17,964 | $17,170 |
| Sumter County | $3,25,190 | $17,560 |
| Suwannee County | $1,16,815 | $6,308 |
| Taylor County | $98,134 | $5,299 |
| Union County | $1,36,534 | $7,373 |
| Volusia County | $2,45,841 | $13,275 |
| Wakulla County | $1,63,243 | $8,815 |
| Walton County | $2,81,601 | $15,206 |
| Washington County | $1,30,537 | $7,049 |
---
7. Reduce Your Agent Commission By Doing This
7.1 If you are a buyer
7.1.1 Ask for a Rebate
You can simply ask for a refund from your agent to make homebuying cheaper in Florida. That means you will get a set portion of the agent's earned commission fee (typically 2.5-3% of the final sale price) at the time of closing.
You can use this rebate towards your closing costs or to cover other overhead expenses.
While this sounds great in theory, note that most rebates are subject to the lender's approval, and agents won't offer you a commission rebate unless you specifically request it.
7.2 If you are a seller
7.2.1 Work with a Flat Fee Agent
Unlike a traditional broker, who charges a percentage of your total home sale—often 3 percent or more—in exchange for a bundle of services, flat-for-fee brokers let you pay a discounted fee to get the selected services you want.
Most sellers hire flat-for-free brokers when going FSBO, mainly to list their home on the MLS. You can hire them for various services, from pricing to staging, marketing, and more.
---
8. What happens when you fail to pay a commission in Florida?
If you refuse to pay a real estate agent for their earned commission, the agent can take you to court.
Note: To succeed in court, the real estate agent must be able to prove the following facts:
The real estate agent possessed a valid real estate license
A valid employment contract between the agent and the seller
The term of employment was performed accordingly
Despite the agent fulfilling the requirements, the seller is still refusing to pay the agreed-upon commission cost
It should prove that the seller has breached the parties' agreement.
---
9. Get discounts on Real Estate Commission on these platforms:
1. Simply Showing
Simply showing can help you list your property on a 1% listing fee, saving up to $7,500 in commission if you plan to list there.
The platform provides sellers with experienced local real estate agents that will help them with professional photographs, MLS listing, negotiation, paperwork management, and contract support.
2. Clever
With Clever, you will work with pre-negotiated discounted realtor fees for a flat 1% commission. The agents on the network are full-service agents that will render you the same support and expertise at one-third of the price.
3. Redfin
On Redfin, sellers can list their homes and pay a 1.5% commission fee. Being one of the most extensive listing portals, Redfin's most significant benefit is visibility in Florida and across states.
4. Richr
It is free to list; you pay $0 upfront and $699 at closing. You pay only if you sell, allowing you to cancel anytime. The flat prices of this platform enable homebuyers and sellers to sell their homes without hiccups and additional costs.
5. Trelora
Sellers and buyers pay only a fair fee of 1% to the agent in Trelora, and it is only given if they can close the deal.
---
10. Florida Real Estate Commission Rules
10.1 Seller non-payment of commissions
If a broker fails to pay a real estate agent commission, the agent must get a civil judgment against the broker. Before filing a court case, the agent should check the contractor agreement since it may require other forms of dispute resolution, such as mediation.
The Florida Real Estate Commission (FREC) will not force a broker to pay the agent's commission.
If the broker doesn't satisfy the judgment, the agent can file a complaint with FREC for violating the licensing law. (Section 475.25 (1)(d), Florida Statutes)
A licensed broker or agent who obtained a judgment against his real estate broker for unpaid commission could not claim recovery from Real Estate Recovery Fund if they acted as a single agent or broker in the transaction subjected to the claim. (Section 475.483 (2)(b), Florida Statutes)
10.2 Commission levels
Commission levels are entirely negotiable.
A brokerage can charge a higher commission than it usually charges for a property that is hard to sell due to its location or other factors.
A listing broker and seller may agree on a flat commission fee, a percentage-based commission, or even both.
10.3 Commission sharing and rebates
Generally, a proprietor may not share real estate compensation with an unlicensed person. (Section 475.25(1)(h), Florida Statutes).
However, agents may rebate any portion of their commission to a transaction party if they make appropriate disclosures" to all interested parties." It should include any person or entity involved in the deal. (Rule 61J2-10.028(2), Florida Administrative Code.
10.4 Sales Agreements and Commissions
Most Florida Realtor sales agreements state that "all rights and obligations under the agreement automatically extend through an actual closing." It means that if the closing happens after the termination of the agreement, the broker is entitled to compensation.
10.5 Commissions and Rentals
Most agents handling rentals reserve their commission from a tenant's deposit money or advance rent. Ideally, any funds given to the agent should come from the landlord's money, which would likely be the first month's rent. So when brokers deduct their commission, they are taking a shortcut from how the money should flow based on contracts.
---
11. FAQs
Can an attorney collect Real Estate commissions in Florida?
Florida licensees are not allowed to pay a fee or compensate someone for real estate services that do not hold a real estate license in Florida or another state – this includes attorneys.
What is dual variable rate commission Real Estate in Florida?
NAR defines the variable field as a form of compensation. The seller agrees to pay a specified commission if the listing broker sells or leases the property without assistance. And a different commission if the sale or lease comes through the efforts of a cooperating broker.
How much commission do real estate agents make in Florida?
Although the average commission has remained around 6% for many years, the real estate agents' annual income fluctuates. According to the U.S. Bureau of Labor Statistics, realtors' yearly average income was $51,200 as of 2020. As suggested by ZipRecruiter's current employment trend data, the national average income for real estate agents has increased to $82,898 as of October 2021.
This figure varies as the realtor's commission-based income depends on various factors. This includes the years of experience and the number of hours they work per week. A realtor's location also plays an essential role in determining their commission each year. Due to market conditions and competition, real estate average pay differs from state to state. As of October 2021, Florida's average annual real estate salary is $67,145.
---
Conclusion
Real estate commission in the sunshine state can cost you anywhere between $4,000 and $21,000 depending on where you are. Knowing exactly how much you have to pay against agent commission can help you be prepared for the expenses ahead. You can calculate the realtor by multiplying it with the agreed-upon commission percentage. Sellers usually pay this fee; however, it is baked into the final purchase price for the buyer. While there is no way you can skip this fee, there are always ways to reduce your overall commission.
The Realtor fee might seem expensive in hindsight; however, it is worth the money. Hiring the right realtor ensures that both parties are represented well- the buyer gets home free from liens and with clear titles, and the seller gets the best deal in the anticipated time.