The cost of buying a home can run thousands of dollars – making the dream of purchasing a home just that – a dream of many. If you plan to purchase a home in Colorado, you already know several costs are involved. From down payments to mortgage insurance, the list never ends. While all these costs are inevitable, there is a way you can save thousands of dollars at or after closing on the purchase of your dream home in Colorado: Buyer Rebate.
1. Home Buyer Rebate – An Overview
1.1 What is a buyer rebate?
A homebuyer rebate is a refund given to the buyers by their agents after a successful real estate transaction.
These rebates are either cash refunds or closing credits given to the buyers.
Rebates or cash refunds are offered in two different ways:
A percentage of the purchase price of the home
A percentage of your agent's share of the commission
For example, if the sale price of a home is $500,000, the seller pays 6% (standard commission) of the sales price to both the listing agent and the buyer agent. The buyer agent gets a 3% commission; the same amount goes to the listing agent. The buyer's agent then shares half his commission (1.5%) as a rebate. This means the buyer gets 1.5% of the purchase price as a rebate at closing, which roughly amounts to $7,500.
In another scenario, suppose the rebate offered was 0.5% of the final purchase price. Then for a $500,000 home, you will get $2500 as a rebate.
Note:- Commission rebates require lender approval and are subject to state, local, and broker-specific restrictions. As a result, most agents and brokers offering commission credits cannot guarantee the final amount.
Make sure to double-check your agreement before signing it. To better understand how rebate works, you must know how real estate commissions work in Colorado.
1.2 How does the real estate commission work in Colorado?
As per NAR, 89% of sellers hire a real estate agent to help buy/sell their homes. Plus, for a state like Colorado—considered the 14th hottest market in the States—it pays to hire an experienced real estate agent to grab the best deal possible.
A typically experienced agent in Colorado will charge you somewhere between 5-6% (5.50% on average across the state) on the final purchase price in exchange for their expertise and advice.
Source – 2
This fee is split between the buyer's agent, the listing agent, and the brokers. Here is an example that will better help you understand.
For a sale price of a home worth $500,000, the seller pays a standard commission of 6% to the listing agent brokerage and to the buyer's agent brokerage, which amounts to $30,000. The listing agent brokerage receives a commission (3%) of $15,000, and the buyer's agent brokerage also receives the same commission(3%) of $15,000. This commission is further split between the brokerage & the agent. These commission percentages are listed in the broker agreement.
Let's say they have agreed to a 30/70% commission on the total listing brokerage commission, in which 30% commission goes to the listing agent brokerage($4.500), and 70% goes to the listing agent ($7,500). Similarly, 30% of the buyer's agent brokerage commission is received by the buyer's agent brokerage ($4,500), and 70% of the buyer's agent brokerage is received by the buyer's agent( $7,500).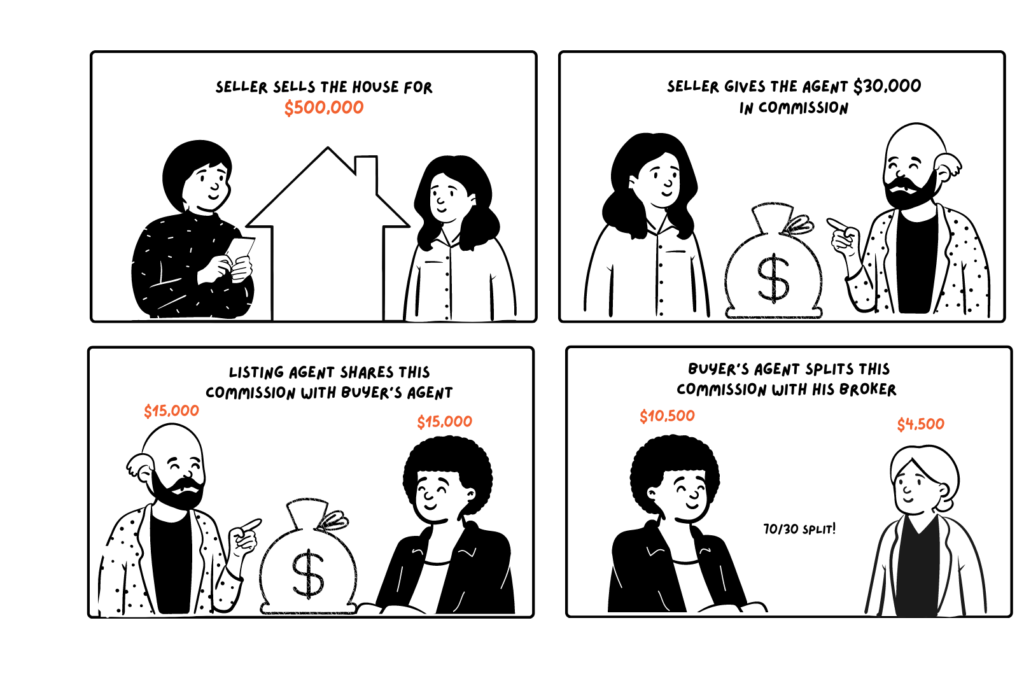 1.1.3 Who pays for this commission?
While we often hear that "agents are free for buyers," that isn't the truth. The seller typically pays for the real estate commissions towards the end of the deal; however, the commission is always factored into the final listing price. So, technically you are the one paying for the commission.
1.1.4 Why does a buyer agent give rebates instead of reducing their commissions?
Agents prefer giving a rebate because even if they agree on a discounted price, the overall commission won't decrease for the seller, as this percentage is detailed in the listing agreement. In that case, the remainder of the amount will go into the listing agent's pocket, leaving the buyer and the buyer's agent with nothing. So instead of giving the seller agent the rest of the amount, the buyer agent offers it as a refund to buyers.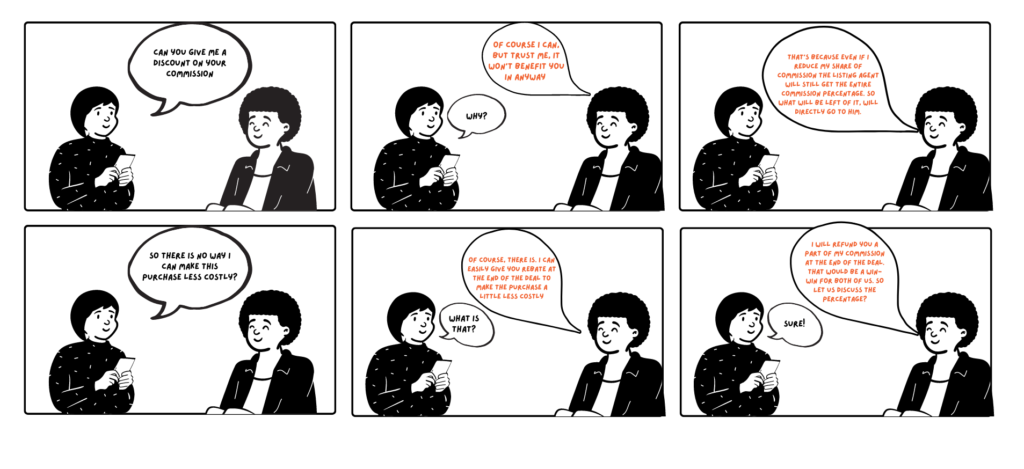 1.1.5 Where does the Rebate come from?
The buyer rebate comes from the buyer's agent commission. Let us explain how.
Suppose you bought a house for $500,000 now; although the seller receives $500,000, he still needs to give $27,500 to both agents (as per Colorado's average commission of 5.5%). This means the listing agent (or the seller's agent) receives $13,750 (50% of the commission), and the buyer agent gets the remaining.
Your rebate will come from this $13,750, depending on the percentage of rebate that was previously agreed upon. Suppose the agent promised you a 50% rebate; you get $6,875 out of the deal.
1.1.6 Why is your agent keen on giving you a buyer rebate in a competitive market?
The role of the buyer's agent has changed over the years. With the advent of technology and the internet, home buyers do most of the legwork to finalize their dream homes. Hence, decreasing the operational costs of agents.
97% of today's digital-first buyers use the internet to search for a home. By doing this, they solve the most tedious part of the homebuying journey- finding a home. With such clients, closing deals is like a walk in the park, as they know exactly what they want. That's why attracting and retaining them becomes even more critical for agents, as such buyers enable them to do more business at just half the cost. One of the best ways of doing that is through a rebate.
In addition, in several micro-markets giving rebates has also become a requisite for agents to stay in business. No really! About 15% of agents across the country offer some form of a commission rebate to attract clients, and this number will only go above and beyond this in the future.
There are a few other reasons why agents will be willing to offer a rebate:
1.1.6.1 Builds Loyalty with Rebate
Buyers usually do not sign an exclusive contract with agents before buying a home. It presents a risk for brokers and agents as the buyer can back out at any time or close a deal with another agent.
Rebates help agents to retain buyers. It ensures that the buyers do not close the deal with any other agent but them.
1.1.6.2 Selling an upscale home
Selling a high-ticket property is always tedious for agents. However, if they sell it successfully, the reward is enormous, even if they cut a portion as a rebate. Rebates can be a good motivation for upscale buyers and help agents close deals faster.
Source – 3
1.1.6.3 They can do more business with a rebate in place
With rebates in place, there is little to no risk of losing a buyer to the competition. This way, buyer agents can retain their clients and attract more clients. Ultimately, it increases their transactions, helping them earn more commissions.
1.1.6.4 High Brokerage
There is a common perception among consumers (buyers) that realtors charge high commissions. More than 4 out of 10 buyers believe that a realtor's commissions are too high. So, to change consumer perception and attract more clients, agents offer a rebate.
Source – 4
1.1.6.5 Rebate acts as a tradeoff for lesser services.
With the internet, more home buyers have access to listing information. This way, buyers can view them online, have virtual tours, and do their drive-by of the property. This, in turn, enables buyers' agents to spend less time showing the home and offer a refund to their clients for their efforts in finding the home themselves.

Source – 5
---
2. What is the average rebate the buyer's agent gives?

In Colorado, the rebate is usually 2% of the sale price or half of the agent's commission which is between 5-6%.
Let us explain.
For example, the average commission in Colorado is 5.5% as of 2022, and in 2021 median single-family home price was $520,000.
2.1 Rebate as a percentage of agent commission:
Average agent commission in Colorado= 5.5% of $520,0000 =$28,600
Average buyer's agent commission in Colorado: $28,000/2= $14,300
The average rebate that buyers will get: $14,300/2 = $7,150
2.2. Rebate as a percentage of the final selling price
Rebate as a percentage of the final selling price= 2% of $520,000, i.e., $10,400
| | | | | |
| --- | --- | --- | --- | --- |
| Median Home Price | Agent Commission (5.5%) | Buyer's Agent Commission (50% of agent commission) | Buyer rebate 50% of buyer agent commission | Buyer rebate as 65% of buyer agent commission |
| $ 520,000 | $28,600 | $14,300 | $7,150 | $9,295 |

Source- 6
---
3. Is Rebate legal in Colorado?
Yes, a rebate is legal in Colorado. According to Colorado's real estate brokers licensing act, real estate brokers should not pay any commission to an unauthorized person who provides brokerage services. The Act, in any shape or form, does not prohibit the broker from paying a rebate to the buyer and/or seller.
Colorado's Real Estate Commission states that brokers can rebate a portion of their commission as a rebate. And it is considered to be a reduction in the earned commission by the broker and not a violation of the law.
Source- 7
---
4. Where can you use buyer rebates in Colorado?
Rebates are your money which you can use wherever you want. Many people use it for one of the following reasons:
4.1 Closing
You can use your rebate to cover the extra closing costs (usually 1-2% of the final purchase price. This may include your appraisal fees, buying points on a mortgage, escrow, loan origination, and transfer fees.

4.2 Cost of Moving
Moving and packing can drill a big hole in your pocket. You can use a rebate to compensate for it. Even though it won't cover the entire fee, it can help you shoulder the cost.

4.3 New Furniture
When you move to a new home, you might want to buy new furniture, which can be an additional cost. You can use the rebate for this purpose as well.
Savings for Emergency – If all your other expenses are sorted, and you receive a rebate, you can permanently save it for emergencies.

---
5. Is the Buyer Rebate right for you?
While a buyer rebate can help you save thousands of dollars, it should not be the only reason to choose a specific agent.
Having said that, if you are a seasoned homebuyer and are very familiar with the home buying process, inspections, paperwork, and disclosures choosing an agent only for a rebate won't be such a wrong decision. However, if this is your first time buying a house, we suggest you choose an agent for their expertise and reputation.
Sometimes, agents try to mask their bad reputations with rebates. If you hire the wrong agent, you might end up on the wrong side of the neighborhood, may miss out on defects, and can neglect some paperwork altogether. So, be very cautious of who you hire, and talk to multiple agents before selecting anyone.
---
6. How much buyer rebate can I get on my property?
First, find out what kind of Rebate you are getting. Is it a commission rebate on the selling price or a commission rebate on the buyer's agent commission?
If it is a commission on the selling price (generally 0.5-1% of the final selling price), then the rebate you will get will equal the commission on selling * final selling price.
For example, the final selling price of the property is $520,000, so you will get a rebate of $2600 (0.5% of $520,000)
However, if it is the latter, here is what you need to do:
List the final sale price, say $520,000
The average commission in Colorado is usually 5.5%, from which 2.75% percent will be given to the buyer's agent.
Commission earned by buyer's agent = sales price* buyer's agent commission= $520,000 *2.75% =$14,300
Now, if the buyer agent offers you a 50% rebate, you will get $7,150 as a commission rebate.
You can use this rebate calculator by The U.S. Department of Justice to calculate your commission rebate.
Let's understand this one last time:
Model 1: Commission on Final Selling Price
| | | | | |
| --- | --- | --- | --- | --- |
| Final Purchase price | Average commission of both realtors (5.5%) | Average commission of your realtor (2.75%) 50/50 | The rebate you will get (suppose 75%) | The rebate you will earn (suppose 50%) |
| $250,000 | $13,750 | $6,875 | $5,156 | $3,438 |
| $500,000 | $27,500 | $13,750 | $10,313 | $6,875 |
| $600,000 | $33,000 | $16,500 | $12,375 | $8,250 |
| $900,000 | $49,500 | $24,750 | $18,563 | $12,375 |
Model 2: Rebate on Agent's commission
If you receive a commission on the selling price (generally 0.5 – 1.5% of the final selling price), the rebate you will get will equal the commission on selling * final selling price.
| | | | |
| --- | --- | --- | --- |
| Final Purchase price | Rebate offered on buying price (say 0.5%) | Rebate provided on buying price (say 1%) | Rebate provided on buying price (say 1.5%) |
| $250,000 | $1,250 | $2,500 | $3,750 |
| $500,000 | $2,500 | $5,000 | $7,500 |
| $600,000 | $3,000 | $6,000 | $9,000 |
| $900,000 | $4,500 | $9,000 | $13,500 |
You can also use the Buyer Rebate Calculator by U.S. Justice to calculate the estimated buyer rebate you can get in Colorado.
---
7. Are Rebates and Cashbacks Similar in Colorado?
No, rebates and cashback are not similar.
When an agent mentions homebuyer rebates, they generally mean rebates as closing credits. Closing credits are subjected to lender approvals and can only be used to cover certain costs – escrow, transfer, loan origination fees, purchase mortgage points, etc.,
Cashbacks, on the other hand, are issued either as cash or cheque. They do not need the lender's approval, and you can spend them any way you want.
Note: Both buyer rebates and cashback cannot be used for your down payment.

---
8. Problems with buyer rebates
Buyer Rebates Depend on Lenders
Buyer rebates come with certain limitations, even in states that allow refunds. For example, you cannot use the rebate amount for down payments. Also, in most cases, the lender decides whether a homebuyer can get a rebate.
Rebates affect the cost basis of a home, which can affect the overall mortgage amount.
Cost basis is the total amount you pay for your home, including the sale price, fees you pay during the closing, and any other investment you make.
Your rebate cancels out some closing costs, lowering your home's cost basis. The lender uses the cost basis to calculate the loan-to-value (LTV) ratio, which is the amount you borrowed compared to the value of your home.
If your LTV changes, the lender will need to adjust your financing to keep the ratio low, and ideally, the lender would like to keep the LTV ratio at 80% or lower.
Here's a quick example of how a $5,000 commission rebate on a home that costs $250,000 can make your LTV high.
| | | | |
| --- | --- | --- | --- |
| Homebuyer commission rebate | Loan amount | Cost Basis | LTV ratio |
| $0 | $200,000 | $250,000 | 80% (just right) |
| $5,000 | $200,000 | $245,000 | 81.6% (very high) |
---
9. The Process to Get a Buyer Rebate in Colorado

Step 1: Finalize a rebate
Work with a platform that negotiates rebates for you
Hire a discount broker that offers built-in rebates
Try to negotiate a rebate yourself
9.1.1. Top platforms or services in Colorado that negotiate rebates for you or brokerages with refund-giving agents
Working with an agent matching service/platform that offers built-in rebates or cash rewards is one of the best ways to get buyer rebates. It is simple, and you know what you are signing up for with them.
Chose the platform based on based on the following parameters:
The platform should be free to use
It should help you work with top full-service agents
Offer cashback and have a proven record of giving such cash rewards.
Here are a few websites to get you started:
1. Colorado Flat Fee Realty
Colorado Flat Fee Realty offers a 1% rebate on the purchase price.
They are a team of professional real estate brokers who are experienced negotiators and will help you get the best deal possible. They will also help you find the right home that fits your requirements. They also offer free down payments to qualified buyers that do not have to be paid back.
2. UpNest
With UpNest, you receive a $150 Amazon e-card plus a commission rebate from your agent, approximately 20-30% of the commission earned by an agent.
On Upnest, you can get exclusive offers/savings. Plus, they are best known for providing excellent support at every step of the process.
This platform works because it connects you to a qualified, experienced real estate agent who offers rebates. In addition, with UpNest, buyers can get up to 0.5% of the home price as a rebate.
3. HQ Homes
HQ Homes offers up to 50% of the buyer's agent's commission as a rebate to their buyers. This means buyers get back approximately 1.5% of their purchase price when working with them.
If you choose to work with them, you can avail of this commission in the form of cash, which you can use to buy new appliances, furniture, or whatever you may need.
4. Flat Realty Group
Flat Realty Group offers their clients 0.50% of the sale price as a rebate, which can roughly account for $1500.
Flat Realty Group is one of Colorado's top-rated brokerage and home search websites. It works with experienced certified agents and has virtual tools to attract potential buyers and maximize their interest.
In addition, Flat realty group is best known for its hassle-free transaction with its homebuyers.
5. Colorado CR
ColoradoCR offers full-service brokerage with a 50% rebate on the buyer agent's commission.
Depending on the situation, this rebate can also go up to 1.5% of the purchase price and is rebated at the time of closing.
All rebate programs on this platform apply to Colorado buyers only. People buying in Colorado can get these exclusive benefits through their rebate programs.
6. Home Saving Realty
Home Saving Realty offers a 1% rebate on the purchase price of your home, so if you have purchased a home worth $200,000, you can save $2000.
They offer complete services against the rebated fee and assist in finding a home that aligns with your lifestyle and budget.
7. EZ Agents
On EZ Agent's offer, you need to pay a minimum of $5,000 to the agents for their services. That means you get back the remainder of the amount, i.e., Commission minus $5000.
Their unique business model helps the buyer to find a home online and contact the agent to close the buying process. Additionally, EZ Agents offer on-demand showing agents in case buyers cannot find a home themselves.
8. Courlas Realty
Courlas Realty offers 50% of the buyer's commission as a rebate in the form of cash to their buyers.
This cash can be used to move, upgrade your new home, or do whatever you want. Courlas Realty charges half of what its competitors charge for their services.
9. New Home Rebate
New Home Rebate offers 50% of the buyer agent's commission to their buyers at closing.
It is a full-service Colorado real estate firm that covers Colorado Springs real estate. If you choose them, they will help you find a Colorado Springs home and take your deal to the finish line.
10. Rebate Agents
Rebate Agents provide full-service brokerage and offer their buyers 20% of the real estate agent's commission as a rebate.
2.1.2 Hire a discount agent that offers built-in Rebates
The buyer's agent receives a standard commission of 3% from the sale of a home. He offers
half of this commission to his buyer as an incentive.
For example, from the 3% commission received, the buyer's agent takes only 1.5% ($7,500) as their commission and rebates the other 1.5% to their buyer ($7,500) as an incentive. This can be an attractive deal for many homebuyers who wants to move to a new place with some additional money ($7,500). Buyers can use this money for moving, upgrades, and emergency savings.
2.1.3 Negotiate a Rebate Yourself
One-on-one Negotiation
It is essential to know that as a home buyer, your window to negotiate a buyer's refund with a real estate agent is before entering into a representation agreement. Once the representation agreement is signed, it is unlikely that your agent will be willing to re-negotiate a reduction in their fee.
However, there are a few situations where they will be willing to negotiate.
If You Are Buying a High-Value Home
Agents make good returns when they sell a high-value home. So, even after offering a rebate to their buyer, they still make a better commission if they close the deal.
   If It Is a Buyer Market
In the case of a buyer's market or off-season market, the buyers are generally valuable to the agents. In such scenarios, agents may be willing to offer you a rebate to secure your business until the market picks up again, given the limited opportunities.
If You Agree to Buy and Sell With the Same Agent
The agent will be willing to offer you a rebate or reduce the listing fee if you consider buying a new house and selling the old one with them. This way, they ultimately earn more through the transaction.
If You Have Found a Property on Your Own
If you already have your eyes set on a home that you want to purchase and you have done everything else that is needed, then there are chances that your agent might be willing to offer you a rebate. Finding informed buyers that will close on a house soon is even more difficult for agents. So, to save their time, money, and effort, they might be willing to offer you a rebate.
---
Step 2: Read and sign the buyer broker agreement
Now that you have finalized an agent, it is time for you to sign the buyer-broker agreement.
What is that? An agent does not become your agent until you sign a Buyer's Agreement. This agreement formalizes the working relationship between a client and a realtor and details the working nature of the agreement.
Under Colorado Law, in the absence of an agreement, the real estate licensee cannot be your agent but will serve as a transaction broker with limited responsibilities and duties. A Buyer's Agreement explicitly defines the relationship between you and the realtor, and it protects both parties and establishes the expectations for everyone involved.
Here are a few things to consider:
Always sign the agreement after you are convinced about a property.
Try to keep the contract length as 3-6 months, depending on your situation.
Ensure a cancellation clause in the agreement that can terminate the services quickly.
Source- 10
Step 3: Close on a house
Once you have found your dream house and done the paperwork, you can make your offer to the seller, negotiate and finally close the deal.
Step 4: Get your Rebate!
Now that everything is finalized, ask your agent for a rebate.
---
Things to know about rebates to avoid panic:
Rebates are received from the gross commission. Needless to say, they can vary depending on the brokerage.
Some agents offer a check, and others may offer a refund at closing. You need to check with your agent on the form of rebate you will receive. If you get cashback as a rebate, this can be used in any form, whether you want to buy new furniture, use it for moving, or save for emergencies. Cheques, on the other hand, have some limitations of usage. Cheques depend on the lender's approval, and most approved costs include escrow, transfer, etc., Also, you cannot use cash and credits for your down payment.
Some brokerages might reduce your refund if you make the agent show you many homes. Do read your buyer agreement carefully to avoid problems later on.
Then there are these other agents or brokerages that will only provide you a rebate if your home purchase price is above a certain amount.
---
10. Increase your chances of a Rebate in Colorado by doing this!
You can maximize your chances of negotiating a Rebate by doing the following:

Do some of the legwork for your agent.

If you have already done the hard work of finding the property, the agent will be willing to offer you a rebate for your efforts.t Why? Well, that's because this way, the buyer agent doesn't burn much of his time and money in finding the perfect home for you, secures your business, and closes deals faster.
Use the same agent for both selling and buying.
Since the agent gets commissions from both transactions, he will offer a discount.
---
11. FAQs
11.1 Is the buyer agent rebate taxable or tax-free?
Yes, buyer rebates are tax-free since the buyer (you) is not making any income from the rebate given. It is the same money you invested while buying the home that is returned to you as a rebate. According to the IRS, the rebate is not a taxable income but a reduction in the price of the home, which in turn decreases the cost basis. That is why you will not get a tax document for the rebate earned at the end of the year.
Note: Rebates could be different based on several factors. Hence you should check with your tax advisor about the impact of the commission rebate on your situation.
Source – 11
11.2 How to find out whether I am eligible for a buyer rebate?
If you are buying a house, you are very well eligible for a rebate. However, whether you get a rebate or not depends on whether your agent is interested in offering you one.
11.3 Can a real estate agent rebate a portion of the agent's commission to the borrower?
According to HUD, real estate agents may rebate a portion of the agent's commission to the borrower in a real estate transaction. The Rebate must be listed as a credit on page 1 of the HUD-1 in Lines 204-209, and the name of the party giving the credit must be identified. Real estate agents or broker commission rebates to borrowers do not violate Section 8 of RESPA if no part of the commission rebate is tied to a business referral.
11.4 Can sellers get a real estate rebate?
Sellers can collect commission rebates just like buyers. Often, sellers accept commission rebates as a standard commission discount & pay a lower fee to sell their properties.
Source – 12
11.5 Should Rebate be the sole choice factor for a realtor?
While rebates take off a lot of financial burden from the buyer's shoulder, they shouldn't be the only factor to consider when screening agents.
No rebates guarantee an excellent realtor. There can even be instances where agents offer refunds to recover from their bad reputation in the market. So, when selecting an agent, check their reviews. Also, speak with multiple agents before deciding with whom you want to work.
Source – 13
11.6 How can I save more money as a first-time home buyer in Colorado?
As a Colorado first-time home buyer, you have National and State level programs that can make your homeownership accessible and affordable if you buy them.
National loan programs make it possible to get a mortgage with low credit scores or limited down payment. Different types of national loan programs include FHA loans, VA loans, and USDA loans.

State loan programs – Using a network of participating mortgage lenders across the state, CHFA offers purchase loans, down payments, and closing assistance. Program availability and requirements may vary, which you can check by contacting a CHFA-participating lender to learn more about the programs that suit your needs.
---
Conclusion
Buyer rebates are a great way to save thousands on a home purchase. You can get a whopping $3,000 and $12,000 as a rebate in Colorado. The buyer rebate is tax-free in the state and can be used at closing or even for emergencies.
That said, rebates can be attractive, but they should not be the only reason to hire an agent. Always remember to diligently run a background check on any prospective agent based on their reputation and expertise. Alas, you need your agent to help you with the best deal possible, which can only happen if your agent is not experienced or knowledgeable. So make sure you do not get swayed by attracting rebates and choose an agent that is right for you.