Buying is a monumental milestone in anyone's life, especially if you plan to buy that dream home in Washington.
If you're on the hunt for your dream home in Washington, you should keep some financial factors in mind. That's because the median list price for a home in Washington is about $579,575, 34% higher than the national average. And that is not the only cost you have to consider. There are inspection fees, appraisal, and of course, the big
gest of them all, the realtor fee in Washington.
The average agent's commission is approximately 5.29%; that's $30,659 just out of pocket. While there is nothing much you can do about all those mentioned above expensive, a silver lining can help you save thousands- Buyer Rebate in Washington.
---
1. What is buyer rebate in Washington
Buyer rebates are becoming increasingly popular in Washington as a way for buyers to save money on closing costs. 60% of real estate agents in Washington offer buyer rebates to attract new clients.
It is not a government program, so there is no guarantee that you will get a rebate on every deal in Washington. The agent may choose not to offer a refund, or they may change the amount of the rebate at any time.
The rebate is not entirely tax-free. You may have to pay taxes on the rebate as if it were income.
The rebate may not be available in all cases. For example, the seller may not be willing to pay a commission lower than the asked agent commission.
---
2. Are Buyer Rebates legal in the state of Washington?
Yes, rebates are legal in Washington. Rebates are legal in 40 out of 50 states in the US, including Washington. In fact, not only are rebates permitted, but the Department of Justice encourage buyers to negotiate for rebates to decrease the overall homebuying cost and increase the competition among real estate agents.
2.1 Be aware of your rights
You may be told that giving a part of the commission to an unlicensed person in the form of a cash payment is illegal. However, the rule here refers to an unlicensed agent rather than a home buyer. While it is unlawful to give a part of the commission to an unlicensed agent, it is perfectly legal to rebate a portion of the commission to a home buyer in Washington.
The good thing is that many agents, especially the newer brokerages, are realizing the benefits of offering a buyer rebate since it attracts more customers. They have already made buyer rebates a part of their standard agreements.
---
3. Understanding buyer rebate in Washington
To understand what a buyer rebate is, you need to know where a buyer rebate comes from.
Commission payable to the buyer's and the seller's agents is already factored into the price of the home. It will be paid out of the proceeds once the buyer pays the home seller. So once the deal is through, the seller's agent will keep his part of the commission and give a portion of the commission as per the agreed-upon ratio (say 50:50) to the buyer's agent.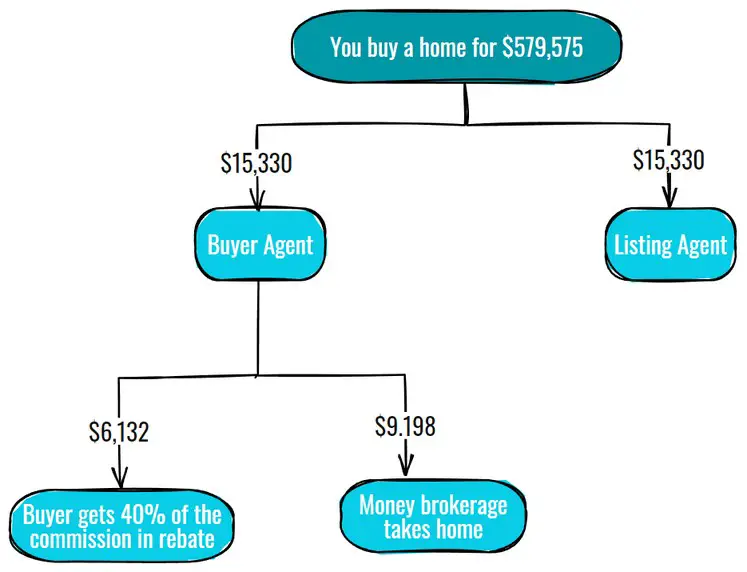 Considering that the median home price in Washington is $579,575 and the average commission is 5.29%, the total commission would work out to
Total commission = Home price X commission percentage = $579,575 X 5.29% = $30,660
If each agent gets half the commission, this works out to a handsome $15,330. If the buyer does not hire an agent, the entire commission of $30,660 goes to the seller's agent. To ensure that they get this commission from the home seller, buyer agents agree not to charge the buyer. That is why they claim that they are giving their services for free.
In addition, to further solidify the deal, buyer agents even agree to give a part of their share of the commission to the buyer. This portion that is given to the buyer is termed a buyer rebate. This diagram from the Department of Justice article explains how a buyer's rebate is derived.
---
4. How much is the buyer rebate in the different counties of Washington?
While there is no fixed buyer rebate, agents generally offer from half their commission to 2/3rds of their commission as a buyer rebate, depending on the market situation or other factors such as the home's final purchase price. The higher the commission amount, the larger the rebate you can expect. The agent's work is the same, whatever the price of the home.
Let's look at what the rebate amount would look like in the top 20 best counties to live in Washington. Let's assume that the buyer rebate is a percentage of commission. Let's take the average commission as 5.20% on the median home price in that county.
| | | | | | |
| --- | --- | --- | --- | --- | --- |
| County | Median Home price | Commission as 5.20% of home price | Buyer Agent's 50% share | Buyer rebate as 50% of buyer agent's commission | Buyer rebate as 2/3rd of buyer agent's commission |
| King | $902,210 | $46,915 | $23,457 | $11,729 | $15,638 |
| Whitman | $366,745 | $19,071 | $9,535 | $4,768 | $6,357 |
| San Juan | $807,833 | $42,007 | $21,004 | $10,502 | $14,002 |
| Benton | $397,217 | $20,655 | $10,328 | $5,164 | $6,885 |
| Walla Walla | $414,539 | $21,556 | $10,778 | $5,389 | $7,185 |
| Thurston | $513,230 | $26,688 | $13,344 | $6,672 | $8,896 |
| Kitsap | $572,512 | $29,771 | $14,885 | $7,443 | $9,924 |
| Spokane | $411,211 | $21,383 | $10,691 | $5,346 | $7,128 |
| Island | $627,562 | $32,633 | $16,317 | $8,158 | $10,878 |
| Whatcom | $620,938 | $32,289 | $16,144 | $8,072 | $10,763 |
| Snohomish | $771,036 | $40,094 | $20,047 | $10,023 | $13,365 |
| Jefferson | $545,729 | $28,378 | $14,189 | $7,094 | $9,459 |
| Clark | $792,980 | $41,235 | $20,617 | $10,309 | $13,745 |
| Chelan | $640,121 | $33,286 | $16,643 | $8,322 | $11,095 |
| Pierce | $551,497 | $28,678 | $14,339 | $7,169 | $9,559 |
| Asotin | $332,739 | $17,302 | $8,651 | $4,326 | $5,767 |
| Franklin | $197,475 | $10,269 | $5,134 | $2,567 | $3,423 |
| Klickitat | $418,849 | $21,780 | $10,890 | $5,445 | $7,260 |
| Douglas | $136,162 | $7,080 | $3,540 | $1,770 | $2,360 |
| Lincoln | $253,207 | $13,167 | $6,583 | $3,292 | $4,389 |
---
5. Different types of Buyer rebate in Washington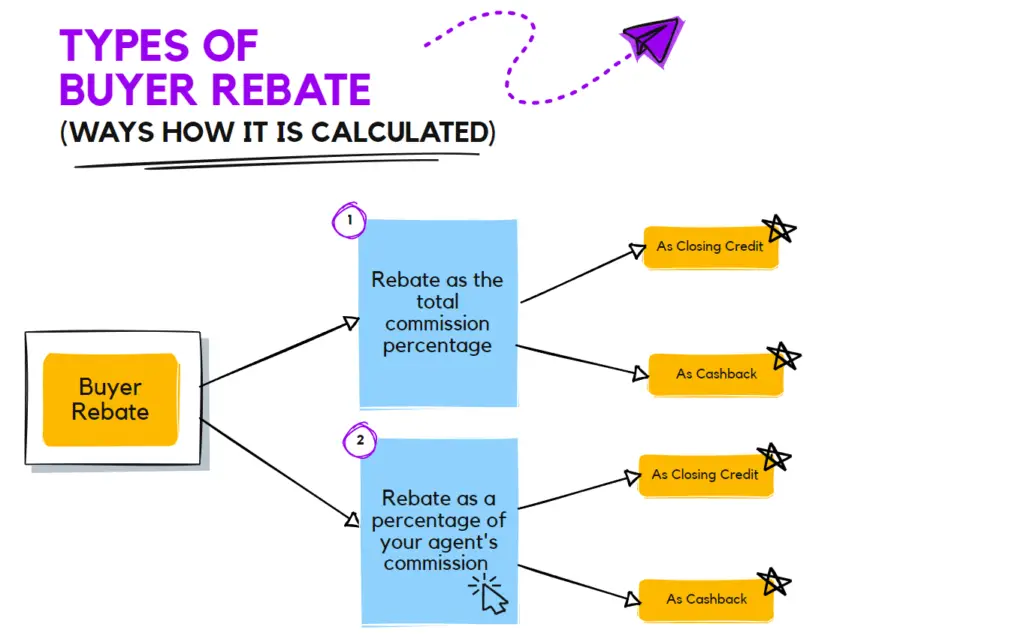 There are three main types of buyer rebates: flat-fee rebates, percentage-based rebates on home price and percentage-based rebates on buyer agent commission.
Flat-fee rebates are a set amount of money given back to the buyer at closing. For example, a buyer may receive a $1,000 flat-fee rebate.
Percentage-based rebates on home price are a percentage of the purchase price given back to the buyer at closing. For example, a buyer may receive a 2% percentage-based rebate on a $300,000 purchase price of $6,000.
Percentage-based rebates based on buyer agent commission is also given back to the buyer at closing but it is usually the percentage of what your buyer agent gets. You may receive a rebate as 40% of the $15,330 that your buyer agent gets.
In addition to these two main types of buyer rebates, there are also some other variations. For example, some agents offer tiered rebates, where the amount of the rebate increases as the purchase price increases. Other agents offer recurring rebates, where the buyer receives a yearly rebate for several years.
5.1 Buyer Rebate as a percentage of home price
Let's calculate the amount of buyer rebate in three different scenarios – 1%, 2%, and 3% of the price of the home as a rebate.
Buyer Rebate as % of home price
Home Price range
1%
2%
3%
$450,000 – 550,000
$4,500 – $5,500
$9,000 – $11,000
$13,500 – $16,500
$575,000 – 650,000
$5,750 – 6,500
$11,500 – $13,000
$17,250 – $19,500
$700,000 – 800,000
$7,000 – $8,000
$14,000 – $16,000
$21,000 – $24,000
5.2 Buyer rebate as a percentage of buyer agent's commission
Similarly, when calculating the buyer rebate when quoted as a percentage of the buyer agent's commission, this is what it looks like:
Home Price range
Total commission as 5.20% of home price
Buyer Agent's commission as 50% of Total commission
Buyer Rebate as % of agent's commission
10-20%
30-40%
50-60%
$450,000 – 550,000
$23,400-$28,600
$11,700-$14,300
$4,500 – $5,500
$9,000 – $11,000
$13,500 – $16,500
$575,000 – 650,000
$29,900-$33,800
$14,950-$16,900
$5,750 – 6,500
$11,500 – $13,000
$17,250 – $19,500
$700,000 – 800,000
$36,400-$41,600
$18,200-$20,800
$7,000 – $8,000
$14,000 – $16,000
$21,000 – $24,000
---
6. Is the buyer rebate given in the form of cash?
Rebates may be in the form of cash or closing credits, depending on how you negotiated the deal or per the policy followed by your agent. When you receive a rebate in the form of closing credits, it is usually specified how you can use these credits, and you will have limited scope for spending such closing credits.
Most likely, you will be able to spend it only on closing costs such as
i) Escrow fees
ii) Buying points on the mortgage
iii) Appraisal fees
iv) Transfer fees
v) Loan origination fees, etc.
If you need flexibility on how to use the rebate, insist on a cashback rather than closing credits. Since this form of the rebate is given in cash, it is up to you to use it. Also, rebate in the form of closing credits is subject to approval from the lender. There is no such requirement in the case of cash rebates.
It is also prudent to inform your lender about a cash back rebate. You have to remember that not every lender will allow a buyer to take the rebate at closing in the form of cash.
---
7. Do I have to disclose the buyer rebate to the lender?
A cash rebate will be given after the deal is over; thus, it does not impact the financing of the home. On the other hand, a closing credit as a rebate will directly reduce the cost of the home.
This will affect the loan eligibility of the buyer. The lender looks at the home's cost basis to decide how much of it can be financed through a loan. The cost basis is the home price plus all expenses related to the purchase, minus any credits such as rebates.
While expenses will increase the home's cost basis, a rebate will lower it. So it is essential to report the rebate to the lender to make appropriate legal calculations when deciding your eligibility for a loan. In other words, the cost will directly affect the loan-to-value ratio of the mortgage, and the lender will need to adjust your financing accordingly.
7.1 What is the LTV ratio?
According to the Consumer Financial Protection Bureau (CFPB), the loan-to-value (LTV) ratio is a measure that compares the amount of your mortgage with its cost basis. So the amount of loan you are eligible for will be decided by this ratio. If your down payment is high, your LTV ratio will be lower.
LTV ratio = Loan amount ➗Cost basis
The LTV ratio is used by lenders while deciding whether to lend to you. They use the ratio also to determine if private mortgage insurance is required. Getting private mortgage insurance will again increase your monthly costs and consequently affect your ability to repay the loan.
Remember that if you fail to report this rebate to your lender, they have the right to cancel the loan, and you could also be liable for mortgage fraud.
Here is an example of how rebate affects the LTV ratio. Suppose the rebate is $10,000 on a home priced at $500,000.
| | | | |
| --- | --- | --- | --- |
| Home Buyer Rebate | Loan Amount | Cost Basis | LTV Ratio |
| $0 | $400,000 | $500,000 | 0.8 (just right) |
| $10,000 | $400,000 | $490,000 | 0.816% (too high) |
---
8. Is the buyer rebate taxable?
Since buyers receive the rebate in either closing credits or cash, the question that is uppermost in their minds is whether such rebate is taxable. The IRS considers a cash rebate paid to a buyer after closing as an adjustment in the price, and therefore the buyer need not report the payment at all for tax purposes. So no, home buyer rebates are not taxable. If you are still not sure, check with your accountant on this before you accept any kind of rebate.
However, even if the rebate is not taxable, you still need to disclose it to your lender.
---
9. How to disclose buyer rebates
When disclosing a buyer rebate you have received, make sure to follow the rules.
According to HUD's RESPA rules and guidelines, those who receive a buyer rebate in the form of a closing credit need to mention this in the HUD-1 settlement form. It needs to be listed as a credit in lines 204 to 209.
In addition, you also have to provide the name of the party issuing the credit. This will be either your agent or your broker. In addition to disclosing the rebate on the settlement form, as mentioned earlier, you also need to disclose the buyer rebate to the lender to avoid problems concerning your loan.
9.1 What is a HUD-1 settlement form?
The HUD-1 form is a document used when a borrower receives funds to purchase a property. It is also called a "Settlement Statement", a "Closing Statement", or "Settlement Sheet", or GFE (Good Faith Estimate). The GFE was incorporated into the HUD form in 2010 and presents figures initially estimated by the lender to compare with the final HUD figures.
---
10. How do realtor agents feel about offering buyer rebates?
Although, at first, it does seem that the agent is suffering a loss when he gives the buyer a rebate out of his commission, it is also true that because the agent offers rebates, he gets more clients. More business automatically offsets any lower fee that the agent receives.
Talking about how an agent feels about the issue, some agents embrace the concept and move on to do more business and, consequently, higher income. In contrast, some are simply offended at the suggestion.
One has to remember that the buyer rebate is why buyers are willing to work with an agent in the first place.
In a market such as Washington, with high home prices, the buyer agent can still retain a significant amount even after rebating a part of the commission to the buyer. In the above case, even after doling out a buyer rebate of two-thirds of the commission or around $11,000 to the buyer, the agent still retains $5,734, which is no small amount.
If the buyer does go ahead with a deal without an agent, the entire commission, which is part of the price of the home, will go to the seller's agent. So buyer's agents look at it this way – a rebate is a way to engage a client who would otherwise not be a client.
---
11. Will availing buyer rebate affect the services I receive from my agent?
Since the buyer receives a rebate from the buyer agent, a commonly asked question is whether this will affect the services provided by the agent in any way. Now it is true that some agents will try to reduce the services on offer to give you a larger rebate; however, many agents out there will provide you with full service and a rebate.
If you feel you need the full service despite the rebate, make sure you negotiate accordingly with the agent. Do this before signing on the dotted line. Ensure you are aware of the services offered by a full-service agent to ensure you are not short-changed in the bargain here.
11.1 What are the services offered by a buyer's agent?
Let's take a look at the services offered by a buyer agent. A buyer agent
Assists you in finding a house that suits your needs and aspirations.
Gives you further details about neighborhoods, schools, and other significant information you would not find elsewhere.
Helps you in your negotiation efforts.
Analyzes the estimated costs associated with buying a home, such as the monthly mortgage payment, escrow, pre-paids, insurance, etc.
Keeps you informed of new listings before other buyers do.
Schedules and joins you at property inspections.
Tracks title insurance, the loan approval procedure, etc.
Informs you of all developments that can impact the closing.
Accompanies you at closing.
---
12. Why do agents offer rebates?
Agents rebate their commission to you for several reasons. Let's look at some of these reasons here.
12.1 To beat the competition
The National Association of Realtors (NAR) says the United States has over 1.3 million REALTORS®. And the Association of Real Estate License Law Officials (ARELLO)estimates more than 3 million active real estate licensees in the United States. Hence to compete against each other, agents offer buyer rebates. Buyers prefer working with realtors and agents who offer them a rebate since it can save them a lot of money.
12.2 To pass on savings to the buyer
Agents today operate far more efficiently than earlier with the help of technological advancements. The best real estate buyer agents are now utilizing technology to improve operational efficiency, streamline processes, and enhance the home buying experience. These efficiencies result in lower operating costs. Moreover, the commission has remained the same throughout this period. Many of these agents are willing to pass on their savings to you in the form of a commission rebate.
12.3 To retain buyer loyalty
Purchasing a home can be a complicated, overwhelming, and exhausting experience. Many times buyers back out because of minor inconveniences. In such cases, a rebate convinces them to stay in the deal. Happy clients also pass on the agent's name via word and mouth, which helps them get more customers.
12.4 If you do not require a full-service agent
If you are an experienced person who has bought and sold houses in the past, you can do some of the legwork yourself. In this case, you will not require a full-service agent. You can request only the required services and opt for a rebate here since the agent will be more willing to offer a rebate for fewer services rendered. Some agents only charge you for the specific services you require – like showing houses or handling the paperwork.
---
13. Should I negotiate a buyer rebate?
Yes, you should. When finalizing the agent you prefer to work with, make sure you negotiate a buyer rebate. Remember that neither the amount nor the rebate percentage is fixed. It will vary from deal to deal and depend on your negotiating skills.
While some agents are averse to negotiating deals, you can always give them a miss and go for an agent who looks at rebates differently in case you fail to convince the earlier lot. Many agents consider a buyer rebate a way of doing more business by attracting more clients rather than as a reduction in their fee. The higher volume of business easily offsets the lower revenue per transaction.
---
14. Favorable conditions when you can negotiate a buyer rebate.
In case you want to know when and how you should negotiate, you can also look at the prevailing market conditions in the location where you plan to buy a home.
14.1 When demand for homes is low
When business is slow in the real estate market, and the competition among agents is high, they are more likely to be open to negotiating a higher buyer rebate. Rather than lose a client, the agent might offer a rebate. Research the market before you decide to do your negotiations.
14.2 When buying a high-value home in Washington
When you are buying a high-value home, the agent receives a higher commission amount. For example, on a $1M home, if the buyer agent gets half the commission or 2.6% on the home price (after deducting the seller agent's 2.6% commission), it works out to $26,000.
This is much more than what he would get on the median home price of $643,000, which would work out to $16,734. In both cases, if the agent shares half his commission as a buyer rebate, he would be left with a higher amount in the case of the high-priced home.
In such cases, the agent is more likely to agree to give you a larger share of the pie and close the deal on priority since he gets more money for the same amount of work.
Home price
Total commission as 5.20% of home price
Buyer Agent's commission as 2.6% (A)
Buyer Rebate as 50% of the Buyer Agent's commission (B)
Amount left with Buyer Agent
(A-B)
$643,000
$33,467
$16,734
$8,367
$8,367
$1,000,000
$52,000
$26,000
$13,000
$13,000
14.3 Sell and buy through the same agent
If you are buying and selling a home at the same time, you can route both deals through the same agent. In this case, because of the higher business, the agent will agree to give you a higher rebate since this already means a double income with the same client. It's a win-win situation for both parties.
14.4 When you have already finalized the property
When you have done all the groundwork and even finalized the property, the agent work is reduced considerably; hence, you can negotiate a higher rebate in such cases. This is an ideal situation for the agent because the time spent on the deal is minimal and means quick revenue with fewer costs.
---
15. Where do I find agents offering buyer rebates?
A lot of agents advertise the rebates they are offering to attract clients. Just google buyer rebates in your area, and you will come across the required contact numbers. Similarly, there are a lot of aggregator sites that already have signed on agents who are offering rebates. You could opt for a company with national coverage or a local agency that is more focused on your location, depending on what kind of rebate they offer and how negotiable it is. To help you along, we have already sifted through the data and come up with a few companies/agents which met criteria such as wide reach, good rebates, website ranking, the kind of business they have done so far, awards they have received, etc.
Take a look at the list but don't forget to do your research before deciding on your ideal agent.
15.1 Clever Real Estate
The USP of Clever Real Estate is a free, nationwide service that helps you find the best realtor with a prenegotiated cashback from its 14,000-strong partner agent network. You can choose between top national and regional brokerages based on your specific requirements. It also offers 0.5% cashback after closing on homes costing $150,000 and above and a flat $250 for homes between $50,000 and $150,000. Homes below $50k do not qualify for a cash rebate. So if you're buying a home worth $6,00,000, you get a cashback of $3,000 without even negotiating for it. There are no obligations, upfront fees, or hidden costs.
You can talk to multiple agents that Clever recommends, ask for more options, and still walk away if you don't like what you see without any payments or obligations. What's more, Clever's agents provide full service and are not discount agents. When looking for the right agent, it's not only about the rebate – you need to ensure you can work with the individual agent based on your specific needs and priorities. Clever is rated 4.9 (out of 5) on Trustpilot, meaning 98% of reviews rank it as excellent.
15.2 UpNest
UpNest is a free, no-obligation service that connects you with multiple local agents who compete for your business. You can choose based on the cashback they offer or the required services. Though the savings aren't guaranteed and are marginal, unlike on Clever. UpNest has a 4.6 rating and is accredited by the Better Business Bureau where it has an A+ rating. It claims to have helped more than 500,000 customers through its network of more than 14,000 agents.
UpNest's matching service is fast and easy, where you give some basic information and are provided a list of local agents whom you can invite to bid for your business. Agents will send you their proposals (generally within an hour to a few days), and you can select the one you like. Your account manager from UpNest will connect with you and help you out.
The agent proposals you will get include a ton of details, beating most other similar services.
15.3 Redfin
Redfin, one of the biggest discount real estate services in the US, operates in more than 100 markets across the US and Canada. Compared to UpNest and Clever, Redfin uses a tech-centric customer service model, which could mean less hands-on support for the home buyer, and gets a 3.9 rating out of 5 on reviews sites like Google, Zillow, and Yelp. Redfin claims that it has helped more than 400,000 customers buy or sell homes worth $200 billion through 2021.
Redfin offers the same essential services as traditional realtors at a lower cost. Being a discount broker, however, could mean that the savings come at the expense of service quality, and their services may not be available in rural areas. Redfin does not cover all states in the US.
Refin's agents are salaried and not commission-based. Hence, they may be less incentivized than traditional agents. Since Redfin handles most of the sale process remotely or through automated processes, interaction with the agent may be minimized. Sometimes this may be confusing and lead to frustration, as with all automated services.
The company claims that the average buyer who qualifies for a commission rebate on its site saves $1,750, but it is unclear how Redfin calculates this rebate. This rebate is also subject to select markets and not applicable if Redfin refers you to a partner agent from another company. It is also not offered on certain purchases and is subject to Redfin earning a minimum buyer agent's commission of $6,500.
15.4 Prevu
Prevu, a discount real estate brokerage, claims to offer large rebates for eligible home buyers, by connecting the buyer with its salaried agent. However, these agents may not provide all the services that a full-service agent offers. With Prevu, homebuyers can get rebates of up to 2% of the home price, but there could be service tradeoffs in the bargain – such as a smaller pool of agents to choose from, and less personalized service.
Prevu also has high minimum fees and only operates in high-priced markets such as New York, Massachusetts, Connecticut, California, and Pennsylvania – but even a 2% rebate in these high-priced markets can save the buyer a lot of money. This 2% rebate, however, is only available on homes priced at $750,000 or more. Also, Prevu agents come into the picture only once the buyer has the buyer is ready to see a particular property – the initial work of shortlisting the property has to be done by the buyer by viewing listings on Prevu's website.
While browsing the website, Prevu only provides filters if you provide your contact details, otherwise, you have to browse by state, city, and neighborhood, making it a little cumbersome since there is no built-in filtering available. But once you've found a property you are interested in, you can see the rebate offered immediately. You can then connect with the agent for more details. If a Prevu agent already lists the property, you don't qualify for the rebate. Here's an estimate of how much you can save through Prevu.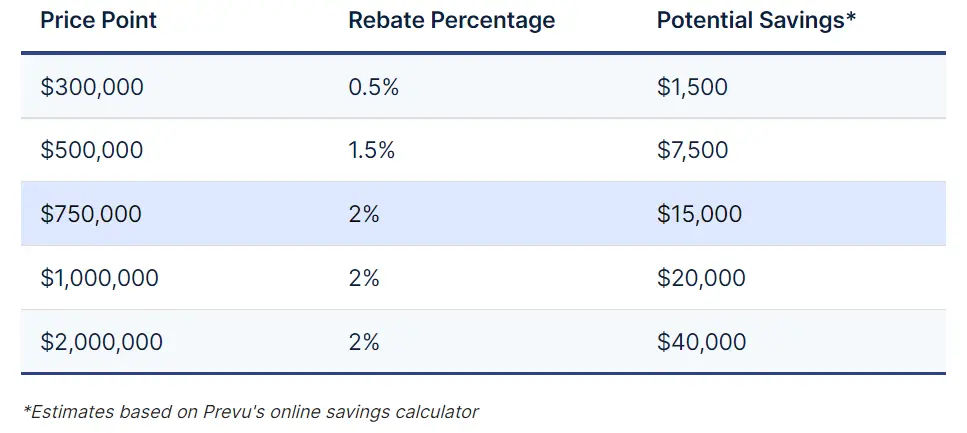 On the customer review side, while some customers reported a good experience, others said they faced communication issues and were disappointed with the higher fees.
15.5 Trelora
Trelora is a real estate brokerage that will match you with top local realtors who offer rebates for home buyers. The agent-matching service is free, but it only operates in seven states – Arizona, Colorado, Georgia, Missouri, North Carolina, South Carolina, and Washington. Trelora's average customer rating is 4.7 out of 5 on Google, Zillow, and Facebook.
Trelora offers a cashback rebate for qualifying buyers, and this could go up to 50% of the buyer agent's commission – up to a maximum of $6,000. Check with the company for eligibility restrictions before you begin the process.
15.6 HomeLight
HomeLight is one of the largest free online services that use technology to match buyers and sellers to real estate agents in their local areas, which means you can use it at all hours and not just business hours. The free, quick, and easy service offer customers more options without any obligations. However, there are fewer benefits compared to the services already mentioned above.
Eligible homebuyers can get a 0.5% cashback after closing. Customers like the service giving it a 4.7 rating out of 5. For some strange reason, HomeLight used to list 70,000 agents, but in 2021, this list was reduced to 28,000 without any explanation. Still, the service has good coverage even outside of major metros.
Once you feed in the required information, the website throws up a list of agents based on its algorithm along with the agent's details, including how many homes they have sold in your area, locations of these homes, agent's experience, and notable achievements. HomeLight and its agents will contact you very quickly after this. If unsatisfied with the initial list of agents, you can ask for more. Homelight also offers services such as HomeLight Home Loans and HomeLight Trade-in, where you can purchase a new home prior to selling your old one.
15.7 ShopProp
ShopProp takes a small share of the commission offered by the seller. Its rebate depends on the number of showings a buyer needs, the number of offers on homes, and the number of home inspection assistance you need. The rebate is inversely proportional to the amount of help you need from ShopProp. However, regardless of the assistance you need, their share never exceeds $4,995 for homes under 700k and $5,995 for homes over. On a $1M home, a buyer would get a rebate of $27,005. You can also sign up as an iBuyer, where you can provide instant offers to sellers that are looking for instant cash.
ShopProp has a 5 out of 5 rating on Facebook (31 reviews) and Yelp (17 reviews). It has a 4.9 out of 5 rating on Google (47 reviews) and Zillow (137 reviews).
15.8 Flat Fee Group
A flat-fee real estate firm, Flat Fee Group links homebuyers and full-service brokers. They provide a rebate of 2% of the home's purchase price at closing, which can be applied to closing costs or a down payment. An agent can tell that you are a serious buyer who is prepared to finalize the purchase swiftly if you have received pre-approval. Flat Fee Group has several lenders on their list whom you can connect to immediately.
Once you've located the house, you can contact the Flat Fee Group agent. They will walk you through the full deal before you sign it. Your offer will be presented to the listing agent by their agent. In addition, your agent will walk you through every step of the process until closing if your offer is approved. The agent will provide a rebate at closing if the lender permits it. The rebate comes down as you ask for more showings. On Google, Flat Fee Group has received a 4.9 out of 5 rating based on 45 reviews.
15.9 New Home Rebates
If you purchase a new house through New Home Rebates, they will give you a rebate equal to 2% of the purchase price. For existing homes, your refund is lower. New Home Rebates encourages purchasers to conduct their basic research before choosing a home. In return for their efforts in narrowing the search, buyers receive a rebate from the firm. It provides free assistance to buyers in locating the desired agent.
There is no obligation to work with their agents once you sign up. Additionally, New Home Rebates provides free tools to compare all properties that meet your criteria. Visit each house personally before making a choice, then get in touch with New Home Rebates. They will work to get you the best deals and provide you with all available discounts.
15.10 Discount Realtor
As a rebate, Discount Realtor offers one-third of their agent's commission. However, this rebate is subject to several factors, including the property's price, the total commission, the time the agent spent, and market conditions.
Discount Realtor offers rebates through local, experienced, full-service agents from well-known brokerages such as RE/MAX, Keller Williams, Coldwell Banker, Century 21, HomeSmart, and others. According to customer reviews on their website, Discount Realtor provides excellent service and has helped buyers save money.
Here's a summary of websites/agents mentioned above:
| | | |
| --- | --- | --- |
| Website/Firm name | Rebate offered | USP |
| Clever Real Estate | 0.5% of home price | Big savings at most price points. Top brand agents to choose from. |
| Redfin | 0.22% of home price | User-friendly website |
| UpNest | $150 + 0.3 to 0.75% of home price | User-friendly website |
| Discount Realtor | 1/3rd of agent's commission | Local agents familiar with the market |
| New Homes Rebates | 1%-2% of home price | Specializes in new homes |
| Flat Fee Group | 2% of home price | 4.9 out of 5 customer rating |
| ShopProp | Depends on the home price and number of showings | Their share of commission never exceeds $4,995 for homes under 700k and $5,995 for homes over. |
| HomeLight | You can negotiate a rebate when you get in touch with an agent | User-friendly website |
| Trelora | Up to 50% of agent's commission or maximum $6,000 | Customer rating of 4.7 out of 5 |
| Prevu | Upto 2% of home price | Good for high-priced homes |
16. Conclusion
Each location will have its features, and buyers need to research to ensure they get a good deal regarding rebates.
With Washington being a high ticket location, agents will be more willing to negotiate a higher rebate since they will still be left with a significant amount as their fee.
Take advantage of this to make a few extra thousand dollars which will be well earned, to say the least, and will go a long way in helping you set up your new home. Here's to a happy home-buying journey.