Buying a home in California is exciting, but it is not easy, mainly because you need to save up significantly for the down payment.
Housing prices in California are at an all-time high. As of April 203, the average price for a single-family home in California can cost buyers around $800,000, 187% of the national average. 
CNBC claims that rising prices might take a typical worker 9 years to own a home in California. Furthermore, the value of California homes is set to appreciate by 8.4% in the coming years!
While you might not have any control over the decreasing affordability as a homebuyer, you can always play smart and save thousands of dollars.
Yes, you read that right! Homebuyers can save a big chunk of their investment by collaborating with agents who give you commission rebates at closing.
Not sure what that is? Here is everything you need to know.
---
1. Buyer Agent Commission Rebate in California
1.1 What is a Buyer Rebate?
A Buyer rebate, commonly known as a homebuyer commission rebate, is a kind of refund that agents offer at the end of a successful deal to their clients.
You can get a rebate as closing cost credits, cash back at closing, or free services.
Now you must think, "Why would agents be keen on giving homebuyers a part of their commissions?". Fair question!
One of the primary reasons behind offering rebates is to cut off competition. For example, there are now twice as many realtors working as listings in California.
Refunds can help agents attract new informed buyers who know exactly what they want. To understand this better,  you must understand how real estate commissions work in California. If you are already familiar with the process, you can skip the section.
1.2 How Does the Real Estate Commission Work in California?
A total of four real estate entities are involved in a home sale in California.
The buyer
The seller
The buyer's agent, who represents the buyer
The seller's agent (also known as the listing agent) who represents the home seller
The buyer pays the seller the home's final purchase price during closing. The seller then pays the fees for both agents ( a percentage of the home's final price as mentioned in the listing agreement).
In California, this fee can range from 4.9% of the final sale price, which is surprisingly lower than the national average (5.49%).
Once the agents receive this amount, they further divide it between them basis the pre-decided commission split.
Note: In a typical real estate transaction, this split is 50/50. However, based on the efforts and experience of the real estate agent, this split can also be 40/60, 60/40 or even 30/70.
In California, the commission split is usually 51/49, wherein the listing agent gets 51% of the final commission amount, and the buying agent receives 49% of it.
Here is a flow chart that will help you understand the commission process in a better way.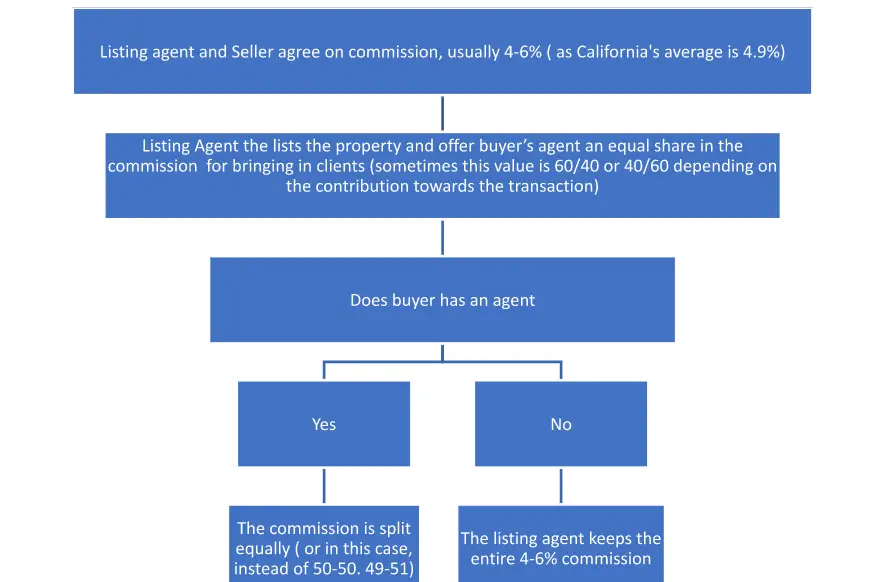 Source: 3
1.2.1. Why Does a Buyer Agent Give Rebates Instead of Giving Discounts?
If you are a first-time homebuyer, you may argue that offering a discount on commission is far better than providing a rebate. And while you may have your reasons to think in that direction, offering such a deal might not be possible for your agent.
Here's why
In California, sellers and listing agents are the ones who decide the final take-home commissions for agents, roughly 4.9% of the final sales proceeds.
Even before listing the property on the MLS, they detail this amount in the listing agreement.
Usually, the buyer's agent receives 50% of this amount. However, suppose your agent decides to give a discount on his share, say maybe he agreed to a 40% commission split. Where do you think the remaining 10% will go? Please note that the overall commission will not decrease, as it has already been decided upon in the listing agreement. So, in this case, the remaining 60% will directly go into the listing agent's pocket.
That's why buyer agents prefer giving rebates to their clients instead of reducing their commission share.
Source: 4
1.3. Homebuyer Rebate in California: Where Does it Come From?
As the name suggests, a homebuyer rebate comes from the buyer's agent's commission share.
Let us explain how!
You might have understood how real estate commissions work in California. In a nutshell, as a buyer, you pay the money for the house bought, the seller receives the money for the asset sold, and both agents earn a commission from the final sale price in exchange for their services and expertise.
Suppose you buy a house for $600,000; in such a case, the seller will receive $600,000 and give out $29,400 (4.9% of $600,000) to the agents.
So, the listing agent (or the seller's agent) receives $14,994 at the end of the deal (51% of the commission), and your agent gets the rest, $14,406.
Depending on the agreement, your Rebate will come from this $14,406. So, if your agent promised you a 50% rebate, you will get $7,203 out of this deal!
Source: 5
1.4 More Reasons Why will your agent be keen on giving a rebate? 
Buyers are becoming more informed today. As a result, they do most of the leg work themselves, and sometimes they even solve the most challenging part of an agent's job – finding the right home.
53% of buyers claim that finding the right home is the most challenging step in the home buying process, and that's 100% true.

As per relator.com, it takes an average buyer ten homes in 10 weeks to find 'the perfect home' for them. And there is no assurance that this number and the timeline will stay on the lower end. 
As 97% of today's digital-first buyers use the internet to search for homes, they practically get the job done for agents. As a result, closing the deal becomes faster for agents, who can now work with more clients at half their business costs.
Thus, they offer rebates to attract more such clients! That said, there are a few more reasons for your agents to provide rebates. They are:
Source: 6
1.4.1 To Cut Off Competition
As we mentioned, there are twice as many realtors in the market as listings. That means that the competition is cutthroat. So, to gain an edge in the already competitive real estate market and attract more informed buyers, agents give out lucrative rebates.
There is another way to look at it too.
Many growing companies in California are already offering buyer rebates to their clients. As a result, agents may need to do the same to stay in the competition and avoid losing business.
1.4.2. They Want to Pass on the Savings to Their Clients as a Goodwill Gesture
Real Estate is heavily dependent on referrals. If homebuyers have an excellent experience working with a particular realtor, they will refer them to all their family and friends.
Many realtors today realize that one of the many ways to maintain a good relationship with clients is by incentivizing their loyalty.
And to be honest, it makes sense. Because of technology today, finding a home has become super easy. So many processes that were otherwise manual and complicated have become simpler.
As a result, the number of hours agents spend working on a property and the costs involved have decreased significantly. Thus, making them open to passing down the savings to build better client relationships.
1.4.3. They Deal in Upscale Properties
When agents deal in upscale properties, they prioritize closing, even if that means receiving less commission.
That's because:
Such properties are difficult to sell
The amount of money they receive at closing, even after giving a rebate, is much more than their usual undiscounted commission.
1.4.4. Rebate Makes the Transaction More Efficient
For a realtor finding a buyer who knows exactly what they want and has all their finances in place is a godsend pleasure. So naturally, they will do anything to attract such buyers to do more business in the least amount of time.
1.4.5. High Brokerage
There is a common perception among buyers that realtors charge a lot in commission. 4 in 10 customers believe that a realtor's commission is too high. So, to reassure them that they won't be spending as much as they think and to get their business, realtors may offer them a rebate.
Source: 7
1.4.6. They Are Most Likely to Close a Deal With a Rebate
Closing costs can be expensive for buyers. It can cost them as much as 11% of their home price in California. Bearing such a high cost can give buyers cold feet and might even make them rethink the decision. When that happens, the agents must take the brunt of the situation.
To avoid this, agents can offer rebates to buyers.
A commission rebate can help shoulder some of the buyer's financial burdens, encouraging them to close the deal.
Source: 8
---
2. What Is the Average Rebate Buyer Agent Gives in California?
Your average Homebuyer Rebate in California will depend on the following:
Your Final purchase price
Commission rebate that your agent is willing to offer
Your lender's approval (in case you are getting a refund on closing costs)
Let us explain it to you with the help of an example. Suppose you buy a home at a final price of $800,000 (the state's average home price).
You are poised to receive a rebate in one of two ways: either you get a refund on the final sale price (also known as cashback), or you get a percentage out of the buyer's agent commission.
So, let's talk about both situations:
2.1 Refund on the final sale
A few companies online promise to refund clients a percentage of the final closing cost. It can either be 0.5%, 1%, or even 1.5% of the final purchase price.
So, suppose you are buying a home for $800,000; you can get around $4000 – $12,000 in Rebate.
2.2 Percentage of agent's commission
Receiving a percentage of the agent's commission is one of the more popular ways to receive a rebate.
However, this also happens in two ways: you either hire an agent who offers a commission rebate or negotiates with your existing agent to give you a refund at closing.
Note: Although the odds of the latter happening are pretty slim, it is, anyway, worth a shot. Also, if you are going to negotiate for a rebate with your agent, ensure that you do it before signing an agreement with them, not after it. 
Now, let us circle back to the rebate part. For example, if you buy a home for $800000, your agent promised you a 65% rebate over their 2.4% share. In that case, you will receive an average of $12,480.
So, it is safe to say that you can save thousands at closing from buyer commission rebates despite which rebate plan you choose.
---
Is Rebate legal in California?
As per California Legislature Information, a refund of a portion of a commission by an agent to the buyer in a real estate transaction does not violate Business and Professional Code § 10137.
In simpler terms, giving commission rebates in California is legal.
However, remember that the transaction details of such a deal should be disclosed to the seller beforehand, as he will ultimately pay the commission.
Source: 9
---
3. Where Can You Use Your Buyer Agent Commission Rebate?
You can use your commission rebate in one of the following ways:
3.1. To Cover Closing Costs
Closing costs in California can cost you from $5,366.36 to $ 6,878.85 (without and with taxes, respectively), according to ClosingCorp data.
These costs cover underwriting, title search, loan fees, escrow charges, title insurance premiums, and pest inspections.
Buyers generally use their Rebate on the closing costs to save themselves from this extra expense. However, you may first need to talk to your title company and realtor to leverage it.
3.2. To Cover Moving Costs
Moving is not only hectic but expensive too. For example, an average out-of-state move to California can cost you nearly 5,600 dollars!
You can also use your Rebate on moving costs to make moving more accessible on the pocket.
While it might not cover your total moving price, it will still remove the burden from your pocket.
3.3. New Furniture
Another widespread use of rebates is for buying new furniture.
If you wish to change the look and feel of your new home, this might be the perfect way to utilize your buyer commission rebate.
3.4. Landscaping
Landscaping is another way we see buyers using their rebates.
Imagine you buy a newly painted house with state-of-the-art interiors; however, from its outlook, it looks shabby because of the outgrown vegetation. Wouldn't you want to fix that? Well, your Rebate can help you do that.
3.5. Emergency Savings
You should save this Rebate for emergencies if you have enough money for all the above points. Many homebuyers prefer to keep a portion of their refund as a savings fund, and you can do that as well.
Source:10
---
4. Is Buyer Rebate Right for You?
There is nothing wrong with receiving extra money at closing; however, knowing what you are signing up for is more important.
Buyer rebates are highly regulated even in the states that consider them legal. Strict rules and regulations surround them, especially if you want a mortgage to fund your new home.
So, your lender might have additional stipulations, especially if you are getting your Rebate as closing credits.
Note: Never hide the rebate amount from your lender. If you fail to do so, you can face financing falling, or worst, you can be arrested for mortgage fraud. 
Let us talk about it in detail. For example, in a mortgage situation, your lender has a say in whether you get a rebate as a closing credit. Why do you ask? Well, that's because getting a commission rebate on the closing cost might disrupt the cost basis.
The cost basis is the amount you pay for your home. It includes everything – from your sale price to the fee you pay during closing and other financial investments.
When you get a rebate as closing credits, it cancels out some closing costs, lowering your home's cost basis. It then affects your Loan-to-value ratio, which can be best described as the amount you borrow to the actual value of your home.
When that happens, your lender must adjust your financing, keeping the ratio low (80% or less).
Suppose you buy a home worth $600,000
| | | | |
| --- | --- | --- | --- |
| Homebuyer commission rebate | Loan amount | Cost Basis | LTV ratio |
| $0 | $480,000 | $600,000 | (80%) |
| $10,000 | $480,000 | $590,000 | (81.3 % too high) |
To adjust this, the lender will try to change the LTV ratio to 80%. This will decrease your loan amount to $472,000.
So, rebates as closing credits can decrease the overall financing of your house. To avoid this, try taking your Rebate as a cashback or as additional services like landscaping or interiors.
Note: You must disclose your closing cost rebate on your HUD-1 settlement form (which covers all settlement costs). You will also have to mention the name(s) of the party issuing the credit. Your agent will help you figure this out; remember to keep a check.

You must disclose your closing cost rebate on your HUD-1 settlement form (which covers all settlement costs). You will also have to mention the name(s) of the party issuing the credit. Your agent will help you figure this out; remember to keep a check.
| | |
| --- | --- |
| City | Median Home Price |
| Pasadena | $1,020,000 |
| Irvine | $1,110,000 |
| San Jose | $1,250,000 |
| San Francisco | $1,540,000 |
| Sausalito | $1,570,000 |
| San Mateo | $1,560,000 |
| Los Angeles | $949,000 |
---
5. How Much Buyer Rebate Can I Get On My Property?
The Rebate you get on your property depends on the purchase price of your new home, your agent's commission, and the percentage of commission rebate he is willing to offer.
5.1 Rebate on agent commission
Here is how you can calculate a rebate on agent commission:
First, list the final buying price of the property in question. Then, list the Commission Percentage ( as mentioned in the listing agreement) for both agents. In California, this percentage is 1-6%; however, we will consider this percentage to be the state's average of 4.9% for ease of calculation.
If this commission is divided 50/50 among the two agents, your agent will receive 2.45% of the final purchase price.
Commission earned by buyer's agent = Sales price* Buyer's agent commission.
If the buyer agent offers you 65% earlier, your rebate amount will be 65% of the buyer's agent's commission.
The Rebate you will get = 65%*2.45%*the buying price of the home.
To make matters more manageable, you can use the U.S. Department of Justice calculator to calculate your commission rebate.
Let's understand this one last time:
| | | | |
| --- | --- | --- | --- |
| Final Purchase price | Average commission of both relators ( 4.9%) | Avergae commission of your relator (2.45%) 50/50 | The Rebate you will get (suppose 65%) |
| $250,000 | $12,250 | $6,125 | $3,981 |
| $500,000 | $24,500 | $12,250 | $7,963 |
| $600,000 | $29,400 | $14,700 | $9,555 |
| $900,000 | $44,100 | $22,050 | $14,332.5 |
5.2 Rebate on selling price
If you receive a commission on the selling price ( generally 0.5 – 1.5% of the final selling price), the Rebate you will get will equal the commission on selling * final selling price.
| | | | |
| --- | --- | --- | --- |
| Final Purchase price | Rebate offered on buying price (say 0.5%) | Rebate provided on buying price ( say 1%) | Rebate provided on buying price ( say 1.5%) |
| $250,000 | $1,250 | $2,500 | $3,750 |
| $500,000 | $2,500 | $5,000 | $7,500 |
| $600,000 | $3,000 | $6,000 | $9,000 |
| $900,000 | $4,500 | $9,000 | $13,500 |
---
6. Real Estate Commission Rebate Vs. First-Time Home Buyer Tax Rebate
Buyers may confuse a first-time homebuyer tax rebate with a real estate commission rebate.
The most significant difference between the two is that one is a marketing move from real estate, and the other is a scheme from the government for first-time homebuyers only.
Although the first-time homebuyer tax is now discontinued, there are several other programs you can leverage as a first-time home buyer in California.
CalHFA Conventional Loan Program
This program is for homebuyers that have less money for down payments. This plan is primarily for low-income homebuyers and has a term plan of 30 years. You can read about this program in detail here.
CalPLUS Conventional Loan Program
This program is for homebuyers that need assistance with closing costs. It comes with all the CalHFA benefits, with the added benefit of financing your closing cost with a zero-interest loan. You can read about this program in detail here.
CalHFA FHA Loan Program
If you wish for low mortgage rates, this program is for you. The tenure for this loan is 30%, allowing the borrower to put as little as 3.5% into buying a house. You can read about this program in detail here.
CalHFA USDA Loan Program
This is for buyers who wish to purchase a home outside California's major cities in the state's rural areas. Again, this is a 30-year fixed loan with the perk of 100% financing. You can read about this program in detail here.
Other National Programs or first-time buyers:
Fannie Mae and Freddie Mac 3% down options
FHA Loan
USDA Loan
VA Loan
Good Neighbor Next Door
HomePath Ready Buyer program
---
7. Are Rebates and Cashbacks Similar?
Although both terms are used interchangeably, they might not mean the same thing.
While some real estate companies offer cashback to buyers after closing, some offer rebates as closing credits.
Rebates given off as credits can only be spent in a few specific ways, subject to your lender's approval.
You can use Closing Credits to cover the following:
One-time closing cost (For example, escrow, transfer, loan origination fees, etc.)
Buying points on your mortgage.
On the other hand, cashback is given after a real estate transaction is complete, and it can be used wherever the buyer wants.
Note: Regardless of how you receive this rebate (cash or otherwise), you might not be able to use it towards your down payment.
---
8. The Process to Get a Rebate
Step 1: Negotiate a Rebate
One of the easiest and best ways to negotiate a rebate is through a company. Some agent-matching services like those listed below have built-in cashback on their deals.
Transaction via these platforms is more effortless, and you get connected to agents who offer rebates quickly.
8.1.1 Top platforms that offer Rebates:
1. Prevu
Prevu offers up to 2% on the purchase price as a rebate for its buyers. This means you receive 2/3rd of what your agent receives at the end of the deal. Agents of this platform provide complete services against 1/3rd of the Rebate.
2. Upnest
Upnest is another platform to find agents that offer a commission rebate. You can type how much rebate you seek, and the platform automatically matches you with the best local agents.
You can then shortlist the agents as per your requirements. Note that you must ensure the kind of Rebate your agent offers, as both full-service and discount service brokers are available on the platform.
3. Unlocked
Unlocked is a California-based company that claims to offer 2% cashback as a rebate, which according to them, is the largest in the area. They cover the entire bay area and have only experienced fully licensed agents on their platform.
4. One Percent Brokers
1% broker provides up to 1.5 % in Rebate. While you get all their complete traditional services in their 1% plan, they provide limited support if you opt for the 1.5% rebate plan.
5. Faira
Faira offers a 2% cashback to buyers who have found the home and are ready to make an offer. Their 1% cashback service is for those homebuyers who are yet to figure out what they are looking for. The additional service in the 1% program is to schedule showings and open houses.
You can get your Rebate as cheques and closing costs depending on your need.
6. Redfin
Redfin's Rebate is only available for "eligible" buyers in select markets. In addition, Redfin doesn't guarantee you'll receive the amount it estimates upfront.
Their Rebate varies by the market despite their claims. You can get your Rebate as closing credits and cashback on this platform. So be very sure of what you are signing up for when selecting agents.
With Redfin, your buyer's agent also needs to make at least $6,500 in commission for you to receive a rebate at all. You won't qualify for a refund if Redfin refers you to a partner agent from another company.
7. California Discount Real Estate
Powered by Realty Connection Group, California Discount Real estate can help you get up to 50% commission rebate at closing. Their plans vary depending on how many days their agents show you the property; the more days, the lower the Rebate.
If you are already working with a realtor, here is how you can negotiate with it to give you a rebate.
8.1.2 One-on-one Negotiation
Negotiating a rebate with your agent will be difficult, mainly if such a provision wasn't discussed earlier.
Long story short, if you are working with a realtor that hasn't openly advertised a buyer rebate, your chances of swaying them into giving you one are pretty slim.
Because even though many agents have recognized the importance of rebates, a few would rather lose a client than take a pay cut.
Here are a few situations where you might be able to negotiate for a commission rebate:
You are buying an upscale home: Agents will be more interested in closing the deal when the transaction value is high, even if it means giving the buyer a rebate. That's because even after a pay cut on a high-value home in California, the agent will roughly earn the same amount as they would in a lower-value deal.
Homebuyers get their way whenever it is a buyer's market in California. So, if the market is in your support, you should be able to negotiate a rebate with your agent.
There is another situation where buyer agents can offer you a buyer rebate – when you agree to buy your new home and sell your old one through the same agent. In such a situation, your value for that agent increases, and he may offer you a rebate if it means retaining you long-term. That's because even if they take a minor hit on one of the transactions, they eventually win in the overall picture.
If you are a pre-approved buyer, there are good chances that you might be able to negotiate a rebate with your agent. Any agent would love to work with a pre-approved buyer who has already picked a house and is ready to close. That's because working with such buyers means earning money in a shorter period, and who wouldn't love that?
Step 2: Read and sign the buyer agent agreement
Once you shortlist an agent, what follows is the exclusive buyer agreement. This agreement between the buyer and the agent ensures that the agent delivers the best services and the promised Rebate. The buyer agrees to work exclusively with the realtor by signing this agreement.
As a buyer, you must read every detail on the document to understand how much Rebate you will receive.
Read through every clause and ask questions wherever you are stuck. The best practice is to calculate the refund before deciding on the company; this will help you save the maximum money. And once all your requirements are met, sign the buyer-broker agreement.
Step 3: Close on a house
Now that you have found your dream home and have shortlisted your agent, it is time to close the place.
Your agent will help you through this process, from offer to negotiation to closing.
Step 4: Get a Buyer Rebate!
Post-closing the deal, enjoy your new home and Rebate.
Depending on how you choose to get a rebate – as closing cost or otherwise, you will receive it.
---
Is the buyer agent rebate taxable? Do you need a 1099?
As per the IRS, commission rebate credits don't count as taxable income to the receiver.
It also mentions that such credits are an adjustment to a buyer's cost basis in their home. So, in simple terms, rebates cannot be considered as income as they are adjustments to your home's basis, which you reach after lowering your house's purchase price.
Hence, when buyers are ready to sell, they might contribute to capital gains taxes.
If you live in the home and meet a few criteria, you might be eligible for the home sales tax exclusion, according to which the first $250,000 in profit on your sale will be tax-free.
As for the 1099, according to the California Association of realtors, you do not need a 1099 for a rebate. That's because a rebate is generally not included in the buyer's gross income and is thus not taxable.
---
How do I determine whether I Am Eligible for a Buyer Rebate in California?
No criteria make you eligible or ineligible for a buyer rebate in California. Anyone who buys a house can get a buyer rebate if their agent offers one.
The only thing to remember here is that your lender and the seller should have the rebate information beforehand.
---
What Other Ways to Make Real Estate Transactions a Little Less Costly?
If you have a good idea about the market, you can always hire a discount or fee-for-service agent who can help you save money on real estate transactions.
Hiring such agents ensures you get the required work done without paying in full. What these agents do is that they split their services up and charge a fixed or hourly fee to perform specific services.
For example, suppose you found the right home, had a word with the listing agent, and are ready to close. Why would you pay in full? In such situations, you can hire discount brokers to help you with the paperwork and closing process.
You can pick and choose the services you want and pay accordingly. Then, instead of handing over a percentage of the closing price as a commission, you only pay for your selected services.
Source: 19
Can Realtors Give Rebates to Sellers?
Since rebates are defined as cashback on a purchase, giving a realtor rebate to a home seller doesn't work out. A seller can negotiate a lower commission, but that wouldn't be a rebate. Buyer rebates are an exclusive perk of being a homebuyer.
Source: 20
Should Rebate be the sole choice factor for a realtor?
While rebates can help shoulder the financial burden on buyers, they do not guarantee a good realtor.
Sometimes even below-par realtors offer a too-good-to-be-true rebate to attract potential clients.
So, a rebate should never be the sole shortlisting factor for a buyer's agent. You need to consider other factors, like their reputation in the market, while shortlisting them.
Review reviews and speak with multiple agents before deciding who you want to work with when buying a home.
Conclusion
In California, homebuyer rebate has become extremely popular among realtors looking for informed buyers.
The growing popularity of rebates makes sense. In today's digital-first era, buyers do most of the legwork. Thus, agents can work with more clients at half the operational cost. In addition, even with a pay cut, closing deals in California can be advantageous for agents. That's because the home prices in this state are relatively higher than in any other U.S. state.
Rebates are a unique way to save thousands, either as a cashback on closing or as closing credits. In California alone, buyers can save approximately $10,000 on average with rebates.