New York City is a bustling metropolis known for its fast-paced lifestyle, iconic landmarks, and diverse transportation options. Among the many ways to get around the Big Apple, biking is the most popular choice among students, residents, and tourists alike.
Bike sharing services in NYC have become an affordable, convenient, and environmentally-friendly way to commute, exercise, or explore the city. Between 2010 and 2016, there have been over 88 million bike-sharing trips in NYC. So, it's evident that New Yorkers are certainly spoilt for choice when it comes to these services.
With several such companies operating in NYC, choosing the one that best fits your needs and budget to maximize your savings can be challenging. But do not worry; you have everything you need; right here!
---
1. Top Bike Sharing Service in New York
Bike sharing services have revolutionized how people get around in NYC, promoting eco-friendly and healthy mobility options for daily commuters. However, not all bike services are the same. You must do your homework right to get the best bike-sharing prices, coverage area, and overall experience.
Also, consider factors like where the stations are located and how easy it is to use the app, the availability and quality of bikes, and customer service.
To save you time and effort, I have compiled a list of some vendors that provide bike sharing services. You can thank me later!
1.1 Lyft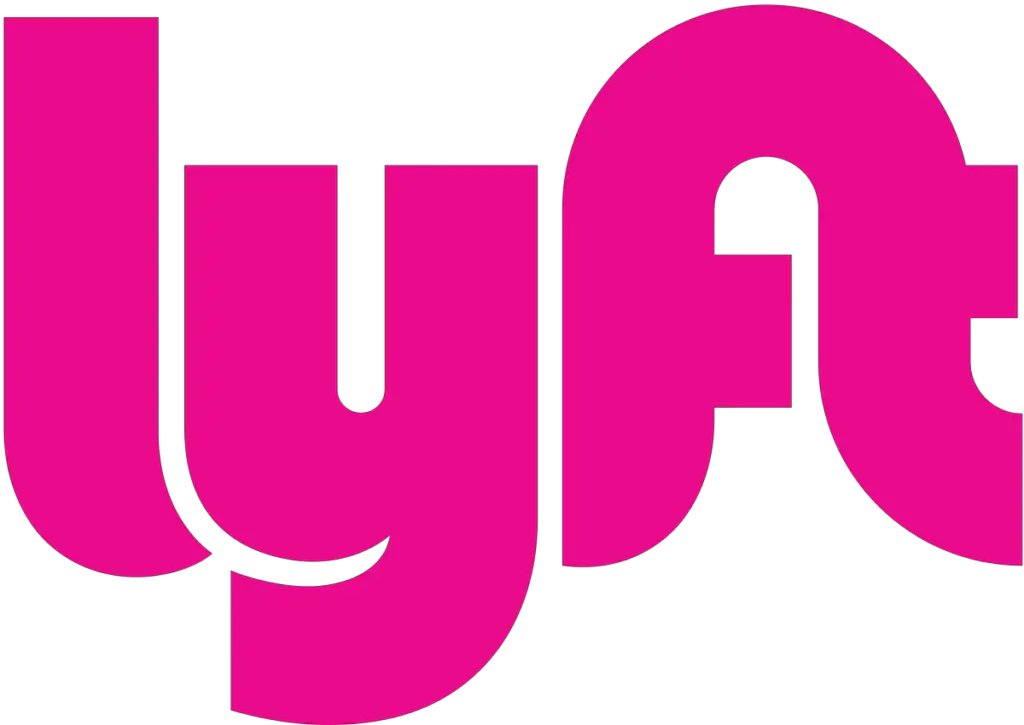 Lyft, the renowned mobility company, offers a diverse range of transportation options, from ride-hailing and rental cars to their very own bicycle-sharing system.
When it comes to bike sharing, Lyft's service stands out for various reasons. Firstly, it offers exceptional convenience and accessibility, with numerous bike stations scattered throughout the city, making it easy to pick up and drop off bikes at convenient locations. Secondly, Lyft's bike-sharing service offers affordable pricing options, making it accessible to a wide range of users, regardless of their budget.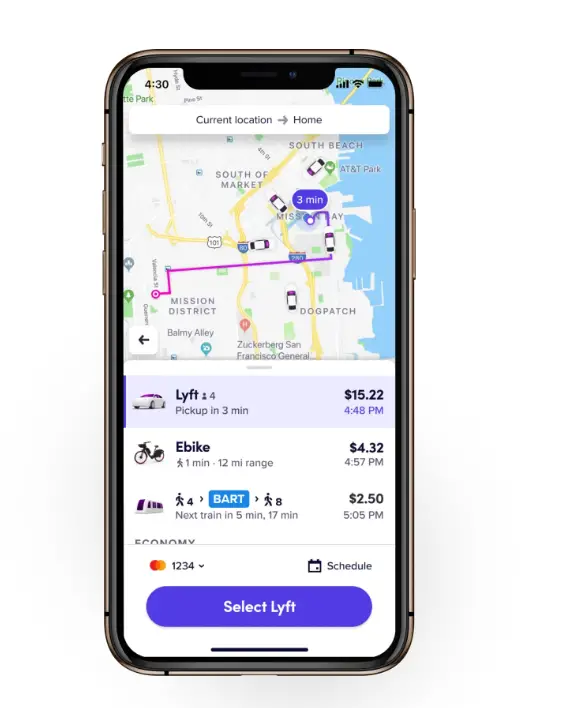 It also offers a user-friendly mobile application that allows users to locate nearby bikes, reserve bikes, and track their ride history.
Lyft's bikes come with durability, sturdy frames, and adjustable seats, making them comfortable for users of all shapes and sizes. The company has a large fleet of bikes that are regularly inspected, repaired, and replaced as needed to ensure that they are in good condition and reliable for riders. This focus on bike maintenance helps ensure users' safe and smooth riding experience.
The bikes come with easy-to-use electronic locks for added security. Overall, Lyft is the most preferred option by New Yorkers.
As part of the larger Lyft mobility platform, Citi Bike is seamlessly integrated into the Lyft app, allowing users to plan and combine different modes of transportation, such as bike sharing and ride-hailing, in a single app. This integration adds convenience and flexibility for users who may need to switch between different modes of transportation during their trip.
Click here to get your shared bike in New York now!
---
1.2 Lime
Lime is a bike-sharing service that focuses on building a future where transportation is shared, affordable, and carbon-free. One of the standout features of Lime's bike-sharing program is the accessibility of their e-bikes. You can get these bikes anywhere and anytime in NYC.
These bikes are designed to be user-friendly, with a maximum speed of 20 mph, making it easy for users to navigate the city.
Lime's e-bikes are equipped with electric motors that provide an added boost to riders, making it easier to tackle hills and cover longer distances with less effort. This feature is especially beneficial for riders with limited physical stamina or who prefer a more effortless biking experience.
Additionally, the e-bikes have a long battery life, with a range of up to 25 miles on a single charge, which ensures that users can take longer trips without worrying about battery life.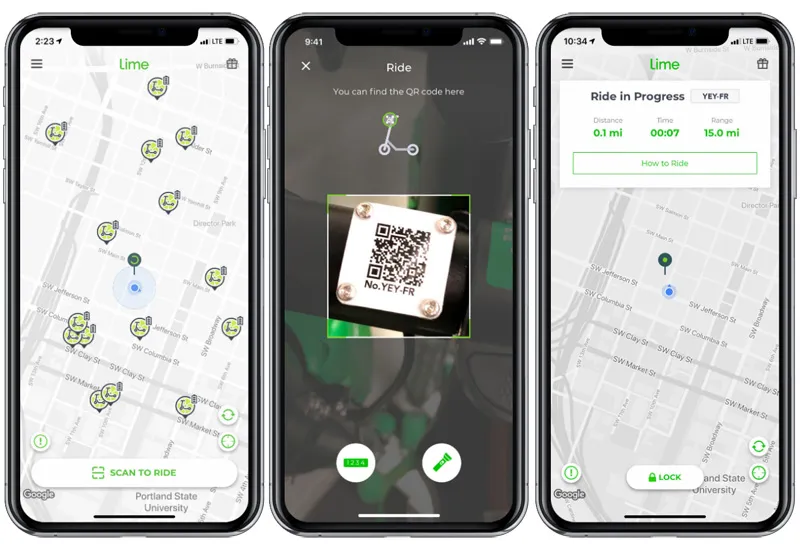 Why choose Lime? Firstly, their e-bikes are a great way to get around town, as they are affordable, easy to use, and eco-friendly. Secondly, their focus on safety ensures that users can have peace of mind while using their bikes. Finally, Lime is strongly committed to sustainability and is actively working to reduce carbon emissions through its transportation services.
If you are looking for the most eco-friendly lime bike to drift along New York City, click here. 
Pricing- It takes around $1 to unlock your Lime bike and can cost you around $0.38 per minute to ride it. This means that if you ride the bike for 10 minutes, the fair would be around $3.80.
However, you can also avail of the Lime premium membership by paying $5.99 a month, which would bring you all rides unlocked, and you don't have to pay $1 each time you unlock a new bike to ride. Also, you can receive the bike for 30 minutes if you want to schedule it.
---
1.3 Citi Bike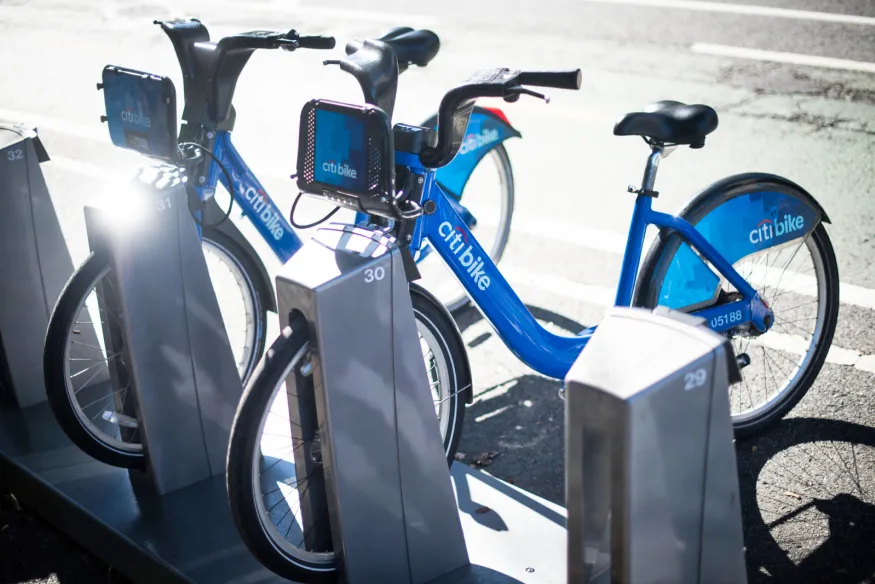 Citi Bike is a popular bike-sharing service operating in New York City and Jersey City, offering riders access to thousands of bikes and stations around the city.
What sets Citi Bike apart from other bike-sharing services is its unique features and programs that cater to the needs of its riders.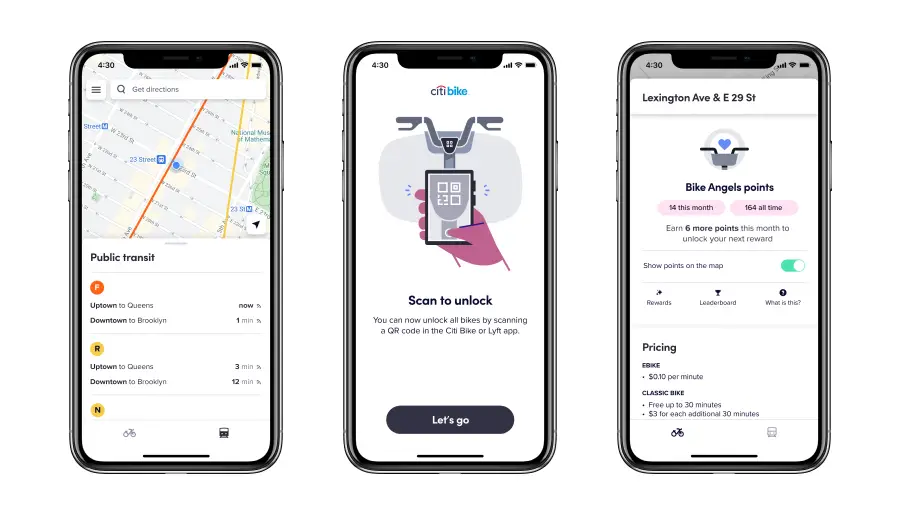 Citi Bike offers a unique program called Bike Angels, which rewards riders for balancing the bikes in the system by earning points and redeeming them for ride credits. The program helps ensure that bikes are evenly distributed across the city, reducing the likelihood of shortages or surpluses at any given station.
Another reason to choose Citi Bike is its vast network of bikes and stations. With over 10,000 bicycles spread across parts of Manhattan and Brooklyn, the service provides riders with a convenient mode of transportation to get around the city.
Pricing-
There are three options in terms of pricing. You can go with in case you're considering enrolling with the bike service plan offered by Citi Bikes. You can either pay $4.49/trip that commutes to one ride up to 30 minutes on a classic bike. Or you can get a Day pass that costs just around $19/day. In this you get unlimited 30-minute rides in 24 hours on a classic bike. 
Premium membership plan offered by Citi Bikes costs about $17/month, that gets you unlimited 45-minute rides on a classic bike.
---
1.4 Divvy Bikes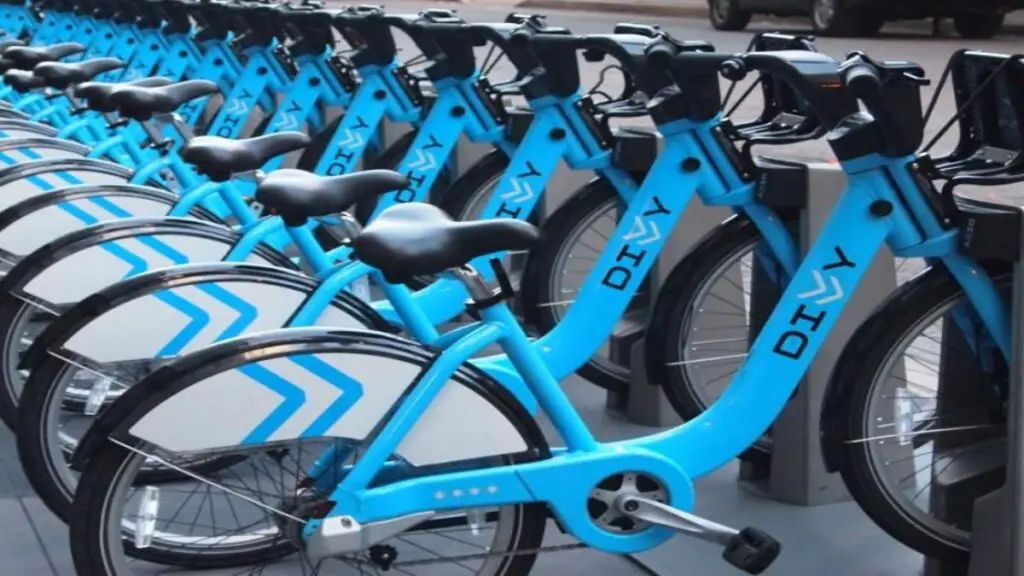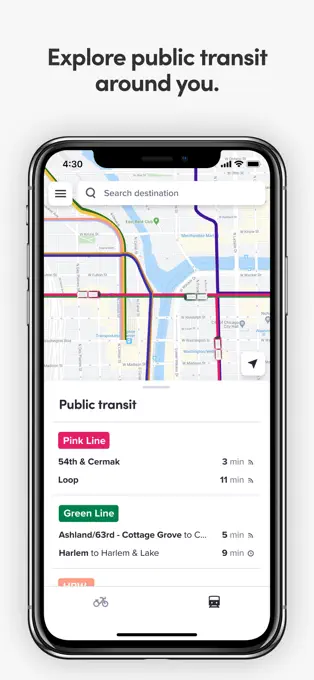 Divvy Bikes is a bike-sharing company in New York that provides residents and visitors with a convenient, fun, and affordable transportation option for exploring the cities.
Divvy Bikes offers a fleet of specially designed, sturdy, and durable bikes locked at various stations around the cities. The bikes have a bright blue color that makes them easily distinguishable. Unlike some bike-sharing companies, Divvy Bikes has no electric features or motors, and all rides require pedaling.
One unique feature of Divvy Bikes is their sturdy aluminum frame with a low center of gravity, providing more stability during rides. The bikes also have adjustable rain-resistant seats, ensuring a comfortable ride in any weather condition.
Pricing-
If you wish to avail of bike sharing in NYC services through Divvy, you can either go with the Single ride
for $1/unlock and $0.17/min. This means that if you are riding for 20 minutes, the total fare would be $3.40. You can even go with the Day pass, which comes to be about $16.50.
There is a monthly membership option which costs around $16.58/mo. The features that come along with the membership are given below:
Divvy + Lyft Pink All Access
Free 45-min classic bike rides and member discounts on e-bikes and scooters in participating US cities
Free Lyft Priority Pickup upgrades
Exclusive pricing on Lyft Lux, Preferred, and XL rides
Relaxed Lyft ride cancellations
Free roadside assistance for your own car through the Lyft app
Free rental car upgrades through SIXT
Free Grubhub+ membership ($0 restaurant delivery fees)
---
1.5 Capital Bike Share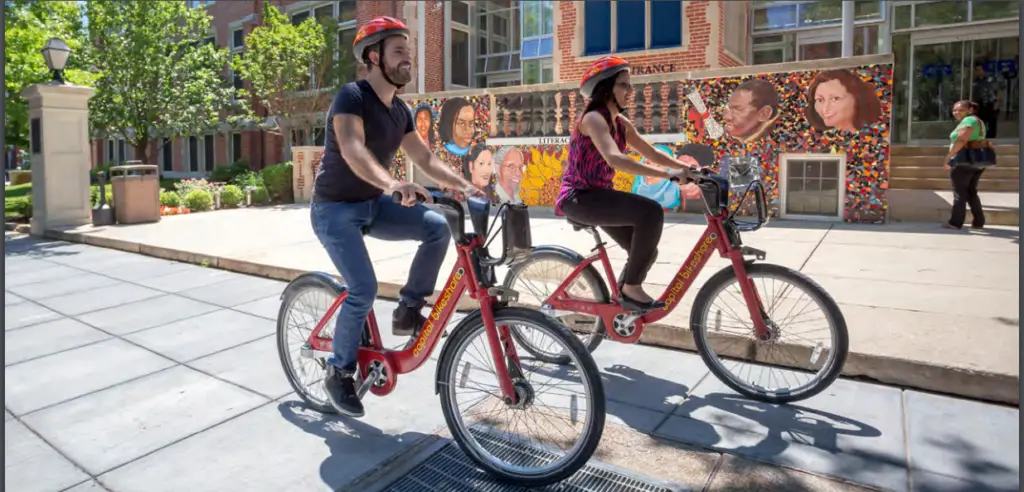 Capital Bikeshare is a bike-sharing service provider in the Washington D.C. metropolitan area. It is the largest bike-sharing service provider in the Washington D.C. metropolitan area. Capital Bikeshare provides its customers with over 600 stations and over 5,000 bikes across five jurisdictions in the area.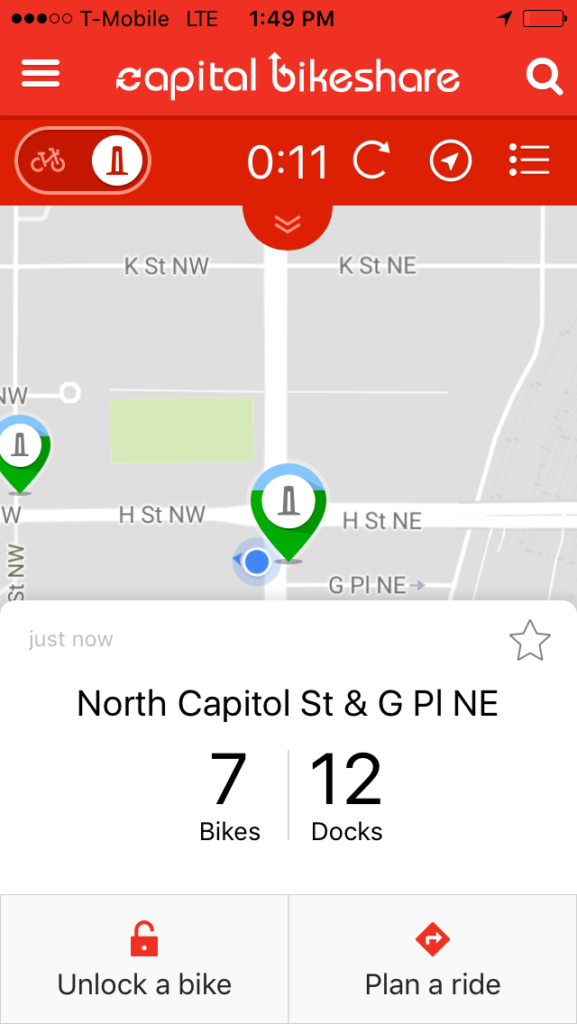 One of the unique features of Capital Bikeshare is its electric bikes, which are called e-bikes. These e-bikes are powered by pedal-assist technology, allowing riders to easily navigate the city with minimal effort.
Additionally, Capital Bikeshare offers various types of bikes, including classic, electric, and pedal-assist bikes, which cater to different riding preferences.
Pricing-
There are three flexible options to choose from. Single Trip, 24-Hour Pass, Annual Membership. The single trip costs around $1/unlock, along with $0.05/min for a classic bike ride and $0.15/min for an e-bike.
The 24-Hour Pass costs around $8/day.
The annual membership costs around $7.92/month and offers unlimited 45-minute rides on a classic bike.
Capital Bikeshare also offers a unique feature called "Capital Bikeshare for All," – a discounted membership program for low-income residents. This program provides access to bikes at a significantly reduced cost. It is an affordable transportation option for those who may not be able to afford other forms of transportation.
The features of this program are as follows:
$5 Annual Membership
$0 fee for qualified individuals in Montgomery County
Bikes are available 24/7/365 throughout the service area
Unlimited rides include the first 60 minutes of each classic bike or e-bike trip.
Ride longer than 60 minutes and pay $0.05/minute on classic bikes and $0.10/minute on e-bikes.
They waive the $2 fee for parking an e-bike at a public bike rack.
---
1.6 Charlotte Joy Rides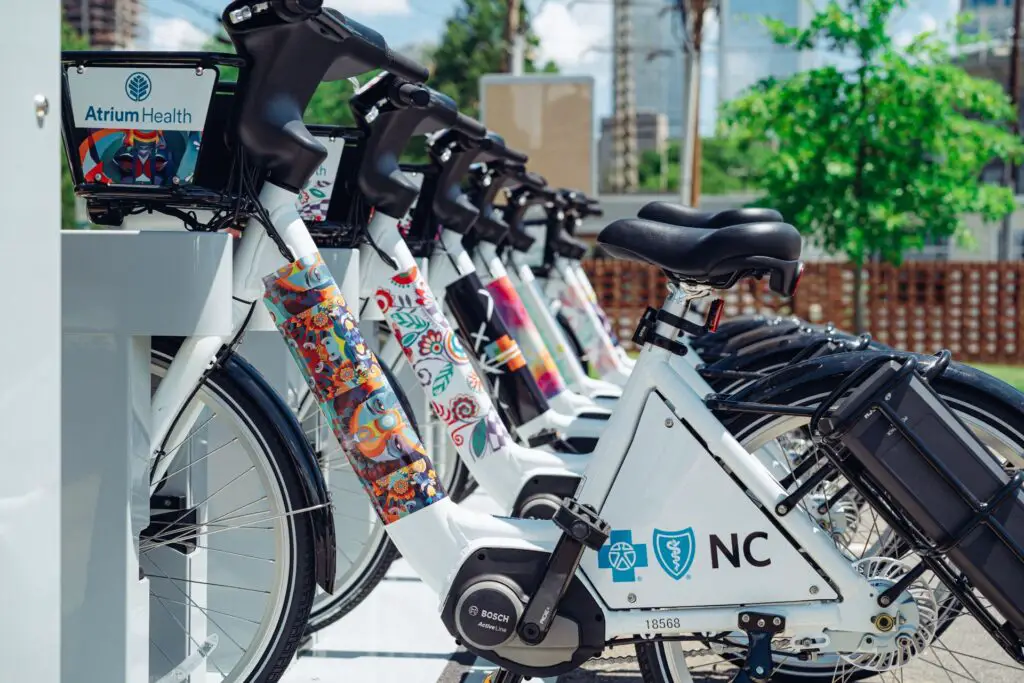 Charlotte Joy Rides is a bike-sharing service company based in Charlotte, North Carolina. They offer an innovative and fun way to explore the city with their fleet of 250 revamped e-assist bikes that make riding easier, longer, and more enjoyable. Formerly known as Charlotte BCycle, the company has rebranded with a new name and look.
Their e-bikes are equipped with pedal-assist technology that boosts riders, making cycling accessible to people of all fitness levels. Additionally, the company has expanded the number of docks and locations, making it more convenient to access their bikes.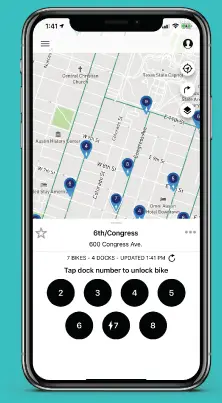 Charlotte Joy Rides' unique feature is its e-assist bikes that offer a smooth and effortless ride. Their bikes are designed with a pedal-assist system that automatically senses the rider's pedaling power and adjusts the assistance level accordingly.
This feature makes it easier for riders to climb hills, ride longer distances, and reach their destination without a sweat.
Overall, Charlotte Joy Rides offers a unique and enjoyable way to explore Charlotte with its innovative technology and convenient services.
.
Pricing-
First plan is Flash Pass, which is $5 per 30 minutes on a Flash Pass. Enjoy the system for $5 every 30 minutes. The second one is the Joy Pass costing $30/day for a 24-hour Joy Pass. Enjoy the ride without docking for up to 24 hours.
The third is Monthly Membership which offers $50/month for Monthly membership. Take unlimited 1-hour rides. After 1 hour, you will pay $1 per half hour. The fourth is the Annual Membership ranging from $150/year for an Annual membership. Take unlimited 1-hour rides. After 1 hour, you will pay $1 per half hour.
---
2. How Much Money Can You Save With Bike Commuting?
Bike commuting is a great way to save money while exercising and reducing carbon emissions. The amount of money saved by bike commuting varies based on several factors, including the commute distance, the cost of gas, and the cost of maintenance for the bike.
According to a study by ValuePenguin, commuting by bike on only 50% of trips to and from work can save approximately $500 per year compared to commuting by train or bus. The Penny Hoarder states that the average person can save around $800 per year by using bike commuting instead of driving to work. These savings can be significant over time, especially when factoring in car maintenance and gas costs.
According to MaxFoot, owning and maintaining an e-bike costs a fraction of what it would cost to maintain a car, with regular tune-ups costing between $200 and $300 compared to the average annual maintenance cost of $1,200 for a car.
Overall, the savings from bike commuting can be significant over time. It not only saves money on gas and maintenance costs but also contributes to a healthier lifestyle, reducing healthcare costs in the long run.
By using bike commuting instead of driving to work, people can save money and reduce their carbon footprint while improving their overall health and well-being.
---
3. How Are New Yorkers Taking Advantage of Bike Commuting?
Bike commuting in New York City is becoming increasingly popular as more and more people are taking advantage of the health benefits and cost savings associated with cycling. However, access to bike-sharing services is not equally distributed across the city. According to a study, 76.8% of New Yorkers do not have access to bike sharing, and those who do are typically wealthier, whiter, and better educated.
Despite this, biking is gaining popularity among New Yorkers, with 40% of respondents in a recent Transportation Alternatives poll supporting the expansion of protected bike paths in the city.
Additionally, biking to work has numerous health benefits, including reducing the risk of developing heart and vascular disease, improving overall cardiac function, and reducing blood pressure and atherosclerosis.
Significant cost savings can be realized for those with access to bike-sharing services in New York City. According to ValuePenguin, bike commuting can save New Yorkers an average of $1,502 per year compared to commuting by car and an average of $1,064 per year compared to commuting by public transportation.
---
4. What are the Benefits of Bike Sharing Services?
Bike-sharing services have become increasingly popular in recent years as a sustainable and affordable mode of transportation.
The need for sustainable modes of transportation has become more critical than ever due to the growing concern for environmental conservation and the need to reduce carbon emissions.
Bike-sharing services offer an excellent solution to these issues by promoting the use of bicycles as a convenient and efficient mode of transportation.
Furthermore, bike sharing services offer several benefits ranging from economic and job creation benefits to health benefits. Not only does it help reduce traffic congestion and air pollution, but it also promotes an active lifestyle, leading to numerous health benefits. Bike sharing services have also been shown to boost the economy by creating jobs and increasing tourism. In this section, we will discuss each of the benefits in detail.
4.1 Transportation Benefits
Bike sharing services contribute to various environmental benefits, such as reducing carbon emissions and improving air quality; bike sharing programs also have numerous transportation benefits. One of the most significant benefits is the reduction of traffic congestion. 
Moreover, bike sharing services can make travel more efficient, especially in urban areas. In cities like New York City, it can be faster to travel by bike than by car or public transportation during rush hour.
This not only saves time but also reduces stress levels for commuters. Additionally, bike sharing in NYC services provide an alternative mode of transportation for people who may not have access to a car or cannot afford the high cost of owning a car.
It can improve access to employment, healthcare, and other essential services, particularly in underserved communities.
4.2 Economic and Job Creation Benefits
Bike-sharing services can provide a significant boost to the economy in several ways. For one, these services can create jobs in the bike-sharing industry, including maintenance, marketing, and customer service positions.
This can lead to increased economic activity and growth in local communities. In addition, bike sharing can help reduce transportation costs, particularly for low-income individuals who may not have access to cars.
This can result in more disposable income for these individuals, which can then be spent on other goods and services, further boosting the local economy.
As per the reports, it is evident that bike sharing can also positively impact tourism and local businesses. By providing an affordable and easy way for tourists to explore a city's sights and attractions, bike sharing can encourage more people to visit and spend money in the area.
This can benefit local businesses, such as restaurants and shops, and help support the economy. Overall, bike-sharing services can create numerous economic benefits that can help improve the livelihoods of individuals and communities alike.
4.3 Health Benefits
Bike sharing services offer a range of health benefits. It reduces the risk of chronic diseases such as heart disease, stroke, and cancer. Plus, regular cycling can help individuals lead longer and healthier lives.
Bike sharing services also adds a convenient and affordable way for individuals to incorporate physical activity into their daily routine. Especially for those who may not have access to traditional exercise facilities. This can help improve overall fitness levels and boost energy levels.
Additionally, bike sharing services can also help to reduce air pollution in urban areas. This can lead to better respiratory health and a decrease in asthma and other respiratory conditions. By promoting healthier lifestyles and reducing pollution, bike sharing services can contribute to a healthier and more sustainable future.
4.4 City Image Benefits and Connections to PlaNYC
Bike sharing services can significantly impact a city's image and reputation. By promoting bike sharing services, cities can showcase themselves as forward-thinking and eco-friendly destinations.
This can attract environmentally-conscious tourists, investors, and businesses to the city. Bike sharing services can also help cities achieve their sustainability goals by promoting alternative modes of transportation, such as cycling.
Bike sharing services have been implemented in cities worldwide as part of sustainability initiatives. Demonstrating the impact of bike sharing on a city's image. For instance, in London, bike sharing services have been implemented as part of the city's goal to reduce carbon emissions and improve air quality. Similarly, bike sharing programs have been implemented in Barcelona to promote sustainable mobility and reduce air pollution.
5. Why Should You Choose a Bike-Sharing Service to Commute in the City?
There are a lot of reasons for people to consider bike sharing as one of the first sources of transportation, especially when you are visiting another city and are relying on public transport. So here are some of the reasons that are worth considering and might prompt you to choose a bike-sharing service to commute in the city:
5.1 Cost-effective
Compared to owning a car or using a taxi service, bike-sharing services are much more cost-effective. With affordable rental rates and no maintenance costs, you can save a lot of money by choosing a bike sharing service in NYC.
5.2 Convenient
Bike-sharing services provide a convenient and hassle-free way to commute in the city. With multiple pick-up and drop-off locations, you can easily rent a bike near your home or workplace and return it to a different location.
5.3 Eco-friendly
By choosing a bike sharing service in NYC, you contribute to a cleaner and greener environment. Cycling produces zero emissions and reduces air pollution, making it an eco-friendly mode of transportation.
5.4 Faster
In crowded cities, cycling can be faster than driving or taking public transportation. With bike-sharing services, you can avoid traffic congestion and arrive at your destination faster.
---
Bike sharing can be a lot advantageous in a lot of ways. It has the potential to transform urban transportation by reducing traffic congestion, promoting physical activity, and reducing air pollution. As such, governments, businesses, and individuals should encourage and support bike sharing services. 
Also, bike-sharing services can positively impact a city's image and sustainability goals. By promoting bike sharing services in NYC, the city can attract environmentally-conscious tourists, investors, and businesses, reducing their carbon footprint and promoting sustainable transportation.
By researching and choosing the best bike sharing service for your needs you can ensure a hassle-free and enjoyable experience while exploring the city on two wheels. So, take the time to choose wisely and get ready to pedal away! 
More Resources: