Belize is emerging as one of the most sought-after places in the Caribbean. No wonder it is gaining enormous traction from investors and retirees alike.
The country offers more than beautiful beaches and vistas, especially if you plan to live here. Interested buyers get better home-buying benefits and enjoy incredible tax benefits. Plus, if you are a US citizen, you do not have to do much to buy a vacation home here. That's because Belize is one of the easiest countries in North America for foreign buyers. It has common law ( much like in the US) and has all the paperwork in English. Additionally, non-citizens can purchase property without worrying about capital gains taxes.
Plus, if you are a retiree older than 45, you can import your possession in Belize duty-free!
From residential single-family homes to properties under development, there is something for everyone here in Belize.
However, in hindsight, there are certain risks to buying a property in Belize. What are they? Let us talk in detail.
1. Is it Really Safe to Buy Real Estate in Belize?
Belize offers a lot of perks to its buyers. As a result, buying a property in Belize may seem like an intelligent investment. Additionally, purchasing property in Belize is similar to buying a home here in the states. Belize's legal system is based on common law (as is most of the U.S.), and the official language they use is English. So the buying process is relatively easy to maneuver.
That said, one must be cautious while purchasing a property in the 'Jewel in the heart of the Caribbean basin.' Here are a few points to consider before you set to buy property in Belize:
1.1 Scams and Scammers
If you have been planning to buy a property in Belize for quite some time now, you might have come across an article mentioning the Sanctuary Bay Scam. This real estate scam was the biggest of its kind and was pitted at a scary 100 million USD.
But this wasn't Belize's first or last real estate scam. Scams and frauds of this nature are pretty standard across the country.
For years people have reported developers luring buyers to pay for under-developed properties that do not finish for years or even decades in some cases.
Additionally, small-scale scammers are also very active in Belize. Such scammers persuade buyers to choose them over local builders, and when they get on board, they charge a higher fee many times than the standard Belize price.
Then comes Faulty Titles– another popular category of scams. There have been many horror stories of unsuspecting people purchasing the title of real estate in Belize only to find out their title is fraudulent.
What to do in such situations?
Ensure you do your due diligence and hire an expert (along with an attorney) who can do an extensive title search and has the information about the location's history to avoid such pitfalls.
---
1.2 Natural Disaster
Tropical storms- hurricanes hit Belize very often. Belize has experienced 14 such storm events from 1931 to 2010. These mighty storms usually hit the country in October and November.
These are the most affected areas in Belize.
San Pedro on Ambergris Caye
Caye Caulker
Placencia.
Flooding can also be a big issue in the country. Even though the country has not experienced extensive flooding since 2020, plenty of areas can be prone to flooding where you would not want to invest.
---
1.3 Non-Licensed Brokers/Agents
Real estate transactions in Belize are safe… given you have professional help.
However, there is a catch. Real estate agents in Belize are not licensed by law. In fact, unlike in the US, there is no threat of lawsuits and no broker supervision for buyers in Belize.
Even a cab driver picking you up from the airport can legally sell you real estate property and demand commissions.
How does it matter?
Imagine finalizing a beautiful ocean-front home, only to find out later that you paid for a house that is eight lots back on the other side of the road. You want to sue the broker but cannot legally do so.
This is precisely what you can avoid by hiring an attorney. An attorney can help you with the title history; he can scour the registry to ensure that the property you're buying has a good and clean title. In addition, he can help you with the following:
Determine the size of the property
Define the property's boundaries
Find out whether there are any liens or mortgages on it.
Check the owner of the property.
Help you with the purchase agreement.
---
1.4 No Set Price on Properties
Traversing the market and finding the market value of a property can be tricky in Belize. There is no MLS or equivalent websites in Belize, so doing comparative market research and deciding on a price can become challenging.
It would be best to talk to your attorney to get an idea of the current market conditions. Additionally, here are a few things to keep in mind.
Find out the fair market value. Talk to your attorney or local real estate agents to determine this.
Never offer the full asking price. Put your negotiation skills to the test and try to get the best deal possible.
---
1.5 Escrow Companies
.
Escrow companies are neutral entities that bring safety and efficiency to your property purchase.
However, as mentioned earlier, the real estate market in Belize is not regulated. So, if you are approaching an escrow company through an unlicensed broker, you might also end up with a fraudulent escrow company.
To avoid any hiccups, attain escrow services with the assistance of a qualified real estate attorney. An attorney will help you set up and manage the escrow part of the buying process.
---
1.5 Squatters
This one is especially for people looking at Belize real estate as an investment for their vacation homes. If you are one of them, then be aware that you must take measures to prevent squatting, damage, vandalism, or theft from the get-go.
Belize is a developing country and is still wrestling with poverty. A significant percentage of the population doesn't have any source of income, and many are landless. It is challenging for people living abroad to keep an eye on their property, so squatters get the leeway to invade and live in it without their knowledge.
That said, evicting squatters from your land or home isn't easy either. Though squatting on private land is illegal, you, as an owner, are responsible for getting all the paperwork, such as titles, liens, etc., done efficiently to avoid pitfalls.
---
1.6 Legal Problems
.
You will be in great trouble if you land into legal problems in Belize. Though attorneys are cheaper here than in the States, the court process can take longer.
Note that foreigners are at a significant disadvantage when dealing with courts, police, etc.,
.
---
1.7 Road Connectivity and Safety
Belize's road conditions are improving but are still poor. Roads in rural areas are typically dirt or loose gravel, and their condition worsens during the rainy season.
The state has had numerous accidents due to uneven paving, bridges with low guard rails, and slick roadways due to rain.
The primary highways-Philip SW Goldson Highway (northern), George Price Highway (western), Hummingbird, and Southern highways, are generally in better condition than most of the roads in the country.
These major highways are the only reliable ways to transit in the country besides airplanes operated by two Belizean commercial carriers. And as Pedestrians, bicyclists, cars, and buses also use the same roads, driving can be hazardous in the evening and during rainstorms.
Source: 3
---
1.8 Crime in Belize
As you may have already read in the various articles online, crime generally poses a high threat in Belize.
Criminal activity is most prevalent in Belize City, especially in the southwestern part of Belmopan.
Non-violent crime against foreign nationals is also an area of concern. Amount this, "Snatch-and-grab" thefts involving thieves on motorbikes and mopeds are common.
For such crimes, foreign nationals and expatriates are typically targeted because of their perceived wealth and unfamiliarity with the area.
* Note that crime generally increases during the Christmas and New Year holidays.*
Violent crime in Belize is a matter of concern as well. However, foreign nationals are rarely targeted by criminals for such crimes.
You should know that Belize's 'high crime rate' is because of the relatively small pockets, which account for most crimes in the country.
And to be honest, despite being painted as an 'unsafe country,' Belize is far better than the US in various areas. There are far fewer burglaries in Belize than in the US. The same can be said for drugs: the US has 61% more Cannabis users than Belize.
As far as violent crime is concerned, the US ranks number 1 with nine times more violent crimes than Belize. Even with rape and auto theft numbers, the US stands tall.
With all these numbers in place, it would be correct to say that Belize is safe.
---
1.10. Where in Belize is it safe to buy a property?
Belize is a safe place to live, but taking note of a few risks like the ones we mentioned above is essential.
Avoid dangerous localities and invest in properties in safer neighborhoods to minimize the risk.
Many areas deserve your attention in this island country if you're looking for real value and a quintessential laid-back Caribbean lifestyle.
Here are some of the safe places to live in Belize:
Ranked as one of the top 20 best places to live, Ambergris Caye is the largest island in Belize, with a population of 20,000 people.
It is home to gorgeous white sand beaches and the Belize Barrier Reef, the second-largest barrier reef in the world. The area is widely known for its coastal community, friendly natives, and gorgeous tropical beaches.
Ambergris Caye, the heart of Belize, is a mix of safe and unsafe regions like any other city globally. Most neighborhoods on the island are safe, with almost negligible violent crimes against foreign settlers.
Today, more and more people are settling in the area, and housing marketing is soaring more than ever before!
Caye Caulker is a 5 m long island off the coast of mainland Belize. This island is the quintessential Caribbean island, with a more laid-back and simple lifestyle than Ambergris Caye.
As a result, people of this 'party island' do not tend to involve in any violent crimes, although theft can be a problem. You need to ensure to watch your belongings at all times.
On a side note, Caye, Caulker is not as populated as Ambergris Caye, it harbors a limited number of people, and everyone knows everyone, so consider it very safe.
This island also received the Destination of the Year award from the Belize National Tourism Award, concreting that this Caye of sandy streets and sans traffic is loved by visitors and locals alike.
Expats who love this place will only find a few homes and condos in a price range similar to Ambergris Caye.
Located near the southernmost point of Belize, Punta Gorda is the smallest town in Belize. It is home to diverse communities and is often considered the real Belize.
This island is a tourist exploration base due to its proximity to historic Maya ruins.
Consider Punta Gorda to be a safe and friendly town. The town has the lowest crime rates, and with standard precautions, you should have no problem walking around, even after dark.
It is situated in Northern Belize and is popular with ex-pats. You can find a nice mix of condos, traditional homes, and even some with contemporary designs as per your liking here. Corozal Bay has beautiful beaches, and you can also enjoy shopping at the Maya ruins.
The corozal town is deemed safe with non-existent violence against ex-pats. It is a very peaceful town, except when you live in the town center where you may live next to someone who plays loud music, but that's not a crime. People who have lived there have also talked about the bay area and how there are no bars on windows and doors.
Finding a home in Corozal will be challenging as the town has only a few residential houses and doesn't get swarmed by tourists like other places on our list.
There are many natural attractions in the district, such as Mayan rainforest sites, to name a few. Cayo also has many waterfront locations throughout the country. Its central location makes it a popular spot for real estate investors and retirees. The cost of properties here is lower, and the basic living expenses are also relatively cheap.
Most residents and visitors feel Cayo is a safe district. While there have been recent reports of carjackings and robberies in border areas, getting robbed at gunpoint is extremely low in the district.
However, it would be best to take care of your belongings and be mindful.
Peace attracts tourists and new residents to Placencia. It is one of the most popular eco-destination in Belize, best known for its palm-lined beaches and Lagoon.
It has a population of less than 5,000, and ex-pats constitute a significant chunk of this population. Development of luxury resorts and condominiums has recently sprung up in the area, so finding a home won't be a problem here. However, real estate can cost between $100,000 to $400,000 here.
The crime rate in Placencia is meager. Usually, thieves steal cell phones, sunglasses, or gadgets like iPads, but they will not attack you to steal. You need to be careful not to leave your items on the table or anywhere in your absence.
1.11. Places to Avoid in Belize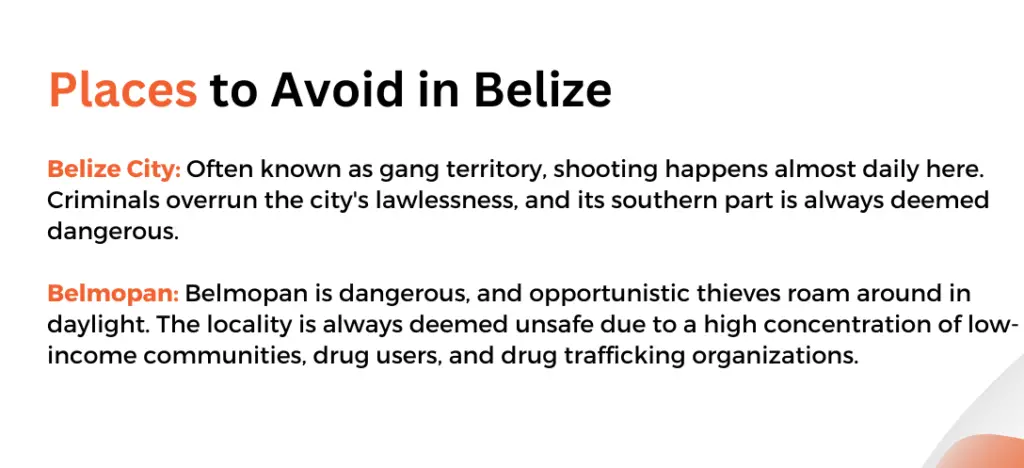 Overall the central crime is decreasing in Belize, significantly where the police presence has increased. However, the crime rate is still alarming along the country's western border and northern part.
Here are a couple of places that aren't worth your attention.
Belize City has a bad reputation for violence and crime.
If you are considering moving to Belize, Belize City is not the place to consider.
Often known to be gang territory, shooting happens almost daily here. Criminals overrun the city's lawlessness, and its southern part is always deemed dangerous.
The southwestern part of Belize City- Belmopan is in the Cayo district with a population of about 20,000+. Belmopan is dangerous, and opportunistic thieves roam around in the daylight here. The locality is always deemed unsafe due to a high concentration of low-income communities, drug users, and drug trafficking organizations. So avoid this area at all costs when buying a place in Belize.
---
1.12 Is Belize Safe for LGBTQ+ Community?
Belize is more progressive regarding LGBTQ+ equality than other Central American countries, as Homosexuality became legal in 2016.
However, we would not consider the country entirely safe for the LGBTQ+ communities as verbal or physical abuse and harassment are pretty standard here.
If you are planning to buy a home in Belize, you should be aware that there are not a lot of gay bars or clubs in the place. Also, there are very few resorts that host some LGBTQ+ events.
Among all the residential destinations in Belize, San Pedro in Ambergris Caye is the most gay-friendly spot for homebuyers. The LGBTQ+ culture is open and accepted here. Placencia is the next most progressive area. But in the less touristy areas, the LGBTQ+ lifestyle is still less accepted.
---
2. Safely Buying Real Estate in Belize
2.1 What do you need?
The right people, period.
US citizens wanting to purchase real estate in Belize need to hire a real estate attorney and agent.
As discussed previously, these professionals will help you better navigate the country's real estate landscape and save you from scams.
2.2 Seeking Help from the Attorney
Ensure you hire a real estate attorney who can go beyond just reading the fine print. Your attorney should be able to help you investigate the property history to ensure that the past transfers were correctly done.
They should also be able to check the proposed agreement to ensure it fully complies with local laws.
Note: Belize's attorney fee usually equals 2%, including miscellaneous expenses.
2.3 Real Estate Market- Belize
Property prices are rapidly picking up in Belize, thanks to the recent surge in neighboring countries' economies.
However, despite that, Belize is still a buyer's market with the most affordable real estate in the Caribbean.
Whether for commercial property, rental property, or even personal property for yourself and your family, Belize is the 'it' place for investment.
House prices in Belize range from $150,000 to $1,100,000. In addition, condominiums' price ranges from $143,000 to $ 394,000.
The property cost varies enormously by location based on the popularity and tourist attractions.
The properties close to the waterfront or inland tourist centers are the most expensive. However, if you are not very keen on buying a home in a prime location, you can always find properties away from Hubbub in your budget.

| | | |
| --- | --- | --- |
| Belize location | Average price per square meter – city center | Average price per square meter – outside the city center |
| Belize City | $801.22 | $945.61 |
| Ambergris Caye | $1,399.31 | $1,184.03 |
| Corozal | $2,960.08 | $5,381.96 |
2.4 Property Tax in Belize
Belize's property taxes vary based on location and residential type but are between 1% and 1.5% of the value of undeveloped land. In addition, property transfer tax will cost you around 5% of the final selling price.
In Belize, property taxes outside cities are based on land value. This means that rather than levying tax on the developed value of the property, it is levied on land to encourage development.
---
3. Safely Purchasing Land in Belize
3.1 Purchasing Land in Belize
Unlike the USA, Belize does not have any restrictions to purchase a piece of land zoned for residential and commercial use.
Even US citizens can buy any property in Belize, including beachfront land.
That said, to safely buy land in Belize, ensure how a given piece of land is partitioned, even before spending any time trying to buy it. To narrow your property search, knowing what can and cannot be done with the land is better.
3.2. What types of lands aren't for sale?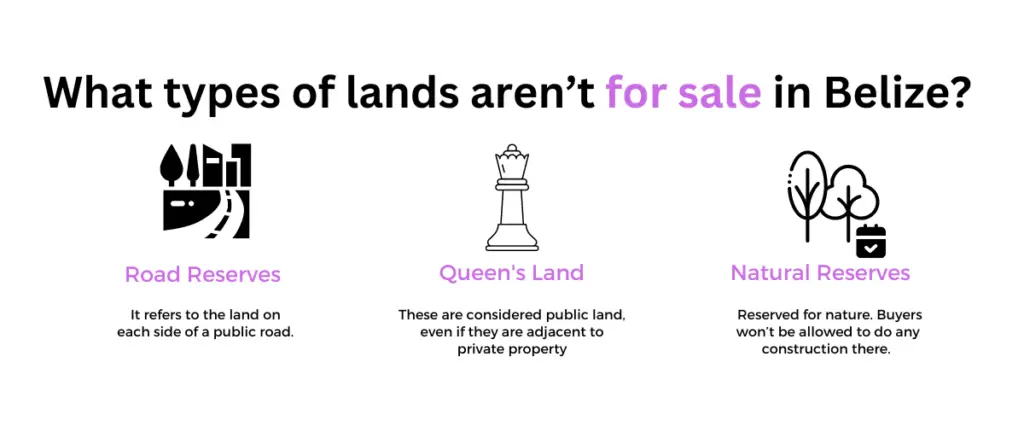 Certain types of land cannot be purchased or only purchased with certain restrictions.
Natural reserves
There was a time when one could sell Land zoned under National Reserves without restrictions.
Even today, people can sell you such types of land; however, the buyer won't be allowed to do any construction there.
Queens Land
These are considered public land, even if they are adjacent to private property. While you are free to use such lands, they are not exclusive to you. You cannot construct any permanent building on such property or restrict access for others.
Road reserves
It refers to the land on each side of a public road. This includes the land set aside for widening the road at a later stage. If you plan to develop a property and build a fence or wall around it, you must ensure where the road reserve ends and where your property line begins. If not, there will come a day when the fence will be destroyed to add more lanes to the road.
---
4. What Not to Do When Buying Property in Belize?
4.1. Do not skip due diligence
Due diligence is significant to ensure that the house or land you purchase is legal and lien-free with all the titles in place.
Note that you will need professional help for this process.
For basic information and standard check, such as a title check at the Ministry of Natural Resources, reach out to a property lawyer. Involve more experienced professionals to do additional due diligence on your behalf with the Registry of the Supreme Court in Belize. This additional measure will help you ensure that the owner is not involved in any charges that may obstruct the free transferability of the subject property.
Due diligence refers to measures that every individual should take before going ahead with any agreement. It helps you assess the risks associated with your purchase and ask the right questions before closing a deal
4.2. Do not forget to read all the agreements that you sign
Some people rush to secure their property without reading the agreement's fine print. It is essential to have a solid understanding of the contracts you are signing. Otherwise, you can land up in trouble.
4.3. Do not hurry
Once you find your dream house, you might find yourself caught up in the moment, wanting to secure it as soon as possible. In moments like these, don't haste.
Some agents representing new developments or condos may pressure you to sign a contract to reserve your land or apartment as part of their sales tactics. But do not make haste!
Signing contracts quickly can only lead to missing crucial details about your purchase decision. Ensure that you know the finer points of the contract. Be confident with all aspects of the transactions.
4.4. Don't use unlicensed escrow services
There are no authorized licensed closing agents, title companies, or escrow services in Belize. There have been reports of scams where buyers have fallen victim to dishonest sellers and real estate agents. Additionally, there is no regulation on who can or cannot act as a realtor in Belize.
Hence, as a buyer, it is your responsibility to utilize the services of a reputable law firm for your real estate transaction. Such services ensure the secure release of funds and seamless handing over of the title to the property once the settlement is done.
4.5. Don't neglect to use the services of a Belize real estate attorney
It is crucial to employ a licensed real estate attorney in Belize to protect your interests. The process of purchasing the property in Belize is complicated and requires a thorough title search to ensure it is not subject to any liens.
---
FAQs
1. Does Investing in Belize will EVER Make Sense?
Buying a home makes sense if you are relocating to Belize, planning your retirement, or setting up a new business. However, we suggest you do not make haste when making this decision. Spend enough time in the country, do multiple visits, and get to know the people and area before concluding.
2. Is it Possible to Get Financing on a Property in Belize?
Many financing options are available for U.S. citizens willing to buy property in Belize.
The bank interest rates for such financial aid typically range from 10 to 18% with a one-year fixed term. Lenders also provide 60-80 percent of the property's purchase price. In addition, many banks in Belize offer more than one type of real estate loan.
Source – 5
3. Can a U.S. Citizen Own Property in Belize?
Belize has a conducive business environment that is ideal for foreign nationals. Even the Government of Belize welcomes foreign investment. There are no restrictions on foreign buyers owning land in Belize, and they enjoy the same rights as Belizean citizens.
Unlike many countries in the Caribbean and Central America, foreign buyers do not require any license to purchase a property in Belize, including land.
Source – 6
4. Do I Need to Already Be in Belize to Purchase Land?
No, you don't need to make a memorable trip to Belize to complete your real estate transaction. Real estate transactions are still possible even if either one or the other party is out of the country. In Belize, over 95% of all transactions occur when one or both parties are not in the country.
5. How Long Does It Take to Close on a Sale?
On average, closing the deal in Belize takes around 30 to 90 days.
6. Is an Investment Property in Belize a Smart Financial Move?
It entirely depends on individuals' circumstances whether owning a property in Belize makes sense to them or not. However, many people find that they can live a luxurious life here, which is impossible in their home country.
There has been a surge in the real estate market in Belize, which has caused home prices to rise, but many luxury properties are still within reach of home buyers. If you are looking for unoccupied land, it's easy to find one at the beachfront property for under $200,000. Even high-end properties would cost half the price of what the same property might cost in the United States.
7. Are construction standards in Belize the same as in the US?
Construction in Belize is very different from Belize might differ from that in the US.
The significant difference is no furnaces in Belize homes because there is no need to heat a home in Belize. It cools down in winter but does not require a wood-burning fireplace or an electric furnace to heat a home.
Contrary to the US, most of the construction in Belize is in concrete. This construction works better in humid tropical environments and gives better protection during tropical storms and hurricanes.
Very little wood is used in Belize homes; even the newer buildings in Belize are made of cinder blocks with reinforced bars and concrete. Sometimes even the roofs are made of concrete.
Note that construction standards are very crucial in Belize. There are inspectors in Belize who check for these standards. So ensure that you make proper checks before investing in a property in Belize.
---
Conclusion
The Central American country of Belize has become very popular among Americans who want to buy property in Belize. The country's potential for low taxes and high returns is too exciting for people to ignore.
But there are many risks of buying a property in Belize that could lead to massive losses. So, the best advice is not to rush once you find your dream home. Ensure you go through a real estate attorney for safe transactions and meet all compliance.