Have you considered the possibility of owning a campground as a business opportunity? It may have been right under our noses this whole time. There are around 16,000 campgrounds just sitting pretty all across the United States. And guess what? About 40 million of us love an excellent old RV adventure regularly.
Campground and RV industry saw its profit increase to $7 billion in 2019. You can earn some big bucks if you decide to invest in campgrounds. Imagine this: if every RVer stopped for just one night at $30 a pop, and we spread them out evenly across all the parks. We're talking about each campground banking a solid $75,000 a year. This statistic alone underscores the potentially favorable market for park operators.
Navigating the world of campground ownership can be tricky. You may be asking yourself important questions such as, "What is the cost of a campground?" or "Should I purchase a pre-made one or build one from scratch?" Additionally, finding campgrounds for sale can be a challenge.

No need to stress, my friend. We're about to dive into these questions head first, equipping you with all the knowledge you need to tackle this venture. So buckle up, and get ready to start your exciting journey toward becoming a campground owner!
1. Key considerations before buying a campground to do a profitable business
You can quickly get a bite out of this profitable commercial pie as long you understand what to do and avoid. With tourism being a multi-billion dollar industry seeing renewed activity after the pandemic, the campground and RV industry is a great place to start your business.
However, you need to know the industry well before moving into this business. For example, it operates differently in North and South America. In the North, the average campground will get 70 to 80 percent of its revenue in 12 weeks during the summer. Here, most campers stay for under a week. Therefore, campgrounds charge more per person per night during this period.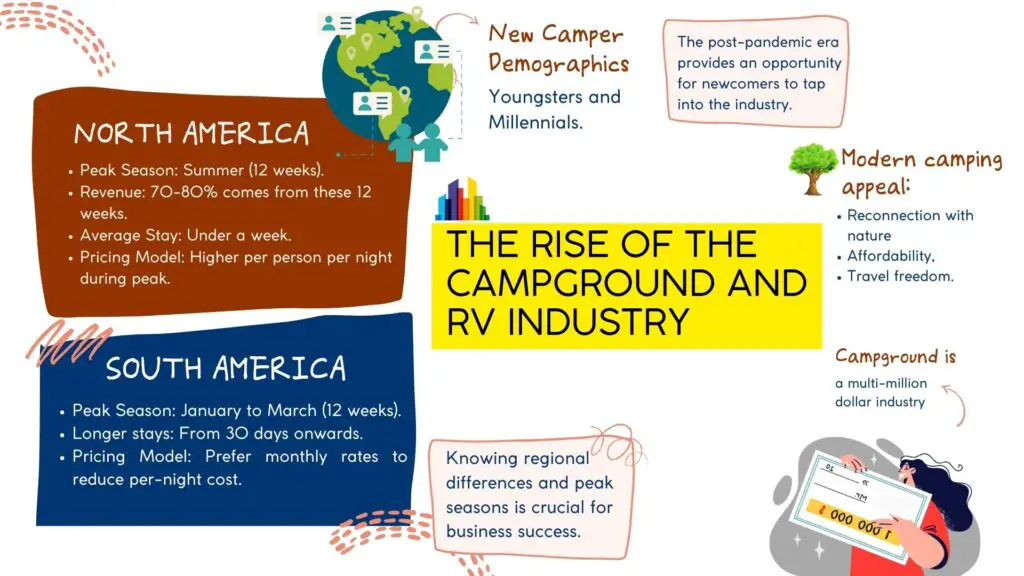 But in the south, the 12-week period happens from January to March, and campers stay for longer durations ranging from 30 days to longer. These campers prefer to pay for the whole month to reduce the per-night cost.
Interestingly, the restrictions during the pandemic have made camping a hot new trend because people were forced to stay indoors for so long. As a result, camping is becoming popular with youngsters and millennials
1.1 Owner experience
If you have run a small business earlier, you will benefit from that experience. Before you take the plunge, make sure to have a detailed business plan where you list down the following:
Budget
Staff needed and salary
What services will you offer?
A marketing plan
An implementation plan
What operational processes will you follow?
List of fun outdoor activities
What are the sources of funds you access
What kind of operating funds will you keep aside
How much taxes you may have to pay
Maintenance, repairs, accounting, plumbing, and administration expenses
Putting everything down on paper will help you stick to your goals as you go along. The most important consideration here includes
1.2 Location
Your campground location can make or break a business. So do plenty of research. Ensure the campground is easily accessible and close to attractions such as trekking and hiking trails, rivers or lakes, a national park, or national monuments.
1.3 Start building from scratch or buy an existing campground?
Whether you want to buy land and build the campground from scratch or purchase an existing campground will depend on you. Similarly, if you wish to invest in a campground franchise or buy a for-sale-by-owner business will depend on your experience and preferences. Both have their pros and cons.
1.4 What services do you want to offer
You need to be clear about what kind of services you want to offer. For example,
What is the maximum number of RVs and tents allowed on the site?
What types of electrical hookups are available?
Are there any water connections on site?
Are there any bathroom and hot water shower facilities available?
Is there a provision for propane refills?
Is there WiFi available?
Are there any playgrounds on-site?
Is there a plumbing and septic system in place?
Are there hiking trails available?
Is there a designated dog walk area?
Are there any recreation rooms available?
1.5 Reputation
A campground's reputation will also matter. If you are buying an existing campground, find out its reputation. If you're taking a franchise such as Jellystone Park, their campgrounds are located in commercial areas, so they manage to sustain even during off-peak season. Also, their location ensures that local and cross-country campers can reach them comfortably.
1.6 Know your staffing needs
How well-staffed you are will raise or lower the campers' experience. For example, while you may do all the work yourself initially, you will need to hire staff once your business starts growing, or you will feel overwhelmed. Any service delay will make campers unhappy, and you may lose business and get bad word-of-mouth publicity. Make sure to hire an office assistant and a cleaner, and announce a host of events to keep campers busy as soon as you can afford it. Campers are not forgiving about messy campgrounds.
---
2. Advantages of owning a Campground
Owning a campground can be quite profitable, as seen from the above statistics. What's more, it is not only profitable but also a rewarding business because there are so many benefits you can enjoy along with your work. So, let's look at the advantages of owning a campground.
2.1 Profitable business
Running a campground will not be very costly once the infrastructure is ready. If you don't have a lot of campers, you can run the campground on your own. The costs of maintaining the campground and the running expenses are the only cost. So once you cover this, anything over and above is pure profit. Further, more and more people are downsizing to RV living, which means more business.
As your reputation grows, your profits will increase as your list of patrons keeps increasing over the years.
2.2 Chance to explore nature
Running at a campground means constantly being on site. So you will almost permanently enjoy the outdoors, checking equipment, ensuring things are right, and handling crises. You could also be taking campers for a hike. So you are trading noisy traffic and pollution for the great outdoors, fresh air, and plenty of sunlight. Now that isn't a bad deal at all.
2.3 Seasonal business
Camping is a seasonal business with hardly 3-4 weeks of peak business; you get most of your revenue during this period. You can take a break for the rest of the year, keeping a few staff to maintain the business. This means you have plenty of time to take up an additional business to add to your income. Or you can simply enjoy your free time.
2.4 Recession-proof business
During the pandemic, income for campgrounds went up. Campgrounds provide low-cost housing, which means the business is recession-proof. Even if the economy stagnates or goes down, the demand for RVs and campgrounds will keep rising as people look for affordable housing.
Other advantages include:
Being in the company of happy campers will keep your spirits up
You will learn how to handle crises
You have complete control over your business
Owning a campground will mean an utterly positive lifestyle change
Campgrounds are generally family businesses so that you can build a future for your children
You can ask any pesky campers to leave immediately. You needn't wait till the end of the month because they generally pay per day
There are tax-saving advantages because all your expenses are legitimate expenses and deductions. This includes your mortgage, cost of goods, travel, maintenance, and utilities.
You get to meet interesting people, you make a lot of friends, and you tend to keep in touch for years.
You are always in touch with nature, which is exactly what the doctor ordered.
You are your boss
You don't need to pay any rent, because the campground is your premise
---
3. The Process required: Buying an existing RV park and Building an RV park from scratch
You may decide to buy land and build an RV park from scratch, or you may decide to buy an existing business to get a running business. The choice is yours. Let's look at what are the processes involved in both these cases.
The Process required for Buying an existing RV park and Building an RV park from scratch.
| | |
| --- | --- |
| Buying an existing RV park. | Building an RV park |
| To make a new park, the land cost ranges from around $1,000 an acre to upwards of $10,000 for better lots. This depends on the part of the country you live in. However, the national average is around $3,000 an acre. | You will first have to scout for the right land. Then, make sure that there are plenty of things to do around the land, such as hiking and trekking, visiting historical monuments, lakes or rivers, etc. |
| All the permits and zoning issues have been sorted, so you don't have to worry about the same. Check these before you buy the place. | Already has a customer base, so income starts rolling in from day one. |
| You will get capital or loans more quickly as you have all the profit and loss, bank statements, and tax returns. | You will require enough capital, so do all the calculations before you commit. But first, make sure you have a solid source of capital. |
| You may have to take care of any deferred maintenance to ensure the place is operational and there are no issues. | No deferred maintenance, as everything is new and as per your specifications. |
| An established park can cost anywhere between $100,000 to $2 million. You will also need some additional cash for repairs. Besides the initial buying cost, you would need about $10,000 to $50,000. | A clean restroom with high water pressure is one of the top ten amenities a park should provide, and it costs roughly $20,000. |
| Cap rates calculate how much time your business would take to break even. For example, one can calculate the cap rate by dividing property value by the net operating income (NOI). For instance, if your property value is $2 million and your NOI is $150,000, your cap rate would be 7.5%. Cap rates range from 5% to 15%, with most falling between 8% and 11%. | It costs about $15,000 to $50,000 to set up gravel roads, pads, and amenities on the campground – depending on how much you want to do. |
| Campground owners spend anything between $450 to $1,500 a year for $1 million in general liability coverage | Most campgrounds offer outlets for 110/120 volts along with 15-amp, 30-amp, and 50-amp alternatives (which cost between $1,500 and $2,500 per site). |
| Campgrounds that are up for sale may require some repairs and one-time maintenance. Get an inspector to examine the campground before you purchase it. You can ask the camp owner to reduce the price if significant repairs are required. | While installing a city water hookup can cost about $1,200 per site, drilling a 150-foot well can cost anywhere between $5,000 and $12,000 (not including pipelines). |
| | A septic system that includes a tank, a leach field, and pipes leading to campsites is expected to cost upwards of $40,000. |
| | Adding a guest waste station will save your expenses by 75%. However, you can charge extra per night if you offer complete hookups. |
| | You should spend money on asphalt, concrete, or gravel for leveling and paving out your roadways. This is another major expenditure for your park while building out your sites. |
| | A clean restroom with high water pressure is one of the top ten amenities a park should provide, costing roughly $20,000. |
| | Generally, you should have ten sites per acre, excluding RVs and other large motorhomes. It will cost roughly $15,000 to construct each site, so multiply your total acres by 10 and then by $15,000 to determine how much it will cost to build your park. |
3.1 What is the problem with Buying Campground or RV-Park?
Although buying a campground or RV park is much easier than building one from scratch, several problems are associated with the former. Let's look at some of the problems that can crop up.
Campsites often encroach on neighborhood properties without consent.
The state health agency may need you to change the sewage treatment plant.
The septic system could break down due to overuse in summer.
The park may have more locations than its zoning or health licenses permit.
The park may be susceptible to flooding.
If the campground has extra land, that may be because zoning laws don't permit expansion. Check the laws before you buy.
The state or a private individual may have plans to build a cutting-edge, reasonably priced park near yours. So check if any such plans exist before you buy.
The sewage treatment plant may be too old and may require significant investment to ensure it meets legislation
Check if any new roads are being built that may restrict access to the park.
The land may have an unauthorized gasoline storage tank or other illegal constructions that need to be dug out and the contaminated soil cleaned up.
It would help if you were alert about all these things and checked everything before buying the campground or RV park.
---
4. How to buy a campground?
Buying a campground is not easy. One has to keep several things in mind. For example, most campground buyers are freshers, who have never purchased one. Be discreet because owners advertise the sale quietly so that it does not affect their employees or customers. You will find little information online and have to contact the owner to find out more directly. Several websites work closely with campgrounds and RV parks and can help you get the best fit.
4.1 Do your research (Location, Price, Area)
When buying a campground, the first thing you need to do is research. Understand the location well, compare the price to other offers, and know the area like the back of your hand. All this will mean the difference between getting a raw deal or a fabulous deal.
4.1.1 Websites you can look at
Here are some well-known websites that should help you get all the information you need on campgrounds and RV parks for sale.
– The Campground Connection
Campground Connection is a full-service voice-to-voice consulting and marketing firm headquartered in Grandville, Michigan. They only work with RV parks and campgrounds, offering coaching, tools, and the biggest online marketplace for potential buyers.
– Rvparkstore
This website offers a comprehensive directory of RV parks and marinas and a wealth of industry knowledge to help you search. RVParkStore is a valuable resource for investors, owners, and visitors alike.
– Parksandplaces
Another excellent choice for individuals looking to buy is the team at Parks and Places, who have more than a century of experience and have sold over 100 parks for owners.
– Campgrounds for sale
Over 300 parks have been sold by Campgrounds for Sale, which also offers workshops, blogs, and connections within the sector.
4.1.2 Get the land surveyed
Get the land surveyed in case any hazardous waste or other restrictions have gone unnoticed. A survey needs to be conducted every 5 to 10 years, so it won't hurt to do it when you buy the land.
To ensure everything is in order, make a note to look for previous records. These should be available at the neighborhood courthouse or assessor's office.
4.1.3 Questions you should ask
When you identify a piece of land for your project, you need to check for a few things, such as: What are the tourist attractions in the area? How many visitors come to the site every year? What is the location's population, and what is their average income?
4.1.4 What is the size of the campground?
When deciding which campground you want to buy, you first need to determine how many campsites you want to allow and how many employees you want to hire. You can have just a few RV spots, a mega park with hundreds of sites, or you could have something in between.
4.1.5 Type of campers you want to cater to
There are mainly three kinds of campers who will come to visit. First, some campers will set up permanent residences and pay you annually. Then there are seasonal campers who will only come during certain months and may want to book the spot for a year. They will visit their site when they get the time, and they might park their RV in their spot. Lastly, there are the short-term renters, who are the most common type. They will stay for anything between 1 to 14 days on the site.
4.2 Why are they selling?
Always check why the campground owner is selling the business. There could be various reasons like illness, new and better business opportunities, retirement, or industry burnout. However, if the business has been running out of funds because of low revenue, this is a red sign that something could be wrong.
An expert says that when you see a campground owner using a credit card to pay for repairs and maintenance, you know the business has a financial problem. Of course, you could turn around the business, but it is safer to investigate further to check why the company is not doing well.
4.3 Select/Choose Your Campground
Once you have finalized a few favorable locations, you must select the best one. Here are a few tips to help you decide which campground to buy. You will need to use the following criteria to make your decision.
4.4.1 Understand your priorities
Evaluate what kind of campground you would prefer. Do you want to run a business with a fully operational campground? Are you okay with taking up a fixer-upper where you need to spend some money to get things working again? Do you want a rural setting or something near the city? Do you want to cater to short-term vacationers or long-term campers? Use your preferences to shortlist the campgrounds further.
4.4.2 Millenials are your main customers
Millennials now account for 38% of the 75 million households active campers in the US. So check which campground is their favorite or has the maximum visits by millennials.
4.4.3 Access to Attractions
Check which campgrounds can easily access attractions like mountains, rivers, lakes, national forests, state parks, etc. This will draw more people.
4.4.4 Franchisee or independent?
Check which campgrounds in the shortlisted group are Franchisees and independent operators. You can cross off the rest if you prefer one or the other.
4.5 Find the worth of the Campground
Once you finalize the campground you want to buy, you need to evaluate how much it is worth. Evaluating costs thousands of dollars and needs to be objective.
It is best to rely on independent evaluators like the bank financing your deal.
There are several formulas you can use to calculate the worth. Most of these are based on gross or adjusted net income and fall within a small range.
Try to find out the final price the seller will accept by negotiating hard.
If the campground has lakes, rivers, or other attractions near it, expect to pay more for these features.
Check the condition of the building. If they are in good shape, you can offer a higher price since you don't have to spend on repairs or painting.
Visit the campground and imagine what you can do with it. Check if your vision is practical, and try to imagine if you can go beyond what has already been done. If it fits into your plan for the future, you can pay a higher price.
Check what is included in the price of the campground. If some assets are excluded from the deal, then minus the cost of these from your price. For example, a dump station for septic waste can cost anywhere from $250,000 to $550,000. So if you have to purchase this, it will add to your final outgo.
Go through the last few years financial statements of the campground. This will help you understand the expenses and income over some time. In addition, you will get an idea about what has been happening and what to expect in the future.
---
4.6 Try to negotiate for a fair price
Once you get an idea of the worth of the campground you have finalized, there is usually still some scope for negotiation. For example, you have to pay closing costs, finalize a date for closing, etc., so consider all this while making a final offer. Talking to a real estate agent will also help. Here are a few ideas you can consider.
4.6.1 Check with the seller how they arrived at the asking price. Did you do an independent evaluation? Or was it based on a broker's opinion? If the asking price has not been evaluated formally, there is scope for further negotiation.
4.6.2 Get an in-principle mortgage. Sellers will negotiate the price if they see a genuine party with the finances ready.
4.6.3 In addition to getting an independent evaluation of the campground, research and find out how much you would value it.
4.6.4 Take the help of an estate agent and convince the seller that you are the ideal buyer and that they should reduce the price and close the deal quickly.
4.6.5 Inform the seller that you have shortlisted other campgrounds and are just waiting for the best deal to sign on the dotted line. Show some urgency.
4.6.6 Don't directly offer your final price. Instead, start with a lower offer and gradually build up to the final price you are willing to pay.
4.6.7 If the seller is stuck on a price above your offer, don't stop negotiations. Try to get them to include assets that the seller may not require but will save you expenses when you buy the campground—for example, extra mowers or other equipment.
4.7 Secure Finance
Once the price is finalized, you will access the campground's financial records and tax returns for the last three years to show these to the bank or institution financing you. Again, ensure these are kept confidential, as the seller has placed their trust in you while giving you these documents.
Understand the entries in the profit and loss statement and the balance sheet. Financial statements will differ for organizations such as sole proprietorships, partnerships, corporations, LLCs, and other companies.
If you have any doubts about the numbers, ask the seller for clarification. If any unusual items are one-off cases of expenses or income, you can exclude these to arrive at the figures for a typical year of operations. For example, there may have been a fire resulting in some expenses. This will not happen every year, and you can exclude this expense.
Let's look at what will be needed to secure finance.
4.7.1 Down payment
The down payment on a campground can be high at 20-30% of your price. Unfortunately, you cannot do much about this but keep the money ready for payment. Some buyers sell their homes and pay the down payment with this money. This is because they can stay at the campground for free. Others use the money from other assets.
The downpayment is so high because you buy three things – recreational land, a business, and a home. Although these are part of the campground, they are analyzed separately.
4.7.2 Extra money
Besides the down payment, you will also require additional cash to ensure that you have the finances to run the business and make repairs or adjustments if necessary. So arrange for this as well.
4.7.3 Loans
You can get a bank loan if you want the extra money. However, the bank will only give you a loan if you have the down payment ready. When applying for loans, make a five-year plan to show the lender what you see in the future for your business. A three-year income projection will also help to convince them. In the predictions, you can also make a best-case scenario, a standard projection, and a worst-case scenario.
While making projections, draw a 100-mile circle around the park and compare your points to other campgrounds offering similar services. If your park has a higher rating than others, you may even be able to charge customers more and get a higher income.
4.7.4 Financing by Seller
Some sellers allow you to make a down payment and pay the remaining amount in installments over a fixed number of years, which works well for both the purchaser and the seller. However, sellers may put conditions on whether you can expand or change the campground during this period. This may hamper your plans for the future, so think carefully before you agree to this option.
4.7.5 Conventional loan
The buyer can also go in for a conventional loan from a private lender. Remember, these loans are generally uninsured and come with fewer guarantees.
4.7.6 Credit Unions
Besides banks or private lenders, you can also look at credit unions because they offer mortgages at a lower interest rate and with more personal service. It is also easier to get approved for a loan from a credit union than banks.
4.7.7 Local banks
There's a difference between community banks and local banks. While a community bank will charge you higher interest, a local bank will be willing to accommodate you with a more attractive interest rate. They will also offer better customer service and assistance.
4.7.8 Nonbank lenders
Besides banks, you can look at lenders with plenty of experience lending to campgrounds. They better understand the business and will be more supportive of your plans.
4.7.9 SBA loans
You could also apply for a Small Business Administration (SBA) loan. These loans are offered to small businesses, including campgrounds. They charge lower interest rates and generous term lengths. They will finance up to 90% of the campground cost and may even be okay with a lower down payment.
4.8 Hire a Professional Broker
A broker or real estate agent can significantly cut your work. They are already familiar with the market conditions and can guide you. They can tell you which listings to look at or how to handle the closing, among other things. Though you may have to pay a commission, the broker's expertise may help you pay a lower price for the campground, and this will more than makeup for their fees.
4.9 Make a final offer
While making your final offer, here are some points to remember.
Ask the camp owner to give you all the social media accounts for the campground, along with the passwords. Take the campground email accounts with their passwords too.
Take all the accounts documents since inception and ensure you have all the tax returns in hand.
Take a list of the entire customer base of the campground so that you can follow up with them for your business and inform them of the change in ownership if necessary.
Ideally, hire a legal professional to check if all the paperwork and processes follow the procedure. Also, get an accountant to review the accounts to see if everything is in order. You will have to pay for these services, but it is worth it.
Once you make the final offer and it is accepted, you will be the proud owner of the campground.
Conclusion
Buying a campground is not an easy procedure for sure. You need to do a lot of research to gauge how successful it will be in that locality. For example, if the owner is selling the campground, you need to know why and if you can make a difference to the profit and loss statement when you take over. If the owner is selling for any other reason than financial problems, it is fine. But if the campground is already not making money, do extra research to find out why and whether you should even buy such a campground.
While shortlisting the campground, simultaneously work on the financing because you need to be ready with the down payment if you get a good deal. The seller may not be willing to wait until you apply and get new financing. Once the deal is through, you can immediately begin making the desired changes before you open the park under your banner. If you get a great price for the campground or RV park, breaking even may not be such a challenging task, given how profitable this business can be. So get ready to enjoy a great outdoor lifestyle!